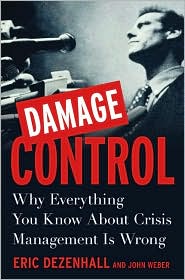 JOHN REGAN, Assistant City Manager of the City of St. Augusdtine, with sewage "pipe" allowed to rot for years in Lincolnville, one of two environmental racism sites in the City of St. Augustine neglected for years in violation of the 14th Amendment.
The City of St. Augustine's control game is in full swing this Summer, with the deeply conflicted City Attorney, RONALD WAYNE BROWN, attempting to euchre us into settling with developers, including PIERRE THOMPSON, and allowing Fish Island to be destroyed.
City managers are busily reading a book called "Damage Control." It won't help.
This is the same tired old tactic that the Department of Energy and its nuclear weapons plant contractors used. See THE CONTROL GAME, below, with thanks to Paula Elofson and EIN.
What do you reckon?