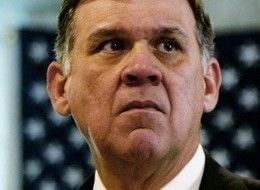 I want to be a little bit cautious what I write tonight about soon-to-be ex Republican United States Melquíades Rafael "Mel" Martínez (born October 23, 1946, as Melquíades Rafael Martínez Ruíz).
I believe in America.
I respect the United States Senate as an American institution.
I don't want to pre-judge the reasons why a sitting U.S. Senator would resign in the midst of his only term.
In my youth, while an undergraduate at Georgetown University's School of Foreign Service, I worked for three progressive Democratic Senators.
I cherish the United States Senate as an institution.
As Gladstone said, the Senate is "the greatest deliberative body in the world."
I respect diversity too much to nitpick on a hard-working Cuban immigrant who came to these shores without his family, who suffered bigotry and discrimination and overcame them.
I respect plaintiff's lawyers too much to nitpick on one of the few Republican plaintiff's personal injury lawyers ever to be elected to the U.S. Senate – they're rare as hen's teeth.
I respect the FBI and the U.S. Justice Department to prejudge what they may be working on.
But the facts are these:
1. Mel Martinez' 2010 re-election campaign currently has more than $456,000 in cash on hand.
2. Mel Martinez was fined $99,000 last year for illegal campaign contributions by the Federal Election Commission in connection with his 2004 campaign.
3. Mel Mertinez took money from officials of PBS&J, a powerful and corrupt engineering company.
4. PBS&Jt gave money to its executives to give to some 100 Florida politicians, laundered through its Vice Presidents.
5. Two PBS&J CEOs have been convicted of federal crimes for their actions (embezzlement and bribery). Convicted PBS&J officials agreed to cooperate in other prosecutions.
6. Mel Martinez accepted campaign contributions from convicted Rep. Robert Ney (R-OHIO) and convicted lobbyist Jack Abramoff.
7. Convicted lobbyist Jack Abramoff raised more than $250,000 for Martinez' campaign.
8. In his guilty plea, Ney admitted lobbying Martinez on Abramoff's behalf.
9. In recent months, at least three Senate and House staffers have pled guilty to federal crimes involving influence-peddling on transportation legislation to benefit UNITED RENTALS.
10. The felonious Congressional staffers accepted trips to the World Series in exchange for writing legislation that would increase market share for UNITED RENTALS, the world's largest equipment rental company.
11. The felonious Congressional staffers agreed to cooperate in testifying against others.
12. Mel Martinez is a member of the Senate Committee on Commerce, Science and Transportation, which had jurisdiction over the legislation sought by UNITED RENTALS, Abramoff and his stable of lobbyists.
13. Former Senate staffer TREVOR BLACKANN pled guilty to accepting $4100 worth of 2003 World Series tickets, transportation, gift items and entertainment from UNITED RENTALS in exchange for sponsoring legislation:
a. Requiring government public works agencies to rent (not buy) equipment;
b. Encouraging government public works agencies to rent from larger companies with large amounts of liability insurance (like UNITED RENTALS);
c. Encouraging public agencies to use work zone safety systems (such as those provided by UNITED RENTALS).
14. The 2003 World Series was played between the New York Yankees and the wild-card Florida Marlins. (The underdog Marlins won the series, 4-2).
15. Mel Martinez was elected to the Senate in 2004 and took office in January 2005.
16. Mel Martinez was part of the Republican "culture of corruption" that controlled the House, the Senate and the White House, until 2006, when Republicans lost control of the House and Senate.
17. That culture of corruption was noteworthy for its effects on transportation legislation and regulations, where the American Trucking Association held sway.
18. Twice Bush tried to increase the hours of service for truck drivers, threatening incinerations and deaths on our highways.
19. Twice courts struck down his efforts to endanger the lives of truck drivers and others on our highways.
20. Mel Martinez was heavily supported by the list of Republican "usual suspects."
21. Mel Martinez was former Chairman of the Republican National. Committee 2006-2007.
22. Mel Martinez was Secretary of Housing and Urban Development in the Bush Administration.
23. Mel Martinez wanted to run for Governor, but the Karl Roves of the world convinced him to run for Senator.
24. Mel Mertinez was always a hothead and a homophobe – one who accused our Attorney General (and then Congressman) Bill McCollum of favoring the Gay agenda because he supported legislation against hate crimes – his ads called McCollum the "new darling of homosexual extremists," when in fact McCollum was just another dull Republican who wanted higher office. (McCollum is now our Attorney General and wants to be Governor).
25. The St. Petersburg Times revoked its endorsement of Martinez and endorsed McCollum because of the hateful anti-Gay ads.
26. It has been reported that Martinez had at least two Gay men on his staff.
27. On August 31, 2004, Mel Martinez defeated Bill McCollum in the Republican Primary, by a vote of 46 to 31 percent.
28. On September 2, Mel Martinez spoke alongside President Bush at the Republican Convention, which attacked Gays and Lesbians (and Gay marriage) to re-elect President Bush, based on Gay-bashing.
29. Mel Martinez defeated Democrat Betty Castor for Senator by only 70,000 votes (1%), raising more than $12,000,000 to do so (and ending the campaign some $500,000 in debt).
30. Subsequent developments – Mel Martinez being fined for campaign violations – strongly suggest that Mel Martinez stole the 2004 election for United States Senator.
31. The 17th Amendment (1913) was created to let the people (not state legislators) decide who would represent their states in the United States Senate.
32. In the hands of Republican fundraisers and bigoted ads appealing to KKK-types, the 17th Amendment is being made a mockery – big-spending oligopolists are picking U.S. Senators, just as they did in the time of the great Trusts.
33. As Wikpedia reported (below), "Martínez originally reported that his $12-million campaign had about $115,000 in debt…the latest revision of that figure shows the original tally was off by about a half-million dollars: his campaign instead owed $685,000 in election expenses….His campaign has spent about $300,000 in accounting and attorney's fees since the 2004 election.["
34. Wikipedia ports that "the organization Citizens for Responsibility and Ethics in Washington (CREW), which monitors political corruption, filed a complaint with the Federal Elections Commission (FEC) in August 2006 that charged Martínez with having illegally accepted more than $60,000 from the Bacardi beverage company in the campaign. Bacardi violated the Federal Election Campaign Act (FECA) and FEC regulations – CREW alleges – by soliciting contributions from a list of the corporation's vendors for these campaigns, and by using corporate funds to pay for food and beverages at campaign events held in the company's corporate headquarters on May 11, 2004…. On October, 28, 2008, Republican Sen. Mel Martínez agreed to pay $99,000 in fines for his campaign's failure to comply with federal election laws, including its acceptance of excess contributions, records show."
35. Wikiedia reports that "Documents filed by the Federal Election Commission show the resolution of the long-running dispute with the former general chairman of the Republican National Committee stemming from his 2004 campaign. An FEC audit found Martínez's campaign accepted a total of $313,235 in contributions that exceeded limits from 186 donors. The fine was agreed to by the FEC on Sept. 10 and was posted a month later in its database."
36. Mel Martinez votes the KKK line against rights of Gays in the workplace. He thinks your employer should be able to fire you (and your landlord should be able to evict you) based upon private relations that the United States Supreme Court says are not crimes.
37. Mel Martinez ran on an anti-Gay ticket for Lt. Governor.
38. Mel Martinez wants to amend the United States Constitution to keep Gays from getting married.
39. Mel Martinez was one of only three Senators present and voting on March 20, 2005 to pass an unconstitutional law regarding only one individual, Terry Schiavo, a woman who was in a vegetative state here in Florida.
40. Apparently at the behest of right-wingers (like convicted anti-choice racketeering terrorist RANDALL TERRY, who formerly lived here in St. Johns County), Mel Martinez voted an unconstitutional law for the purpose of winning votes. The only others present were Senators William Frist, M.D. (R-TN) and Rick Santorum (R-PA) – there was no record vote.
41. On April 6, 2005, Mel Martinez accepted the resignation of Republican staffer Brian Darling (discussed in this blog at the time). Why?
42. Only because Martinez ham-handedly handed Darling's memo (which Martinez mistakenly handed to Democratic Senator Tom Harkin of Iowa, stating that the Schiavo case offered "a great political issue" that would appeal to the party's base and could be used against our Senior Florida Senator, Democrat Bill Nelson. Bill Nelson was re-elected as our Senior Senator on November 7, 2006 with 60 percent of the vote.
43. From November 2006 until October 2007, Martinez was Chairman of the Republican National Committee.
44. On August 7, 2009, Senator Mel Martinez said he was quitting to "spend more time with his family."
45. That's the same dodge ever disgraced politician has used for eons – it is a trite trope and a cliché. Anybody who says it deserves a better script writer – certainly better than the BRIAN DARLINGS and TREVOR BLACKANNS of the world.
46. Contrary to the pathways and folkways of the United States Senate, Martinez has used his elected office for improper purposes, including abusing the Schiavo case and an unseemly attempt to amend the U.S. Constitution in an attempt to appeal to KKK-type voters. Recently, former County Commission Chairman Ben Rich said St. Johns County is "one of the last bastions of the Ku Klux Klan," as reported in Folio Weekly. Martinez was consistently in favor of the KKK's anti-Gay agenda.
47. Mel Martinez is not fit to occupy the seat formerly held by Senator Bob Graham.
48. CBS News reported that "Martinez said today he would be joining the private sector but did not elaborate any further. 'I have no specific plans for my future other than it's going to be in private life,' he said. He added, however, that he would like to continue to be an active and constructive (sic) voice on public matters."
49. Some members of the House of Representatives have quit to become lobbyists.
50. Martinez' statement does not indicate he has any work lined up.
51. Some members of Congress (and even a Senator or two) have been convicted of crimes.
52. If Mel Martinez is indicted, he must have a fair trial – the fair trial he would deny Gay and Lesbian people before smearing our names with hatefulness and viciousness – the fair trial that Bill McCollum and Betty Castor did not get before Martinez smeared their good names and reputations with lies and calumnies.
53. Perhaps if Mel Martinez is not indicted, we should have a people's trial in absentia before audiences of high school and college students, retirees and working people in the Plaza de la Constitucion (formerly Slave Market Square). Perhaps the charge should be "impersonating a United States Senator" or "Impersonating a human being."
54. Good riddance, Mel Martinez – don't let the doors of the United States Senate hit you in the behind on the way out – you will not be missed. You went from poverty to power. You showed the poverty of power every day in every way. You abused your power to help the enemies of the people. God forgive you.