Our U.S. Government Publishing Office, f/k/a "Government Printing Office" (GPO), is only a short walk from the U.S. Capitol Building. That's where Congress passed civil rights laws, including the landmark 1964 Civil Rights Act, which President Lyndon B. Johns signed, way back in 1964.
The hostile working environment alleged at GPO, in 2023, requires a prompt response, to include empathy, thorough civil, criminal and administrative investigation. (Like the St. Johns County hostile working environment, the subject of pending civil, criminal and administrative investigations.)
GPO has been the situs of numerous discrimination complaints over the years
Congress has had a Joint Committee on Printing since 1846. Current Joint Committee on Printing Chair is Rep. Bryan Steil (R-WA); current Vice Chair is Senator Amy Klobuchar (D-Minn.)
From Government Executive Magazine: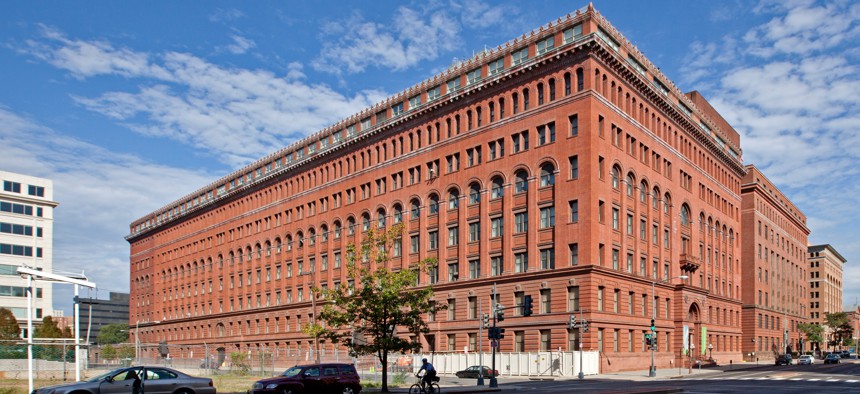 By Eric Katz, Government Executive Magazine
Employees at the Government Publishing Office engaged in racist and discriminatory behavior, including extolling Adolf Hitler and using Nazi symbolism, and management throughout the agency failed to take action, according to a lawsuit filed on Tuesday.
Two current GPO employees and one former brought the suit to the U.S. District Court for the District of Columbia, naming current Director Hugh Halpern and former staffer Samuel Mewshaw as defendants. Mewshaw was at the center of the allegations, facing accusations that he harassed employees by distributing antisemitic materials, displaying pornographic images and making racist comments. The actions were alleged to have taken place at the GPO library bindery in Washington and brought to the attention of top supervisors at the facility, who discouraged employees from voicing their concerns.
The plaintiffs—Sarah Hurtt and Jonathan Romain, who currently work at GPO, and Joshua Crotty, who has since left the agency—accused Mewshaw, who was fired by GPO this year, of engaging in discriminatory behavior for years. His actions allegedly included leaving Nazi propaganda on his desk, including the book The Protocols of the Elders of Zion, greeting colleagues with a Nazi salute, sending links to movies denying the severity of the Holocaust, displaying white supremacist tattoos and making public pronouncements such as, "Hitler was the greatest white man who ever lived." Mewshaw, according to the plaintiffs, also engaged in sexual harassment by keeping and sharing pornography in the workplace, placing sculptures with an erect penis in sexual positions and drawing pensies on GPO property.
Dylan Wingo, another GPO employee, was also alleged in the complaint to have made antisemitic and sexist comments, including telling Hurtt she should go back to her home country of Thailand to become a sex worker.
Eric Bohn, GPO's library bindery supervisor, was, according to the lawsuit, aware of those actions but failed to take corrective action. Bohn was himself accused of using the n-word on several occasions, referring to women as prostitutes and making other racist comments. Bohn was also fired from the agency this year. Bohn allegedly discouraged the plaintiffs from reporting misbehavior to the Equal Employment Opportunity office or further up the chain.
Robert White, another supervisor at GPO, was also alleged to have turned a blind eye to a toxic workplace. He eventually took over for Bohn and allegedly told employees to put "blinders" on in ignoring harassment and discrimination.
"The discrimination with the GPO Library Binder was open and notorious, and other GPO knew and/or should have known about the discrimination," the plaintiffs wrote in their lawsuit. "GPO failed to take action to stop the discrimination, allowing it to pollute the workplace, and allowed it to remain unremedied for years."
Brian Markovitz, an attorney at Joseph, Greenwald and Laake, who is representing the plaintiffs, said management must have known about Mewshaw's alleged behavior because he publicly shouted discriminatory statements.
"He was not subtle at all about it," Markovitz said. He and his clients opted to take the case "outside the structures of the agency" as GPO was not "taking this as seriously as we would like."
Gary Somerset, a GPO spokesman, noted that GPO does not comment on any pending litigation. Efforts to reach the individuals named in the lawsuit were unsuccessful.
Mewshaw and Bohn were fired from GPO after more than 15 years each at the agency. White and Wingo still work there. Halpern, who was appointed by President Trump and confirmed by the Senate to a 10-year term, sent an agency-wide communication to staff in March noting he was made aware some people were not living up to GPO values and were "not being kind."
He did not mention any of the specifics of the allegations in the memorandum, which was obtained by Government Executive, though he did say some employees were singling out teammates "based on their gender or racial or ethnic backgrounds." He noted there was one case of a manager who "wasn't doing their job," which allowed a situation to fester. He noted he would not tolerate discrimination and encouraged employees to continue reporting malfeasance up the chain of command.
The plaintiffs in the case eventually did file EEO claims, but felt the agency dragged its feet in taking any action. The situation came to a head last October when Mewshaw allegedly threatened to assault Crotty, who subsequently went on leave out of fear for his safety. When he exhausted his paid leave and his request for administrative leave was denied, Crotty opted to leave the agency for another job.
The plaintiffs are seeking financial compensation for hours of work they missed to avoid their harassers. They also requested the court mandate a new training program for GPO employees and management and for the agency to create a new internal complaint process.