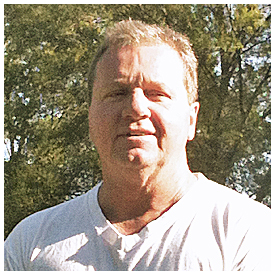 Temporary injunction against Reynolds canceled
Posted on December 10, 2016
Some Historic City News readers are saying that St. Augustine Beach Mayor Rich O'Brien picked the wrong time to advance criminal allegations against an outspoken critic, while others are reporting that O'Brien has been around long enough to know that he needs to grow some thicker skin.
In either case, Mayor O'Brien wound up on the losing side of court decision last week that could have kept his nemeses at bay in the interest of the politician's personal safety and that of his wife and family.
"The allegations against the defendant did not establish a pattern of conduct that would give rise to a stalking injunction," Circuit Court Judge Howard O. McGillin said as he dismissed O'Brien's petition and vacated a temporary injunction that had been in place against Tom Reynolds since late October.
O'Brien, through his attorney Contessa O'Connell, alleged a vulgar and heated encounter between Reynolds and one of O'Brien's employees, characterizing the exchange as "threatening".
During a recent St. Augustine Beach City Commission meeting, O'Brien had Reynolds removed by escort after the mayor said he felt Reynolds was "causing a disturbance during public comments".
O'Brien referenced a series of e-mail messages sent by Reynolds and copied to most of the area's media, including Historic City News, that the mayor says contained "threatening comments".
Reynolds, through his attorney, Tom Cushman, described O'Brien as a bully who is trying to use the legal system to silence Reynolds constitutional right of free expression and to redress government for his grievances.
McGillin said, "If our First Amendment means anything, it specifically means that even obnoxious and vulgar and crude comments, however distasteful, are protected speech, particularly in the political activity of addressing one's government."
Therefore, when the court handed down its decision Wednesday December 7, 2016, the judge found that Reynolds activities were protected by the First Amendment to the U.S. Constitution and did not rise to the level of stalking.
McGillin canceled the temporary injunction and dismissed the case against Reynolds after listening to nearly two hours of testimony and argument.