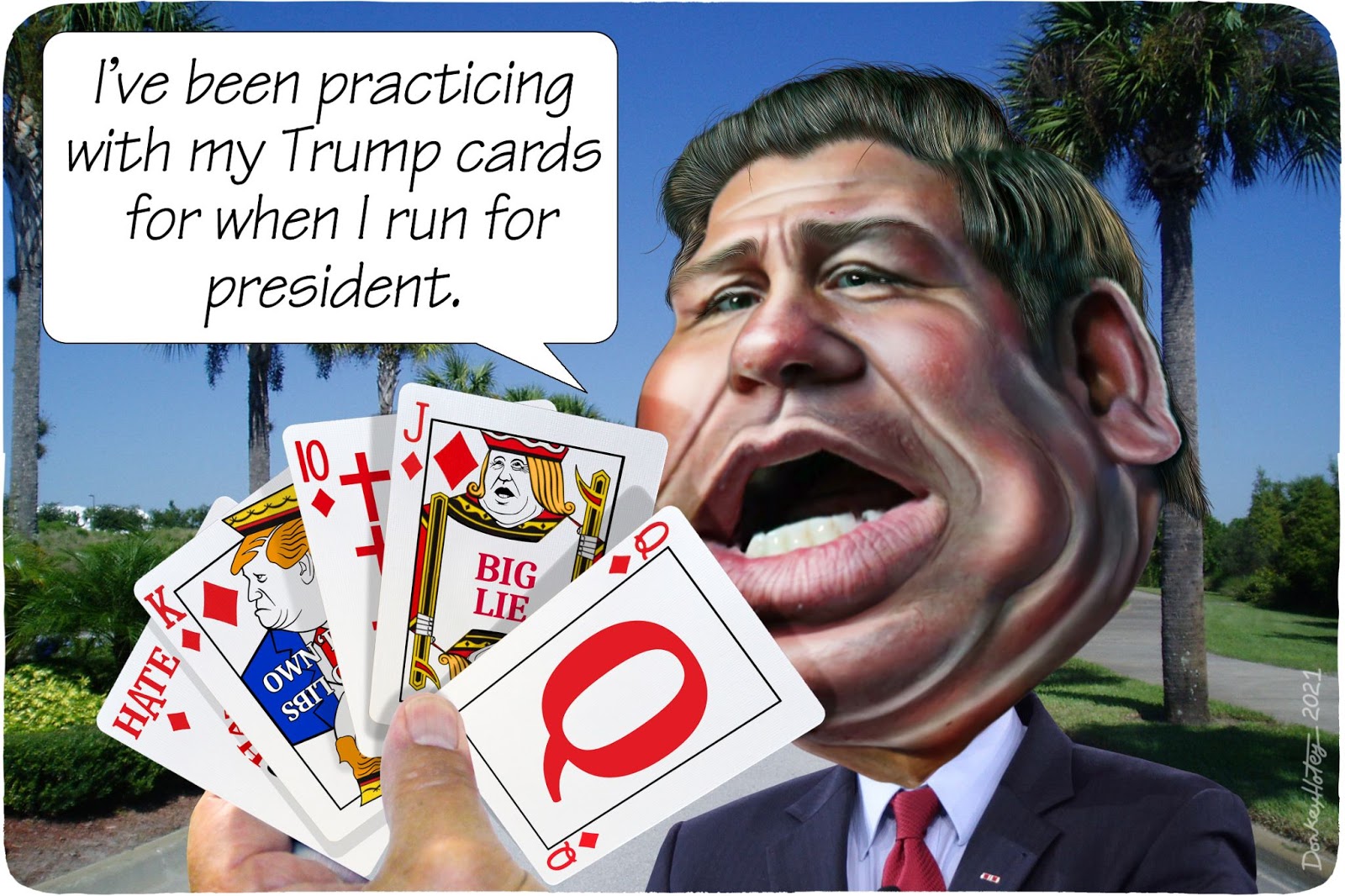 To paraphrase from an old tobacco company tv advertisement, "What do you want, [bad] grammar or bad taste?"
Tacky, tawdry, tatterdemalion termatant Flori-DUH Boy Governor RONALD DION DeSANTIS has been compared to fascist Mussolini by Presidential historian Michael Beschloss.
From Florida Politics:
'You ain't seen nothing yet': Gov. DeSantis lays out vision for 2023 Session
Gary Rohrer,
Florida Politics
(March 7, 2023)
'Now is not the time to rest on our laurels. We have the opportunity — and indeed, the responsibility — to swing for the fences so that we can ensure Florida remains number one.'
Gov. Ron DeSantis kicked off his fifth Legislative Session as Governor by touting his record while laying out an aggressive agenda ahead of an expected run for President.
DeSantis enters this Session arguably more powerful than ever after his resounding re-election victory last November — something he said "vindicates" his approach to governing — and Republican legislative leaders are poised to deliver him a string of wins in the next two months that is guaranteed to keep his name in the headlines.
"We will stand strong, we will hold the line, we won't back down and I can promise you this: you ain't seen nothing yet," DeSantis told lawmakers in his State of the State speech.
DeSantis urged lawmakers to pass an expansive agenda to ban transgender care for minors, impose lawsuit restrictions for businesses, crack down on illegal immigrants and grant protections to teachers while preventing union dues from being automatically deducted from their paychecks.
Voters this past November affirmed the Governor and his "Free State of Florida" agenda by nearly 20 points. He has Republican supermajorities in both legislative chambers and is considered a viable GOP candidate for the 2024 Presidential Election.
Prior to the start of the 2023 Regular Session, DeSantis already had rolled out most of his legislative agenda while appearing at press conferences around the state over the last several months.
His to-do list for the Legislature includes a $7 billion plan to expedite road projects in Central and South Florida; a $1.5 billion tax reduction; changing death penalty sentencing; cracking down on pharmacy benefit managers; allowing gun owners to carry weapons without a permit, and possibly, in open view; and a fresh round of lawsuit limitations.
Lawmakers will meet for 60 days and consider hundreds of different bills, but DeSantis' agenda is likely to take center stage as he likely ramps up for a presidential run. DeSantis recently released a book and conducted a tour that included Iowa, the first GOP caucus state, and is garnering an increasing share of national media attention, as well as the ire of former President Donald Trump, who has led most polls for the GOP nomination.
In his speech, though, DeSantis focused on his legislative agenda.
"Together we have made Florida the nation's most desired destination and we have produced historic results," DeSantis said. "But now is not the time to rest on our laurels. We have the opportunity — and indeed, the responsibility — to swing for the fences so that we can ensure Florida remains No. 1."
___
Christine Jordan Sexton of Florida Politics contributed to this report.