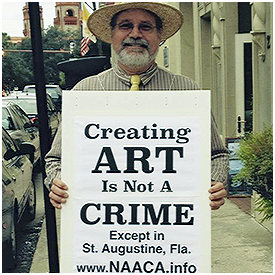 Bruce Kevin Bates, lead plaintiff in 2009 and 2016 victories in First Amendment cases by artists against City of St. Augustine
Artists win again! Artists won another federal court victory against First Amendment violations criminalizing plain air art in St. Augustine. ]
United States District Court Judge Brian J. Davis of the Middle District of Florida ruled for artists today and against City ordinances criminalizing First Amendment protected activity on pain of 60 days in jail and $500 fines.
Our City's namesake, Saint Augustine, wisely wrote: "an unjust law is no law at all."
Several anti-artist City ordinances were found unconstitutional today.
In a 77 page order, United States District Court Judge Brian J. Davis ruled February 24, 2016 for the four visual artists suing the City of St. Augustine over criminalizing art in our historic downtown.
Mayor Nancy Shaver asked fellow Commissioners to join her in a workshop to rework the ordinance. They refused. The suit was filed. The City has lost on the Order Granting Preliminary Injunction on its First Amendment violations, finding irreparable harm, a high probability of prevailing on the merits.
The Order Granting Preliminary Injunction Findings of unconstitutional laws include:
1. Peddler's Ordinance allowing City to reject applicants summarily, based upon supposed lack of "good moral character," a standardless delegation run riot. Since there is no "severability" clause, the entire ordinance is unconstitutional.
2. Mobile Vendor Ordinance curfew on sales after 6 PM.
3. Fees for Mobile Vendor licenses.
4. Bonds for Mobile Vendor licenses.
5. Liability insurance for Mobile Vendor licenses.
The Court noted several times that neither party presented enough data about tourist visits and flow in the City to rule on other counts. These include the location for public art and the equal protection claim. A trial is now required.
The City's noisome anti-artist ordinances were pushed by commercial landlords (including the Whetstone family), ex-Mayors JOSEPH LESTER BOLES, JR. a/k/a "JOE BOLES" and CLAUDE LEONARD WEEKS, JR. a/k/a "LEN WEEKS" and former City Manager WILLIAM BARRY HARRISS, a/k/a "WILL HARASS." They were long opposed by artists, including Roger Jolley and the late Gregory Travous, both of whom were arrested by SAPD.
Plaintiffs Bruce Kevin Bates, Elena Hecht, Kate Merrick and Helena Salas are the prevailing parties under 42 U.S.C. 1983 and are entitled to seek attorney fees under 42 U.S.C. 1988.
William Sheppard, Brian DeMaggio, Thomas Elijah Cushman,
et al.
were the attorneys.
They have won a Order Granting Preliminary Injunction, with a jury trial, damages and city-paid attorney fees to follow.
Three cheers for the artists, their lawyers and the federal court system. We, the People, won another public interest victory today.
City Attorney ISABELLE CHRISTINE LOPEZ neither returned a telephone message nor shared the order timely with Mayor Nancy Shaver, Vice Mayor Roxanne Horvath, or the other City Commissioners. At the preliminary injunction oral argument on August 21, 2015, the estimable Ms. LOPEZ wanted to sit in the spectator seats until invited to sit at the table by fungible Florida League of Cities insurance defense counsel from MARKS GRAY.
Judge Davis's February 23, 2016 Order Granting Preliminary Injunction is subject to modification after an epic jury trial and on appeal to the liberal United States Court of Appeals for the Eleventh Circuit in Atlanta.
Proponents and perpetrators of the artist-is-a-crime ordinance may be questioned before a jury. They include:
WILLIAM BARRY HARRISS, a/k/a "WILL HARASS", supported City ordinances criminalizing art
CLAUDE LEONARD WEEKS, JR., a/k/a "LEN WEEKS," ex-Mayor, supported City ordinances criminalizing art
JOSEPH LESTER BOLES, JR. a/k/a "JOE BOLES," ex-Mayor, supported City ordinances criminalizing art