Our local and Florida Scrooges need investigative reporting. They need their consciousness raised including:
FLORIDA GOVERNOR RICHARD LYNN SCOTT
, a global warming denier and rabid reactionary, who vetoed $270,000 for west Augustine sewers while signing legislation for $2.888 million for Summer Haven dredging, the man who invoked the Fifth Amendment privilege against self-incrimination some 75 times, whose fraudfeasing company paid $1.6 billion for false Medicare/Medicatid bills, refusers to explained Medicaid with federal funds, denying health care to millions, a lugubrious lawyer goober who has flagrantly violated Open Records laws, violated constitutional rights and blocks progress.
Flagler College Chancellor Dr. WILLIAM PROCTOR a/k/a "MASSA PROCTOR
, long the meanest man in St. Augustine, Florida, with angry arachnid apparatchik ROBERT THORNTON SMITH -- like racist, sexist, homophobic St. Johns County Republican Executive Committee Chair and Greater St. Augustine Club President MARTIN MILLER and Flagler College Professor JOE SAVIAK, louche lying political dybbuk who made up lies about Mayor Shaver -- these are illogical, illiberal, ill-advised legends in their own minds.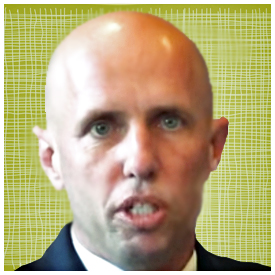 City of St. Augustine VICE MAYOR TODD NEVILLE (R-PROCTORVILLE), a/k/a "ODD TODD," conflicted
reactionary, rebarbative retromginant retaliatory sworn enemy of citizen free speech, transparency and audits, misogynist, sexist and conflicted chauvinistic developer puppet, shoe unconstitutional demand to file a SLAPP lawsuit using City tax dollars.
Current St. Augustine Beach Commissioner Mayor and longtime RICHARD BURTT O'BRIEN
, conflicted chauvinistic developer puppet, retaliatory sworn enemy of citizen free speech, whose unconstitutional demand for an injunction against government watchdog Tom Reynolds was denied by Hon. Howard O. McGillin, Circuit Court Judge on December 7, 2016.
SHERIFF DAVID SHOAR
, who changed his name from "HOAR," serial civil rights violator and coverup artist in the Michelle O'Connell case.
State's Attorney RALPH JOSEPH LARIZZA
, coverup artist in the Michelle O'Connell case, pictured with SHOAR/HOAR at the St. Augustine Rod & Gun Club, longtime Ku Klux Klan hangout.
Former State's Attorney Chief Investigator and current St. Augustine Beach Police Chief, ROBERT HARDWICK
, sometimes compared to Barney Fife, apple-polishing heir apparent to Sheriff SHOAR, who recently held an all-white Christmas Party not listed on City Commission agenda or marquee,
de facto
disinviting activists' children and those not affiliated with the city; who since 2012 has permitted some 170 volunteers to work the family-friendly, alcohol dispensing, underinsured BEACH BLAST OFF to operate without background checks. HARDWICK was one of the several investigators whose cumulative efforts helped deny justice in the Michelle O'Connell case: he promised the family an exhumation, went off to FBI Academy, and never called back Michelle's mom. SHOAR suck-up now recants prior opinion, claims he thinks Michelle committed suicide. Loves Sheriff SHOAR.
In 2012, HARDWICK's then-boss, State's Attorney R.J. LARIZZA, conveniently recused himself months after the investigation began, allowing a coverup by
Medical Examiner PEDRAG BULIC, M.D., M.E
. who is the author of the upside down gun and guns recoil forward pretexts no one believes, joined in by two (2) special prosecutors appointed by Governor RICHARD LYNN SCOTT: first
BRADLEY KING
and then
JEFFREY ASHTON.
But as my mother explained to me when I was six years old, "Time wounds all heels." In this case, KING was rejected November 28th for a seat on the Florida Supreme Court and ASHTON was rejected August 30, 2016 for renomination by Ninth Circuit Democrats in Orange and Osceola Counties. The Lord works in mysterious ways….
Hon. PREDRAG BULIC, M.D., M.E. 23rd District Medical Examiner
HON. JEFFREY ASHTON, FIFTH CIRCUIT STATE'S ATTORNEY
Rejected November 28th for a seat on the Florida Supreme Court
by our Florida Supreme Court Judicial Nominating Commmission
HON. BRADLEY KING, NINTH CIRCUIT STATE'S ATTORNEY
Rejected August 30, 2016 for renomination by Democrats in Orange and Osceola Counties
First Michelle O'Connell Special Prosecutor
Pray for their twisted souls. Justice for Michelle O'Connell.