No response yet from these two angry Republicans. Watching these two respond to investigations and questions is like watching a duck try to make love to a football.
Dull Republicans with no social skills, no empathy and bumptious business backgrounds generally make lousy leaders.
Believe me!
Forgive them, for they know not what they do. Haughty, discourteous, hostile to pubilc participation, curtseying to developers, these two rebarbative reprobate retromingent Republicans "know not that they know not that they know not."
Developer-serving St. Johns County Commission Chair JAMES K. JOHNS, a/k/a "IDDLE JIMMY" was first named in 2015 by Governor RICHARDL LYNN SCOTT. JOHNS has ignored my requests for him (like other holders of professional licenses) to disclose the companies for which his Solid Rock Engineering works. JIMMY JOHNS and his campaign CPA, stinky St. Augustine Vice Mayor TODD DAVID NEVILLE a/k/a "ODD" TODD, won't provide their client lists. Wonder why?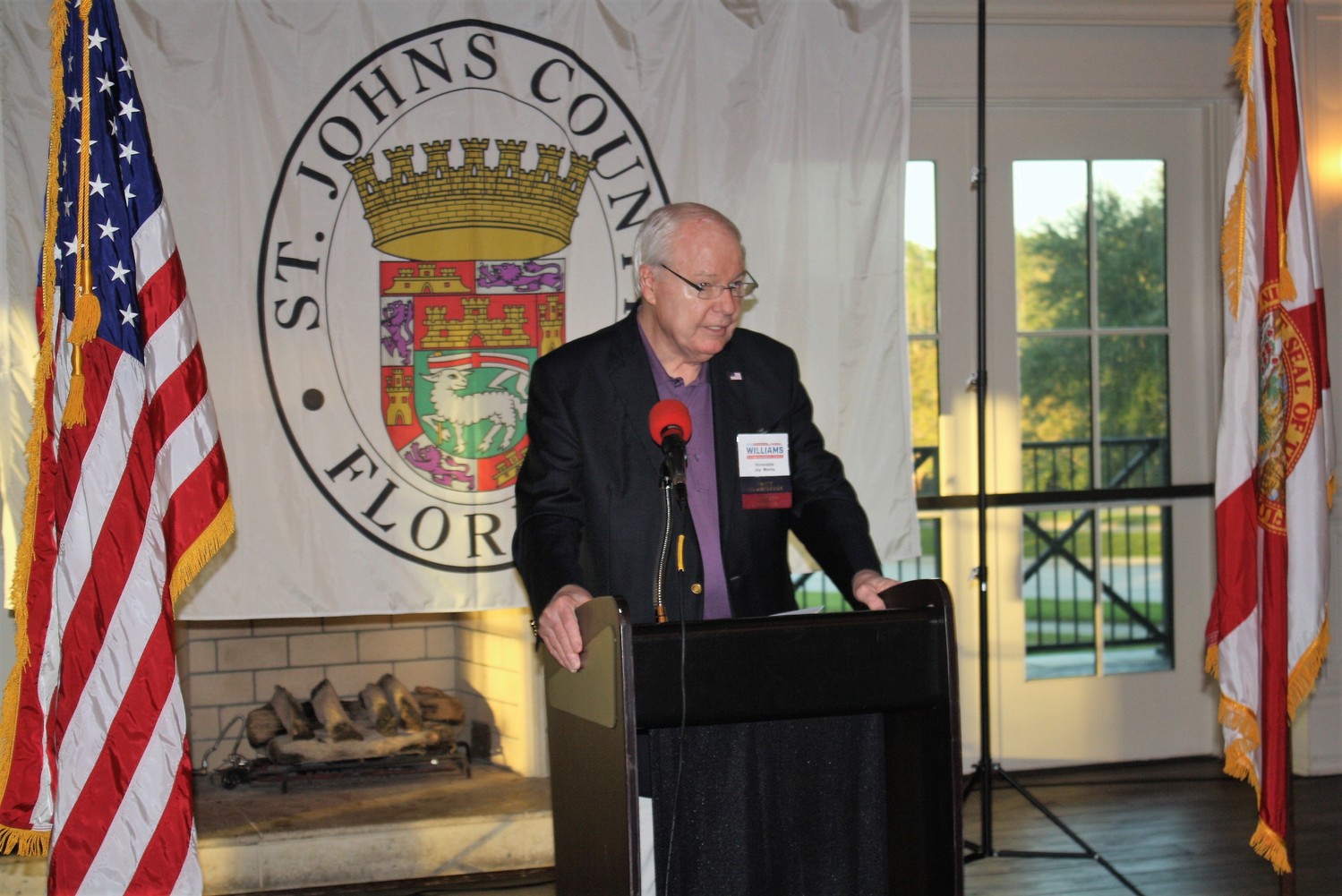 Commissioner JAY MORRIS (R-Ponte Vedra/former EVP of fraudfeasor RPM International, which repaid more than $60,000,000 in False Claims Act qui tam case settlement
Then-candidate JAY MORRIS with Gate Petroleum founder HERB PAYTON (right) at PVClub
Birds of a feather? Ethically-challenged Florida Governor RICHARD LYNN SCOTT, notorious
$1.6 billion Medicare/Medicaid fraudfeasor, with RPM International's ex-EVP JAY MORRIS, a piker by comparison.
-----Original Message-----
From: Ed Slavin
To: bccd4 ; bcc1jjohns
Sent: Fri, Nov 10, 2017 5:18 pm
Subject: Interruptions and Retaliation at BoCC meeting 11/7/2017
Dear Chairman Johns and Commissioner Morris:
1. Where are your manners?
2. Please call me to discuss your overt acts of interruptions and retaliation, in violation of the First and Ninth Amendments, at the November 7, 2017 meeting of the St. Johns County Board of County Commissioners.
3. You have failed to give our First Amendment rights the "breathing space" that the Supreme Court requires. NAACP v. Button

, 371 U.S. 415, 433 (1963)

New York Times. v. Sullivan

, 3766 U.S. 254 (1974);

Gasparinetti v. Kerr

, 568 F.2d 311, 314-17 (3d Cir. 1977)(illegal restrictions on policemen's First Amendment rights);

Philadelphia Newspapers, Inc. v. Hepps

, 479 767, 772, 777 (1986)(O'Connor, J.)(newspaper entitled to breathing space defamation case);

Hustler Magazine v. Falwell

, 485 U.S. 46, 52, 56 (1988) (Rehnquist, J.) (magazine parody of TV preacher entitled to breathing space);

Keefe v. Ganeakos

, 418 F.2d 359, 362 (1st Cir. 1969)(Aldrich, C.J.)(chilling effect on First Amendment illegal suspension of teacher over

Atlantic Monthly

article on Vietnam War);

Parducci v. Rutland

, 316 F.Supp. 352, 355, 357 (M.D. Ala 1970)(Johnson, C.J.)(chilling effect in illegal firing of English teacher over Kurt Vonnegut's

Welcome to the Monkey House)

.
4. Your unpatriotic and patronizing violation of my free speech rights, chilling protected activity, at a BoCC meeting, one where you purported to honor Veterans was, at best, ironic.
5. Please cease and desist from all further transgressions against free speech, public comment, open records, and Sunshine rights and laws.
Thank you.
With kindest regards, I am,
Jacksonville Times Union
Posted June 3, 2010 10:50 pm | Updated June 4, 2010 05:46 am
By Jackie Rooney
Rooney Bin: They said 'I do' and then lived happily ever after ...
…."I never had any intention of being a politician," St. Johns County Commission, District 4, candidate John "Jay" Morris told the crowd of about 160 people at a May 25 Ponte Vedra Inn & Club fundraiser.
The club and Herb Peyton of Gate Petroleum
hosted the affair with a gourmet hors d'oeuvres buffet. The highly decorated Army combat pilot and Vietnam veteran - he won the Distinguished Flying Cross and Bronze Star - came to Ponte Vedra to "walk the beach and play golf." He got involved in politics because he was concerned about escalating property taxes.
[Ed's note: MORRIS sometimes claims he entered the race at the behest of Sheriff DAVID SHOAR.]
After examining the county budget, Morris told his wife, Sue, "Let's go down to the County Commission and see how you run for commissioner." She responded, "Are you crazy?" Since then, Morris has attended budget hearings and added creating jobs in St. Johns County to his platform. As a past executive officer of a Fortune 1000 company, Morris says his business expertise will be a valuable addition to the commission. He face[d] former District 5 Commissioner James Bryant and political newcomer Joseph Mayhew in the Tuesday, Aug. 24, [2010] primary election.