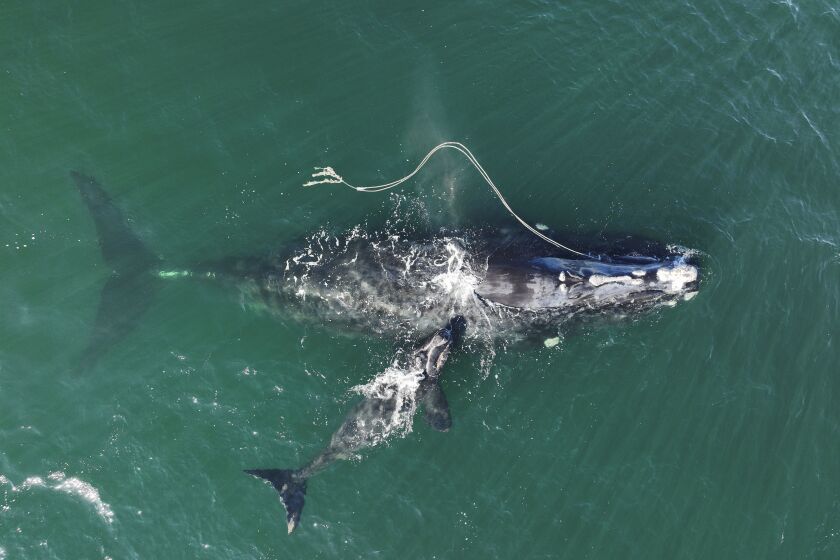 Waiting for our local, state and federal elected officials to be more proactive on our wintertime neighbors, who have their babies off our shores. Pro-life? Show me. What the heck is St. Johns County doing to help protect our endangered North Atlantic Right Whales (some 340 remain alive)?
You tell me.
From WJXT:
Marine biologists disentangle right whale off the coast of Georgia
CUMBERLAND ISLAND, Ga. – A 15-year-old right whale named Nimbus is now free from being entangled in a fishing rope. Nimbus was spotted by a Florida Fish and Wildlife Conservation Commission whale survey aircraft entangled 13 miles east of Jekyll Island, Georgia.
Trained responders working from boats used special tools to remove 375 feet of 11/16 inch diameter synthetic rope that was passing through the whale's mouth, dragging hundreds of feet behind its flukes. Responders were unable to remove a short segment of rope that was passing through the whale's mouth, but the whale should be able to shed the remaining rope on his own in time.
Nimbus was last seen swimming south, 9 miles east of Cumberland Island, Georgia. Fishing rope entanglements are the leading cause of North Atlantic right whale deaths and injury. It's one of the biggest challenges facing the species' survival.
Investigators with NOAA will work to determine the fishery rope's origin. The Georgia Department of Natural Resources along with the Clearwater Marine Aquarium Research Institute, Florida Fish and Wildlife Conservation Commission, NOAA Fisheries and Song of the Whale all worked to respond to the disentanglement.
Nimbus is a male Atlantic right whale, named for the cloud-like scars on his lips that predate this entanglement.