In happier days for the Florida Republican Party in 2021, here's Congressman Vern Buchanan raising $750,000 for House Republicans as Kevin McCarthy looks on: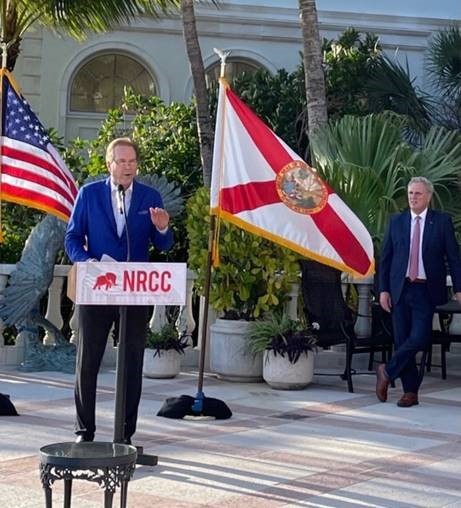 Here's a January 17, 2023 Florida Politics article about the piquant public squeal from this same sibilant sixth-wealthiest Congressman -- Florida U.S. Representative Vernon Gale Buchanan to Speaker of the House Kevin McCarthy: "'You f***ed me'"
Who knew that the floor of our U.S. House of Representatives was so lively?
Sound like a lover's quarrel between two corpulent corporate cat's paws?
You tell me.
Malleable Donald John Trump toady Kevin Owen McCarthy was elected as Speaker of the House on the fifteenth vote in the middle of the night after five days and fifteen (15) votes.
Does Vernon Gale Buchanan have a grievance against Kevin McCarthy? If so, Congressman Buchanan's got rotten luck, because House Republicans just voted to gut the Ethics Committee. The FBI may wish to hear his complaint about McCarthy not delivering the House Ways and Means Committee job, which Buchanan raised so much money to get.
Is Vernon Gale Buchanan just another bumptious rich Dull Republican businessman, who expects to get his way with our government?
Buchanan reportedly is worth some $157.2 million and received $2.3 million in forgiven PPP loans.
Is the 2023 Republican Party an angry authoritarian, pugilistic party that emotes, but doesn't govern, a circular firing squad divided by greed and hate?
You tell me.
From Florida Politics:
By Jacob Ogles
January 17, 2023
You f***ed me': Vern Buchanan reportedly cursed out Kevin McCarthy after Ways and Means decision
But is he mad enough to quit Congress over losing the gavel?
Did U.S. Rep. Vern Buchanan curse out Speaker Kevin McCarthy on the House floor?
A new report in Puck documents an angry exchange between the Longboat Key Republican after the GOP Steering Committee denied him the chairmanship of the House Ways and Means Committee. The gavel instead went to U.S. Rep. Jason Smith, a Missouri Republican fifth in line in terms of seniority.
"You f**ked me. I know it was you, you whipped against me," Buchanan reportedly told the California Republican.
Sources close to Buchanan would not confirm the phrasing but acknowledged words were shared between the men.
"Vern simply expressed his disappointment to Speaker McCarthy," said Max Goodman, Buchanan's political adviser.
The Puck report suggested the interaction between Buchanan and McCarthy became so heated security had to step in between the men, something McCarthy's office denied.
The same sources who offered a more colorful verbatim account to Puck suggested angst has grown around what Buchanan may do next. Many wondered if the episode and McCarthy's betrayal will prompt Buchanan to leave Congress early. That's something that could deliver a blow to McCarthy as he leads a slim 222-seat Republican majority in the House.
The rumors appear informed by a Punchbowl News report before the Ways and Means race concluded that Buchanan might quit if he didn't obtain the chairmanship.
Buchanan denied the report then and continues to tamp down talk of an early departure now.
"Talks of Vern getting ready to resign are positively ludicrous," Goodman said following reports of the recent blowup.
Yet in Southwest Florida and within Florida's consulting class, news of the exchange seemed to be greeted as a particularly colorful retirement announcement. Speculation began immediately on who might run to succeed Buchanan in Florida's 16th Congressional District.
A name atop the list is state Rep. James Buchanan, the Congressman's son. Many expect the Buchanan team to start rallying around the Florida lawmaker as a natural successor. That said, there's no overlap as of now between the elder and younger Buchanan's districts.
Locally, speculation surrounded state Rep. Tommy Gregory, a Lakewood Ranch Republican, ever since he came out early in favor of Gov. Ron DeSantis' draft congressional maps.
Republican Party of Florida Chair Joe Gruters also comes up frequently. The state Senator represents roughly a third of the congressional district. And former state Senate President Bill Galvano, a long-time Manatee County lawmaker, has been floated as a candidate as well.
The Ways and Means results were a surprise to many in Buchanan's orbit. Buchanan had seniority on the panel over all other Republican members. And while there were reports McCarthy had encouraged Smith to run because he felt Buchanan had more loyalty to Majority Leader Steve Scalise, Buchanan's political team always believed McCarthy would support the Florida lawmaker, the only Sunshine State Representative seeking a full committee gavel this Congress.
Buchanan and McCarthy entered the House the same year, and Buchanan raised more money for the National Republican Congressional Committee than anyone not already in leadership, around $4.1 million. That included hosting McCarthy for fundraisers at Buchanan's Longboat Key estate.
The awarding of chair positions in the new House are made by the 33-member House GOP Steering Committee as a whole. Buchanan sits on that committee, though he could not participate in the vote on Ways and Means because he was running. McCarthy has a weighted vote on decisions, worth four times that of most members.
Should Buchanan resign, it would be up to DeSantis to schedule a Special Election for his replacement. A timetable for that would need to take into account time for qualifying, for a party Primary and for a deciding matchup. The last time that occurred for a congressional election was after the death of U.S. Rep. Alcee Hastings, a Fort Lauderdale Democrat.
Buchanan won re-election in November by a landslide 24 percentage points over Democrat Jan Schneider. However, he has faced nationally backed Democrats in prior elections, most recently Margaret Good in 2020, whom he beat by 11 points, and David Shapiro in 2018, whom he defeated by 9 points. Those elections were under a different configuration of the district that included more Democratic areas such as the city of Sarasota.
Buchanan first won election to the House in 2006, by just 369 votes over Democrat Christine Jennings when running for an open seat. It's likely Democrats would put up a fight in the event Buchanan quit or chose not to seek re-election. Republican Donald Trump won the district in the 2020 Presidential Election by fewer than 9 percentage points.
So what are the prospects the 71-year-old incumbent chooses not to seek re-election in 2024? That's not a question Buchanan is prepared to answer.
"As always, those decisions will be made at the appropriate time," Goodman said.
Jacob Ogles
Jacob Ogles has covered politics in Florida since 2000 for regional outlets including SRQ Magazine in Sarasota, The News-Press in Fort Myers and The Daily Commercial in Leesburg. His work has appeared nationally in The Advocate, Wired and other publications. Events like SRQ's Where The Votes Are workshops made Ogles one of Southwest Florida's most respected political analysts, and outlets like WWSB ABC 7 and WSRQ Sarasota have featured his insights. He can be reached at jacobogles@hotmail.com.
---