We need a real newspaper.
One that reports the news "without fear or favor."
One with fewer typos and fewer egos.
One with more news.
One with courage.
In the Pentagon Papers case, a new Nixon-Republican judicial appointee, U.S. District Court Judge Murray Gurfein (later an appellate judge) famously wrote, ""The security of the Nation is not at the ramparts alone. Security also lies in the value of our free institutions. A cantankerous press, an obstinate press, an ubiquitous press must be suffered by those in authority in order to preserve the even greater values of freedom of expression and the right of the people to know."
United States v. N.Y. Times Co.
, 328 F. Supp. 324, 331 (S.D.N.Y. 1971).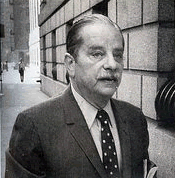 United States District Court Judge Murray Gurfein (later promoted to the Second Circuit Court of Appeals)