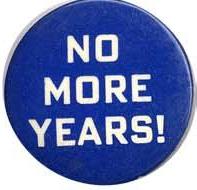 A Washington, D.C. alternative news weekly,
City Paper
, once called Mayor Marion Barry "Mayor for Life."
St. Johns County, Florida Sheriff DAVID BERNARD SHOAR was elected in 2004 over the more backward candidate, Glenn Lightsey, garnering support of well-meaning people who thought he was "liberal," as well as some $250,000 in corporate CA$H. Exposed by
Folio Weekly, First Coast News, The New York Times, PBS Frontline, Dateline NBC, Dr. Phil, The Guardian and Good Morning America
for his role in the coverup of the September 2, 2010 Michelle O'Connell shooting, SHOAR has been in hiding. He was nowhere to be seen at Memorial Day services, but was at Barnes & Noble this morning, appearing to weigh some 300 pounds. Life has not been kind to the High Sheriff.
Sheriff DAVID BERNARD SHOAR a/k/a "DAVID SHOAR" f/k/a "DAVID BERNARD HOAR," has an immense ego and de minimis ethics, hiding behind a formerly choirboy countenance. You may now officially call the High Sheriff "HIS IMMENSENESS" because he is insouciant and pig-ignorant about what people think of him after his coverups were revealed in national and international news media (long neglected by the St. Augustine Record, whose hagiography of SHOAR has always been shockingly shameful and shameless).
On May 11, 2015, Sheriff SHOAR appeared before the St. Augustine Republican Club and stated that he was running for re-election in 2016 and 2020. He also stated that he is running on his Christian (sic) beliefs (sic), and that he will defend his deputies even if he has to go down with them.
As JFK once said, "Sometimes party loyalty demands too much." But fealty of a misfeasant Sheriff to malfeasant deputies is simply malodorous and mendacious and oleaginous -- like RICHARD MILHOUS NIXON's "defense" of H.R. HALDEMAN and JOHN EHRLICHMAN, whom he "defended" out of fear of what they could reveal about him (and did).
Sorry, DAVID, no one wants you to run for Sheriff again -- no one honest and honorable, anyway. DAVID, we hardly knew ye. Go on, git.