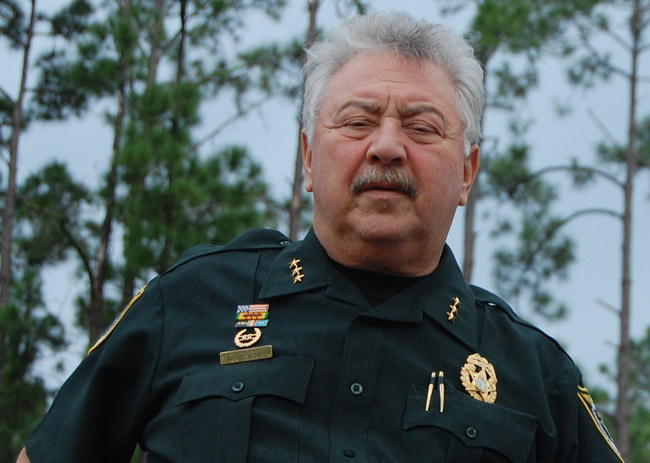 Retired FDLE manager, FDLE special agent, FDLE undercover investigator and retired Flagler County Chief Deputy Sheriff Rick Look died July 16th.
I met Mr. Richard Look on Easter Sunday, 2014, and we enjoyed talking about law enforcement matters, Florida politics and dogs.
Mr. Look worked undercover on the Miami River Cops investigation, involving felony murder charges against Miami police officers who stole drugs and forced drug smugglers to jump overboard from a smuggling ship and drown in the Miami River. Among the officers were Marielito Cubans who were hired without adequate background investigations during a time of increasing crime in the 1980s.
Mr. Look was honored for his undercover investigative work by Miami State's Attorney Janet Reno, later our U.S. Attorney General. (I saw the arraignment, which was the day of my interview with Ms. Reno's top aides in January 1986).
Years later, Mr. Look recalled, he had a chance meeting with Ms. Reno (at an airport or event, if I recall correctly): General Reno profusely thanked Mr. Look for his courage and integrity and intellect as an undercover FDLE agent investigating the Miami River Cops homicide cases.
Mr. Look's tragic death was the likely
sequelae
of horrific medical malpractice by FLAGLER HOSPITAL, which he described in detail.
Mr. Look's death is the latest death and injury at the hands of our malfeasant, poorly-managed local community hospital, bearing the name of robber baron HENRY MORRISON FLAGLER, the brains behind the Standard Oil Trust.
Flagler hospital's actions are never investigated by the
St. Augustine Record
, whose past publishers have served on its
boards
, along with minor local politicians (including Commissioner TODD NEVILLE and LEN WEEKS and WILLIAM MIGNON). WEEKS' father was administrator when the hospital was segregated.
In honor of Mr. Look's life and death, FLAGLER HOSPITAL requires stricter scrutiny by journalists and citizens. Enough.
Enough suffering, enough innocent lives lost due to medical malpractice -- more than 100,000 people die from it annually.
See, generally,
Walt Bogdanich,
The Great White Lie -- How America's Hospitals Betray Our Trust and Endanger Our Lives
(Simon & Schuster, 1991)(by the three-time Pulitzer Prize winner who exposed Sheriff DAVID SHOAR's coverup of the September 2, 2010 homicide of Michelle O'Connell in the home of Sheriff's Deputy Jeremy Banks -- read Mr. Bogdanich's
New York Times
story
here
and PBS Frontline story
here
).