Mourning the passing of my Memphis State University Law School Remedies Professor, Janet Richards, who taught us to think "remedially." Prof. Richards' Remedies course that cut across traditional subject matter areas of the law, looking at remedies that help prevailing parties obtain justice, "and not by halves," in the words of the ancient equitable maxim. I was proud to have Prof. Janet Richards as my Remedies Professor at Memphis State, and we all mourn her loss.
From University of Memphis:
MEMPHIS LAW MOURNS THE PASSING OF PROFESSOR EMERITUS JANET RICHARDS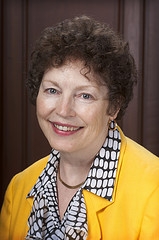 "Professor Richards was respected by colleagues and beloved by students," said Peter V. Letsou, Dean of the University of Memphis Cecil C. Humphreys School of Law. "She left a lasting impression on this law school and her many students that have gone on to become successful attorneys will be her lasting legacy."
Professor Richards served as the Cecil C. Humphreys Professor of Law at Memphis Law, where she joined the faculty in 1978 and served for more than three decades. Professor Richards taught Family Law, Family Law Seminar, Juvenile Law and Sales. She obtained her B.S. and J.D. from the University of Memphis and her LL.M. from Yale. She was a member of the American Law Institute, past chair of the AALS Family and Juvenile Law Section, a master emeritus in the Leo Bearman Sr., Inn of Court and a member of the TBA Family Law Code Commission. She was also a past president of the Tennessee Supreme Court Historical Society, a Tennessee Bar Foundation Fellow, and a recipient of the Memphis Bar Association's prestigious Sam Myar Award.
"It is not hyperbole to say that Janet was a light within the law school, a wonderful mentor, an excellent teacher, a source of wise counsel, always institutionally minded, and of positive outlook and disposition," said professor Kevin Smith, former dean of the University of Memphis School of Law and friend and colleague of professor Richards."
There was nothing she would not do for the law school and for her fellow human beings," said professor William P. Kratzke, echoing the statements of all that knew and worked with her.