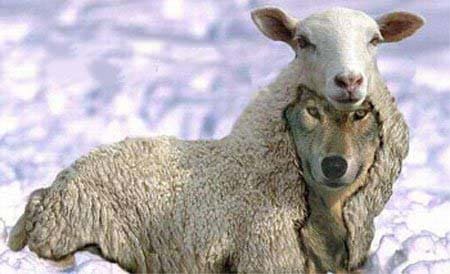 Beware of false prophets, which come to you in sheep's clothing,
o JANE WEST, former counsel for the Old City South neighborhood (HP-1) did exactly
what
in representing her clients?
o Charged them how much?
o Filed how many motions? (One, at the 11th hour).
o Failed to object to how many of the slew of illegalities and Due Process violations?
o Asked
me
to present her motion for recusal of Commissioner TODD DAVID NEVILLE, which she neglected to do in her three minute presentation?
(NEVILLE is her personal and firm accountant).
o Never filed a written objection to the biased, one-sided, unscholarly University of Florida "Opinion Paper," requested by Commissioner NANCY SIKES-KLINE and entered into the record without a proper sponsoring witness.
o Never objected to numerous errors before the Historic Architectural Review Board, Planning and Zoning Board and St. Augustine City Commission? (I objected and so did HP-1 opponents).
o Undercapitalized?
o Overwhelmed?
o Threatened? Scared off? Increased her appeal fee after the hearing?
o JANE WEST agreed with me and others during the course of the August 24-25, 2015 CIty Commission meeting that there were numerous reversible errors in the City Commission's process.
But then she
discouraged any appeal
of the St. Augustine City Commission's 4-1 decision of August 24-25, 2015, rubber-stamping the proposed 30-room hotel in our City's most historic and protected residential neighborhood -- the former DOW Museum of Historic Homes (DOW Planned Unit Development or DOW PUD)(CORDOVA INN)(in which our State of Florida invested $2.1 million to preserve and protect it as a museum).
Why?
Sounds like a negative
Profile in Courage
to me.
I found JANE WEST to be uncharacteristically distant and cold during and after her Colorado camping vacation. She was not focused on the crucial DOW PUD case (she was in her defense possibly working on the KINGS GRANT case she won before the County Commission).
JANE WEST missed a meeting with neighbors one week before the vote.
JANE WEST did not preserve issues, including estimable City Attorney ISABELLE CHRISTINE LOPEZ and ROGERS TOWERS partner ELLEN AVERY-SMITH double-teaming her, limiting her to three (3) minutes, despite earlier agreements for her to have more time before PZB.
DAVID BARTON CORNEAL's corrupt forces overwhelmed her, and she did little to expose his record of chicanery, including bogus lawsuits against former employees, efforts to get one fired from teaching at Penn State University, a bogus lawsuit against a small Pennsylvania township, and false statements (about not knowing about the fees) to win a waiver from archaeological excavation fees in St. Augustine May 7, 2014 (we have the receipt he paid for the fee for his million dollar mansion).
Why didn't WEST ask to cross-examine CORNEAL?
Why didn't WEST raise CORNEAL's character and prior bad acts?
Why didn't WEST use her considerable legal talent (finalist in national mock trial competition).
A small-town lawyer with a big case against one of the biggest SOBs ever to waltz into town since Henry Morrison Flagler, JANE WEST did not zealously represent her clients.
But her clients actually preserved the record despite her -- so did we all -- 36 speakers out of 54.
Jane West was quoted by The St. Augustine Record: "An appeal is fairly certain on behalf of the HP residents that have engaged in this process since the beginning of the year," said Jane West, an attorney representing nine residents of the Historic Preservation District-One neighborhood, where the development is planned.
What happened to JANE WEST?
What did the Establishment do to JANE WEST? JANE WEST won't say.
Suffice it to say that WEST "went South," or had what economists call a backward-bending labor supply curve.
After the 8/24-25 DOW PUD (CORDOVA INN) debacle, I spoke by phone with JANE WEST on the morning of September 1, 2015, right after Governor Scott's cabinet meeting, on a cellular telephone from the lobby of The Treasury dowtown. Burned-out, beaten-down, JANE WEST's entire mood had changed: she was uncharacteristically shrill, sharp, snooty and condescending. JANE WEST said she no longer represented the HP-1 residents and that any further work would require more money: she said she had only one
pro bono
case (involving Bhopal), and had to pay her "mortgage." JANE WEST was angry that I sent her e-mails about DOW PUD.
Odd behavior, indeed.
I referred the DOW PUD case to her in the first place; I was impressed with her work on the 7-11 case. I also referred to her the 7-11 case, which she won.
Was JANE WEST pressured by small-town Establishment figures to dump her HP-1 clients?
Did JANE WEST do her zealous best in representing HP-1?
Did JANE WEST pull her punches (failing to use all of the case law that I and provided her on recusal law at her request, for example, on TODD DAVID NEVILLE).
JANE WEST now refuses to answer any of my questions about her actions, inactions and possible legal malpractice on the DOW PUD case.
She has the "right to remain silent," but we wish she wouldn't.
Earlier today, JANE WEST informed me that she has referred me to the St. Augustine Beach Police in retaliation for my First Amendment protected activity. Was JANE WEST (a member of the St. Augustine Beach Planning and Zoning Board) abusing her government status?
I am shocked that a respected environmental and land use planning lawyer would retaliate in such a malicious manner (against someone who referred three cases to her).
JANE WEST's retaliation is "equivalent to a confession."
Evidently she fears concerns about her possible malpractice in representing HP-1 neighbors.
JANE WEST sent me a curt e-mail, ordering me never to contact her again.
Fair enough.
I won't ever speak or write to JANE WEST again.
But I will never refer JANE WEST another environmental or land use planning law case again.
This is the result of having seen her in action (or inaction) in the DOW PUD case, possibly the biggest zoning case in the 450 year history of St. Augustine.
JANE WEST, we hardly knew ye.
JANE WEST's passive, maladroit mishandling of the DOW PUD case stinks.
JANE WEST: Did she commit legal malpractice in the DOW PUD case before City Commission?
Will she apply for legal jobs with the City of St. Augustine and St. Johns County?
Will she become a corporate lawyer again?