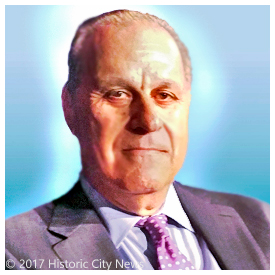 Former Republican County Chair WILLIAM KORACH, suffered an apparent heart attack. A hearing on his lawsuit for alleged defamation and wrongful termination today will be rescheduled.
KORACH is currently at Flagler Hospital ICU.
KORACH is suing the Republican Party of Florida and local Republicans for ousting him and complaining about his alleged misconduct to RPOF.
State GOP chairman Blaise Ingoglia removed WILLIAM KORACH from his County Chairman post on May 29 on the recommendation of a party grievance committee.
The grievance committee was convened after three local party members and a state committeewoman filed a nine-part grievance against him that alleges, among other things, public drunkenness, "improper acts towards females" to include "even touching improperly," promoting personal opinions on party letterhead, failing to file accounting records,, conducting a business meeting without a quorum and improperly electing new members to the committee.
But WILLIAM KORACH is most noted for his savage attack on Drew Adams, a 17 year old transgender male student whom KORACH pressured the School Board to resist and discriminate against.
The Republican Party of Florida (RPOF) contends that it based its firing decisions on overt acts by KORACH, and one of them was his unauthorized fatwa in the federal court civil rights case of
Adams v. St. Johns County School Board
.
KORACH contends that he suffered damages from alleged defamation and conspiracy, resulting in damage to his alleged good name and reputation and in alleged "mental anguish and torment" and "humiliation and embarrassment," seeking compensatory and punitive damages against alleged tortfeasors Eric West, Diane Scherff, Dr. Michel S. Pawlowski, D.Sci., Elizabeth Granite, RPOF and RPOF Chair Blaise Ingolia.
Racist, sexist, homophobic transphobic KORACH has alleged he was disgraced and humiliated by the allegations against him, and is seeking unspecified damages.
On July 31, 2018, KORACH voluntarily dismissed his first lawsuit against RPOF. In June, Judge Traynor denied an equitable remedy,
a preliminary injunction to KORACH, because he had already been removed from office
.
The case had been set for a 2 PM August 2, 2018 hearing before Judge Traynor. The hearing will be rescheduled.
Pray for WILLIAM KORACH and fellow Republicans to recover and repent of their bigotry, racism, sexism, misogyny, homophobia and transphobia.
Defendant RPOF Chair Blaise Ingoglia with Donald John Trump and AG Pamela Jo Bondi, 2016 political event. RPOF Chair and State Rep. Blaise Ingoglia represents Hernando County, KKK country, including Spring Hill and Brooksville (named immediately after the fire-eating South Carolina Congressman Preston Smith Brooks savagely caned Massachusetts Senator Charles Sumner on May 22, 1856 in retaliation for Sumner giving a speech criticizing slavery and Brooks' cousin).