Rebecca Solnit understands TRUMP's base -- it is mean and base. Some 20% of TRUMP supporters lament the end of slavery. Millionaires and billionaires insist upon re-enacting slavery through other means, including union-busting an cramdown forced arbitration of employment "disputes." The forces of authoritarianism are considerable. Tomorrow, November 6, 2018, is Election Day. Vote against authoritarianism and support democracy. From
The Guardian
:
The American civil war didn't end. And Trump is a Confederate president
His supporters hark back to an 1860s fantasy of white male dominance. But the Confederacy won't win in the long run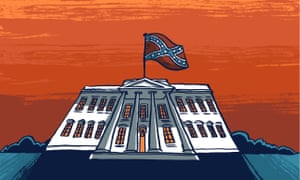 If you are white, you could consider that the civil war ended in 1865. But the blowback against Reconstruction, the rise of Jim Crow, the myriad forms of segregation and deprivation of rights and freedoms and violence against black people, kept the population subjugated and punished into the present in ways that might as well be called war. It's worth remembering that the Ku Klux Klan also hated Jews and, back then, Catholics; that the ideal of whiteness was anti-immigrant, anti-diversity, anti-inclusion; that Confederate flags went up not in the immediate post-war period of the 1860s but in the 1960s as a riposte to the civil rights movement.
So much of what is at stake is the definition of "us", "ours" and "we". "We the people of the United States, in order to form a more perfect union," says the preamble to the constitution. It was murky about who "we" were, and who "the people" were. That document gives only some white men the vote and apportions each state's representation according to "whole Number of free Persons, and excluding Indians not taxed, three fifths of all other Persons". "All other persons" is a polite way of saying enslaved black people, who found the union pretty imperfect. "Who's your 'us'?" could be what we ask each other and our elected officials.
"You will not replace us," shouted the mobs of white men marching through Charlottesville, Virginia, in 2017 in a rally organized in response to the planned removal of a statue of Confederate general Robert E Lee. When Dylann Roof murdered nine black people on 17 June 2015 in Charleston, South Carolina, he declared: "Y'all are raping our white women. Y'all are taking over the world." His "us" was white people, perhaps white men, since "our women" seems to regard white women as white men's possessions.
Taking over the world: there is a great deal of fear and rage about an increasingly non-white nation. "The US subtracts from its population a million of our babies in the form of abortion," Representative Steve King told a far-right Austrian magazine. "We add to our population approximately 1.8 million of 'somebody else's babies' who are raised in another culture before they get to us. We are replacing our American culture two to one every year." (He ignored that, also, almost 4 million babies are born in this country annually; factual accuracy is not a pursuit of many on the far right.)
Even before the United States was founded, great conflicts arose between the Puritans and other Christians who wanted to live in a segregated, homogeneous society, and the pluralists, between narrow and broad "us". In what is now New Mexico, crypto-Jews –J ews who had survived the Spanish Inquisition by hiding their faith – found refuge in the mid-17th century. In 1657, Quakers in what is now Queens, New York, issued the Flushing Remonstrance, a manifesto in favor of religious tolerance countering the Dutch colony of New Amsterdam's attempt to drive out Jews and anyone else outside the Dutch Reformed church.
You don't have to be oppressed or come from a history of oppression to stand with the oppressed; you just have to have a definition of "we" that includes people of various points of origin and language and religious belief and sexual orientation and gender identity. A lot of us do: many large US cities are places of thriving everyday coexistence across difference. A lot of Americans have married across racial and religious lines, some have devoted themselves to the work of solidarity, and a lot subscribe to a grand inclusive "we, the people". Those who don't are not a majority but they have an outsized impact, more now than in a very long time. The Confederacy didn't win in the 1860s and it is not going to win in the long run, but inflicting as much damage as possible seems to be how they want to go down.
Long after Trump is gone, we will have these delusional soldiers of the Confederacy and their weapons, and ending the war means ending their allegiance to the narrow "us" and the entitlement to attack. As Michelle Alexander reminded us recently: "The whole of American history can be described as a struggle between those who truly embraced the revolutionary idea of freedom, equality and justice for all, and those who resisted." She argues that we are not the resistance; we are the river that they are trying to dam; they are the resistance, the minority, the people trying to stop the flow of history.
Perhaps peace means creating so compelling a story of abundance and possibility and wellbeing that it encourages people to wander out of their bunkers and put down their weapons and come over. It means issuing invitations, not just rebukes, and that's a long, slow complex job. All week I've had the title line from Johnny Cash's song Like a Soldier in my head. How does a soldier get over the war? I don't know, but it helps if the war is over.
I do know that so much of what makes this country miserable is imagined poverty, the sense that there is not enough for all of us, that we need to become grabbers and hoarders and slammers of doors and ad hoc border patrols. Wars are fought over resources, and this is a fight over redistribution of resources and who decides about that distribution. We are a vast land, a country of unequaled affluence – albeit with obscene problems of distribution – a country that has always been diverse, and one that has periodically affirmed ideas of equality and universal rights that we could actually someday live up to fully. That seems to be the only real alternative to endless civil war, for all of us.