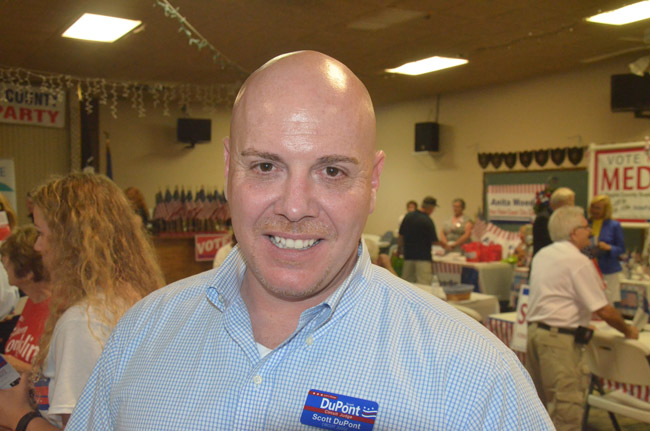 Now-defrocked Circuit Court Judge SCOTT C. DuPONT was a tyrant who mistreated litigants and lawyers and who slandered and libeled lawyer Malcolm Anthony, a fine practicing attorney, and used unethical tactics to get re-elected.
Unjust Circuit Court Judge SCOTT DuPONT was rightly removed from the bench, rightly suspended, and rightly kicked out of the St. Augustine law office where he was renting space (The Alexander Law Firm).
SCOTT DuPONT is a graduate of right-wing Regent University Law School, founded by MARION GORDON ROBERTSON a/k/a "PAT ROBERTSON," crazy crabby son of a segregationist U.S. Senator.
Wen SCOTT DuPONT spoke at a League of Women Voters forum in St. Johns County upon his initial electron campaign, he appeared demagogic, campaigning as "pro-family," which is dull Republican Newspeak for homophobic. I spotted this energumen dybbuk for the energumen he was, and now the Florida Supreme Court has done so, for the second time.
Supreme Court suspends former Flagler Judge Scott Dupont
By Frank Fernandez
Posted Oct 10, 2019 at 3:30 PM
Updated Oct 10, 2019 at 3:30 PM
Daytona News-Journal
Former Circuit Judge Scott DuPont disseminated "scandalous and inaccurate information"
The Florida Supreme Court on Thursday suspended for three months former Circuit Judge Scott DuPont, who presided over cases in Flagler and Putnam counties until he was booted from the bench last year.
Some of the same violations that got DuPont removed as a judge in June 2018 also netted him a 91-day suspension on his license to practice law, according to Thursday's order from the Florida Supreme Court.
DuPont must also pay $1,250 in administrative costs to the Florida Bar.
DuPont entered a conditional guilty plea to violating Florida Bar rules, leading to his suspension.
DuPont engaged in multiple campaign violations and knowingly made "scandalous and inaccurate" claims about his opponent, Malcolm Anthony and Anthony's family, according to the Florida Bar. DuPont did so even after being cautioned by two judges not to do so. And he did so even though others cautioned him to check the accuracy of the information.
During a televised candidate forum, DuPont made inaccurate accusations about his opponent's driving record. Afterward, DuPont did nothing to see if he had misspoken, according to the Florida Bar.
DuPont's suspension will take effect 30 days from Thursday unless he informs the Supreme Court that he does not need the time to close out his law practice, in which case it will begin immediately.
The Judicial Qualifications Commission in its review of DuPont when he was a judge found that he showed "a reckless disregard for the truth."