"It was the

best of times

, it was the

worst of times

, it was the age of wisdom, it was the age of foolishness, it was the epoch of belief, it was the epoch of incredulity, it was the season of light, it was the season of darkness, it was the spring of hope, it was the winter of despair." --

Charles Dickens, A Tale of Two Cities.
I was asked recently by two visiting journalists if St. Johns County was more corrupt than elsewhere. I did not have a pat answer, but answered their question with questions. What metric does one use to answer? Indictments, or the lack of them? Investigations, or the lack of them? Transparency, or the lack of it? Corruption that is detected, deterred and prosecuted, or corruption that festers unreported and treated as unremarkable?
Dead people once notoriously voted in Chicago, and elsewhere in Illinois and America.
JFK once said that when he died, he wanted to be buried in Chicago because he wanted to remain active in politics.
In New Jersey and in South Florida, the proliferation of governmental entities (townships and itty-bitty cities) makes it tough for journalists or citizens to follow the web of mafia corruption of their governments, because there are so darn many of them.
In Tennessee, Governor Ray Blanton was selling pardons to murderers and selling liquor licenses. Nine of 95 Tennessee heriffs went to federal prison in the 1980s for drug dealing conspiracy, including Dennis O. Trotter, who called me "the most dangerous reporter I ever met in my whole life," who had me sued for libel on the morning of my first law school exam (and ended up paying me for his torts).
Trotter was exposed and brought down by fifteen (15) courageous Sheriff's deputies who went to the U.S. Attorney, the FBI and a federal grand jury. The FBI conducted an undercover operation and arrested Trotter, sending him to federal prison. We were blessed in Anderson County to have a reform District Attorney, James Nelson Ramsey, whom I considered a mentor and friend. General Ramsey may have lazy, egotistical and outgunned by thugs, but he told the truth and got in trouble for it. He did not cower to power. Jim told me the facts of life about case-fixing and corruption in the South. He was the object of disdain and ridicule from a corrupt political machine, which tried to get him disbarred. One of the Bar complaints was from Johnny Ray Morgan, who complained that General Ramsey had called Sheriff Trotter a "corrupt son-of-a-bitch," stating that he was going to put him in prison. Trotter was a corrupt SOB and Jim Ramsey did help put him in prison. See Ramsey v. Board of Professional Responsibility, 771 S.W.2d 116 (Tenn. 1989).
During the FBI's undercover investigation, I gave a deposition in a lawsuit against the City of Oak Ridge, in which defense counsel asked me about my news stories about Trotter, asking if he had been arrested. "Not yet," I replied. I was there on May 21, 1984 to see three FBI agents take the High Sheriff of Anderson County, Tennessee away in handcuffs. Trotter, a Democrat, was re-elected in 1982 in a race against Oak Ridge Police Captain Eugene Foust. Both wound up in federal prison for drug crimes.
In East Tennessee, by far the worst corruption was by the U.S. Government, its mismanaged nuclear weapons plants, and its illegal pollution, which was long a classified national security secret by the Atomic Energy Commission and the U.S. Department of Energy. It was a federal crime to discuss mercury pollution, until our Appalachian Observer newspaper got it declassified, empowered by our Publisher, Ernest F. Phillips, whose family had lived in Appalachia for 200 years. Ernie was a reform County Commissioner who was formerly General Ramsey's Criminal Investigator.
Massive illegal pollution is now being cleaned up at nuclear weapons plants in eleven states, and by 2057 (my 100th birthday) might be done, at a cost north of $300 billion. Thanks to United States District Court Judge Robert Taylor, a Truman appointee, the government was told it could not break the law, and that there was no "national security" exemption to environmental laws. Legal Environmental Assistance Foundation, Inc. v. Hodel, 586 F. Supp. 1163 (E.D. Tenn. 1984). (I once interviewed Energy Secretary Donald Paul Hodel when he came to Oak Ridge. He was an imbecile, like Reagan's first Energy Secretary, a South Carolina dentist. The illegal pollution in Oak Ridge was kept secret from American Presidents and the American people, as Union Carbide raked in no-bid contracts for government-owned contractor operated facilities, with no inspections by the government until 1991.). That's corruption.
In Michigan, the U.S. Attorney in Detroit,
the United States Attorney for the Eastern District of Michigan said that Michigan is the most corrupt state.
I've heard the same trite trope about Tennessee, Illinois, Indiana, Ohio, New York, New Jersey, Pennsylvania, Nevada, Mississippi and Florida.
In southeast Michigan, the number of pending investigations of local public officials (40) might reflect greater sensitivity to corruption and a greater desire to remedy it. It might reflect better FBI agents and federal prosecutors in Michigan, who are not in bed with bight crooks like Sheriff DAVID SHOAR in St. Johns County.
Here in Northeast Florida, our FBI Special Agent-in-charge signed a secret MOU in 2018 for a $2 million contribution to the St. Johns County Sheriff's office for a gun range, never submitted to St. Johns County Commission until summer 2019. FBI here has covered up for corruption by Sheriff DAVID SHOAR, blowing off the deputies and the family of homicide victim Michelle O'Connell. Now that's what I call corruption.
Here in Flori-DUH, our corruption is so outrageous and so amateurish that:
the 2000 Presidential Election was stolen under the maladministration of Governor JOHN EDWARD BUSH, in favor of his brother, GEORGE WALKER BUSH, with 27,000 uncounted votes in Jacksonville (Duval County), some 20,000 of them African-American.

for nine years, a Deputy, JEREMY BANKS, who apparently shot and killed his girlfriend has not been arrested, or taken before a grand jury, despite the overwhelming weight of evidence in The New York Times, PBS Frontline, ABC 20/20, NBC Dateline, et al.
an elected official who resides in Jacksonville with his wife and mother,, BARRY MARK BENJAMIN, Chairman of the St. Augustine Port, Waterway and Beach District, claims to live on a boat at commercial property and gotten away with it, with our feeble then-Florida Governor, Charles Crist, and our Florida Elections Commission staff, doing nothing to investigate him. I've asked our St. Johns County Supervisor of Elections, Ms. Vicki Oakes, to investigate.

our State Senator, now FSU President, JOHN THRASHER, claimed a beach condo as his "residence" when he lived in another county at a 5000 square foot crib.
I don't want to enter Florida in the victimization Olympics against Michigan.
But here's a revealing fact: After seven years of inexplicable desuetude, David E. Gilbert, the elected Prosecuting Attorney in Calhoun County, Michigan finally bestirred prosecuted conman CHRISTOPHER ALLAN EAGLE for embezzling some nearly $22,000 from his employer, Kellogg Company, and EAGLE served 91 days in jail there.
When Christopher Allan EAGLE was released on probation, with a condition to seek and maintain employment, he moved to Florida. He's running for Congress against the incumbent, former Duval County Sheriff John Rutherford, seeking the Democratic nomination to be our 4th Congressional District representative in the House of Representatives.
When I broke the story last week, the Chain Gang Journalists in GateHouse owned St. Augustine Record and the Jacksonville Times-Union did not pick up the story, At least the Gannett-owned Battle Creek Enqurier is reporting on what should be local news here. At least Michigan prosecuted EAGLE, finally, maladroitly
At least Michigan reporters report the news about corruption. Here in St. Augustine and St. Johns County, reporters ignore it, as if they were in pari delicto with the devious developers and corrupt Sheriff, DAVID SHOAR, who legally changed his name from "HOAR" in 1994.
Since the time of Al Capone, escaping American and foreign criminals have moved to Florida, liking the louche lax lassitude of its law enforcement and the favorable laws for corporate secrecy and business ownership.
The news media is dying on the vine amidst authoritarianism and oligopoly,.
We need a real newspaper.
One that reports the news "without fear or favor."
One with fewer typos and fewer egos.
One with more news.
One with courage.
In the Pentagon Papers case, a new Nixon-Republican judicial appointee, U.S. District Court Judge Murray Gurfein (later an appellate judge) famously wrote, "The security of the Nation is not at the ramparts alone. Security also lies in the value of our free institutions. A cantankerous press, an obstinate press, an ubiquitous press must be suffered by those in authority in order to preserve the even greater values of freedom of expression and the right of the people to know."
United States v. N.Y. Times Co.
, 328 F. Supp. 324, 331 (S.D.N.Y. 1971).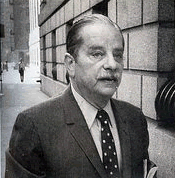 United States District Court Judge Murray Gurfein (later promoted to the Second Circuit Court of Appeals)
From Detroit Metro Times:
US Attorney: Michigan is the nation's most corrupt state
Posted

By

Tom Perkins on

Wed, Jun 5, 2019

at

2:25 pm

The level of corruption in Michigan is staggering. It's Democrats, it's Republicans, its the

entire political establishment

, which is mostly a cesspool of morally bankrupt dirtbags working on behalf of corporations and the wealthy instead of the middle and lower class.




That much is evident to anyone paying attention, and things are so bad that in 2012 the FBI organized the Detroit Area Public Corruption Task Force — which is made up of local, state, and federal law officials — to tackle the issue. The task force is still operating, and in some cases local authorities aren't informed of the feds' activities because they can't be trusted.

Last month,

Metro Times

reported that

more than 40 southeast Michigan officials are under federal investigation

. And last week, U.S. Attorney Matthew Schneider underscored the extent of the problem in an

interview

with WDIV's Devin Scillian at the Mackinac Policy Conference.

"Our statistics show we lead the nation in corruption cases, by far," Schneider told Scillian.

Every state has about one corruption case each year, Schneider said, while larger districts like New York City, Los Angeles, and Miami, usually see around four. In Michigan there were about 18 per year for the last five years.

"We definitely have a more significant corruption issue here in the Michigan region," Schneider said. "But we are rooting it out a lot more than other people. We have a long-term campaign here to root out public corruption."

Of course, the media has a role in all this. The Michigan press generally isn't known for challenging the power structure, which is well-represented and celebrated at the annual Mackinac Policy Conference. And the state's media elite that joins lobbyists, politicians, corporate executives, and other powerful state players at Mackinac isn't there to ask tough questions or challenge anyone — it goes to join in the celebration.

In fact, Scillian also spent part of his time at the conference on stage, singing and dancing with Debbie Stabenow, the U.S. Senator

has

repeatedly

put

lobbyist

and

corporate interests

over that of

most constituents

.

Scillian even strummed the guitar in front of a banner that read "On the island. Off the record."

It's access journalism at its grossest, and video of the song should be shown to journalism students as an example of what not to do. Can anyone have any confidence that Scillian will question or challenge Stabenow, as he should if he's serious about his job?

Until the state's anchors and reporters replace their lapdog instincts with a drive to to take down those working on behalf of the powerful, Michigan will remain the nation's most corrupt state.

Stay on top of Detroit news and views. Sign up for our weekly issue newsletter delivered each Wednesday.

Tags: Mackinac Policy Conference, Devin Scillian, Michigan corruption, Detroit corruption, Image