Editorial: Scott gets caught, we get the bill
Posted: August 12, 2015 - 7:22pm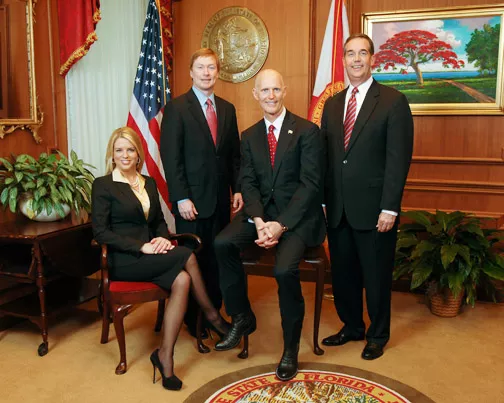 Florida's Sunshine Law was among the first sweeping blueprints designed to help ensure that the process of making state laws and policies remains open to the public — who finances both the processes and the lawmakers.
Since its inception in 1995, those same lawmakers have introduced literally hundreds of bills making exceptions to the law, mainly for special interests, but at times public safety has been a just cause for exclusion. But, for the most part, it has been used as an excuse.
But through it all, the Sunshine Law has survived. And if you don't think it can work, ask Gov. Rick Scott and Attorney General Pam Bondi.
Aug. 14, both signed an agreement settling a Sunshine violation. The cost was $700,000. It was paid to a Tallahassee attorney who took the state task over secret emails and won.
So we, the people, won as well. Correct?
That's an adamant "no."
The taxpayers of Florida will pick up the bill, not the Governor who got caught after Google was sued and ordered by a judge to turn over correspondence from private IP accounts held by Scott and two staffers.
Here's the breakdown on how the stain will be washed away from the Governor's mansion. The Department of Environmental Protection will be billed $445,000. The governor's office budget will kick in $120,000. Will the office trim staff or buy bargain brand toilet paper? Likely not.
And if it can weather a hit like that, one must wonder how much lard is in that larder. Bondi's budget gets hit for $75,000. The Department of State will seal the deal with about $60,000.
If you're thinking something like "Hey, we didn't do the crime, why are we doing the metaphorical time?" — we're with you: Especially when Scott's net worth in 2015 is estimated at $89 million, and part of his income is shielded. In his financials prior to running for the office in 2012, he was worth $218 million.
And here's a governor who did not blink at spending $75 million out-of-pocket to bankroll his campaign that year. This, while touting his campaign pledge not to take the $130,000 annual salary for the job.
Will public service sacrifice never end?
This is the governor's third legal battle lost this year. Most recently he and the Cabinet were ordered to pay $55,000 for Sunshine violations in connection with the firing of FDLE Commissioner Gerald Bailey.
The state (again ... us) reportedly spent $225,000 in the failed attempt to defend against that lawsuit brought by open government advocates and media outlets.
Excess and impunity are an intoxicating political cocktail served in style, up Tallahassee way.