St. Augustine's Historic Architectural Review Board voted unanimously on Thursday, September 15, 2016 to declare the 1880 Victorian home at 32 Granada Street a local landmark. A decision on a demolition permit, sought by LOUIS JOHN ARBIZZANI, will now be heard on October 20, 2016.
HARB considered a written report from Capt. Lee Geanuleas, U.S.N. (Ret.) and testimony by Christopher Emerick, Steven Sievert, Judith Seraphin, Sally Ann Freeman, B.J. Kalaidi and me. ARBIZZANI was represented by the tielesss, tactless SIDNEY FRANKLYN ANSBACHER of UPCHURCH, BAILEY AND UPCHURCH, who urged deference to a 1987 state decision not to grant landmark status.
The landmark designation is based upon the facts set forth in Capt. Geanuleas' report (article below).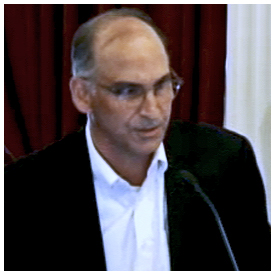 Capt. Lee Geanuleas, U.S.N. (Ret.) (HCN)
SIDNEY FRANKLYN ANSBACHER