Three cheers for the City of St. Augustine, Circuit Judge Howard Maltz, and Florida Fifth District Court of Appeals Judges Richard B. Orfinger, Vincent G. Torpy, Jr., and F. Rand Wallis. City has asked for an award of attorney fees -- speculators must reimburse taxpayers for the City's reasonable attorney fees defending against vexatious "property rights" claim. There was no reasonable investment backed expectation that a speculator would have a right to destroy nine historic homes in Our Nation's Oldest City. Once again, a greedy developer loses in court. Nine homes saved.
City has learned its valuable lessons since it failed to get its attorney fees paid by the wealthy WHETSONE family after another vexatious "property rights" lawsuit conceived of by the late corrupt developer lawyer GEORGE McCLURE. The WHETSTONES claimed title to city-owned land at the bottom of Matanzas Bay, to which the City had clear title dating back to the Spanish Kings took St. Augustine on September 8, 1565. McCLURE died shortly after the vexatious lawsuit was filed. While City Commissioners and City Attorney ISABELLE CHRISTINE LOPEZ discussed attorney fee petitions in a Shade Meeting, dupey outside corporate counsel dropped the ball, did not seek the $219,000 in attorney fees, and later lied about it when I raised the issue. LOPEZ should have been fired. Outside counsel should have reimbursed city for its malpractice.
Delighted to read about the Fifth DCA decision in
Historic City News
today -- see below. Wendler must pay our attorney fees under Florida law.
Update:
Record
story below HCN scoop.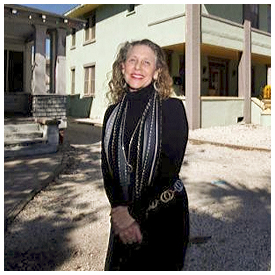 City wins appeal in Wendler lawsuit at 5th District Court of Appeal
March 7, 2018
Historic City News
In a decision filed March 6, 2018, Scott and Donna Wendler were informed that the Fifth District Court of Appeal in Daytona Beach affirmed the lower court ruling; leaving few practical options in their lawsuit against the City of St. Augustine.
Opinions are not final until any timely filed motion for rehearing is considered and disposed of by the Court, and they are subject to formal revision before publication in the Southern Reporter, 3d Series.
Donna R. Wendler, Scott G. Wendler And Wendler Properties, III, LLC, have been at odds with the City since they were denied demolition permits for buildings located on commercial property which they own on King Street.
When the Wendlers purchased the properties, currently used as apartments and office space, they say it was their intention to remove the 50+ year old buildings, eliminating an eyesore and replacing them with a single, small scale boutique hotel.
Plans were drawn, and an artist's rendering of the project was submitted for approval. Since the lots owned by the Wendlers are contiguous and the property stretches the length from King Street through to Oviedo Street, they say they were shocked when City officials declared that the buildings were protected under the code of ordinances as "historic" and a demolition permit was denied.
Judge Howard M. Maltz ruled in favor of the City when the case was heard in the Circuit Court for St. Johns County, prompting Wendlers to hire Andrew Prince Brigham and Brett S. Tensfeldt of Brigham Property Rights Law Firm in Jacksonville to bring the matter before the District Court of Appeal of the State of Florida Fifth District.
The city commission approved retaining Susan S Erdelyi, of Marks Gray, P.A., in Jacksonville to defend the appeal; they have spent tens of thousands of dollars in outside legal fees in the process. The opinion in Case No. 5D17-504 was confirmed by Judge Richard B. Orfinger, Vincent G. Torpy, Jr., and F. Rand Wallis yesterday.
------------
Appeals court gives city victory in Wendler case

By Sheldon Gardner
Posted at 2:01 AM
St. Augustine Record
The 5th District Court of Appeal issued an order this week siding with the city in a years-long property rights case.
About 10 years ago, Donna and Scott Wendler applied to the city's Historic Architectural Review Board to demolish properties on and near King Street but were denied — HARB members said demolishing the buildings would have a negative impact on the city's historic character. The Wendlers planned to develop a boutique hotel.
The Wendlers sued, and a series of legal actions and appeals followed before the case came back to St. Johns County.
In 2017, Circuit Court Judge Howard Maltz granted summary judgment in favor of the city. His order focused on an appraisal the Wendlers submitted while seeking relief under the Bert J. Harris Jr. Private Property Rights Protection Act, which requires the appraisal. The appraisal was intended to show how much fair market value was lost as a result of the city's decisions, according to the order.
Maltz agreed with the city that the appraisal was invalid because it wrongly included $637,000 in "business damages" spent toward the development, and the appraisal included a parcel that was not directly affected by the city's decision, according to the order.
The 5th District Court of Appeal affirmed Maltz's 2017 decision this week. The Wendlers have about two weeks to file for another hearing before the appeals court before the order becomes final, City Attorney Isabelle Lopez said.
Donna Wendler said she and her husband haven't been able to have the crux of the case, property rights, truly heard because the focus has been on technicalities such as the appraisal, she said.
"What this was really about is not the reason this case was dismissed," she said.
As of January, attorney's fees in the case were close to $650,000, according to a city document. Lopez estimated that by now the cost is more than $700,000, and it's paid by taxpayer dollars through the General Fund, she said.
The city plans to seek attorney's fees once the case ends, if it ends in their favor, Lopez said.
Donna Wendler said she and her husband haven't yet decided what their next steps might be.
"This is all new information to us as well, so we're in the process of evaluating our thinking as far as how we move forward, and naturally we're disappointed," she said.
Comments