Watch August 8 and vote on or before August 30 as St. Johns County Republican Primary challenger Debra Maynard debates controversial three-term incumbent Sheriff DAVID SHOAR f/k/a "HOAR." Ask questions. Demand answers. Expect democracy.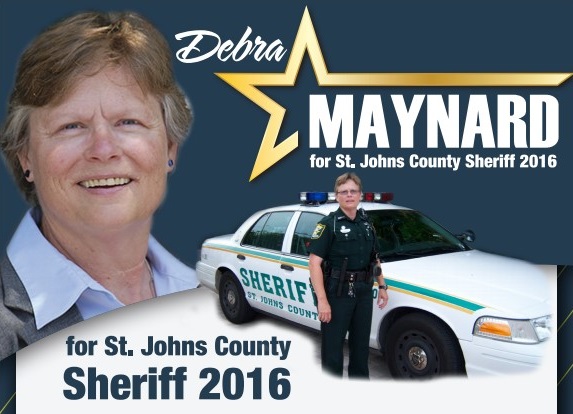 Monday night, August 8, 2016
6:30 p.m. social & potluck, 7:00 program
The Republican Club of Greater St. Augustine (RCGSA) is hosting a candidate forum at its upcoming monthly meeting on Monday, August 8. Both Republican candidates for the office of St. Johns County Sheriff will participate (incumbent David Shoar and challenger Debra Maynard).
This is your chance to meet these candidates and hear their positions before the August 30 primary.
Also: We will hear from Nick Lauritsen, Regional Field Director of the St. Johns County Republican Party on the strategy to help WIN the 2016 Presidential election and how you can help.
Attendees are encouraged to bring food to share. Guests are always welcome.
Location: The Shriners Club, 250 Brainard Drive, St. Augustine (one block east of Rt. 1 South)
See you there!
Ann Doyle, Secretary
Republican Club of Greater St. Augustine
www.RepublicanClubGSA.com