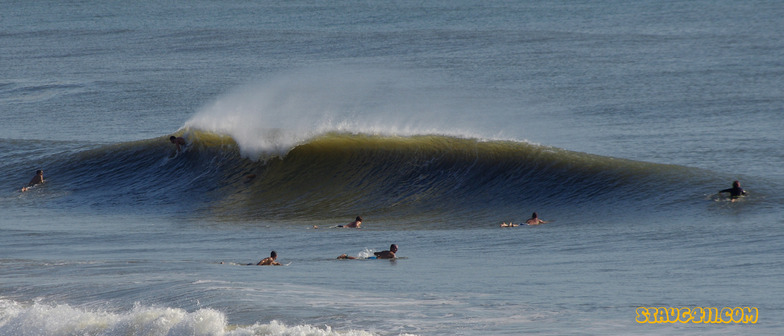 The bald eagles are soaring, the owls are hooting, the voters are voting, the surfers are surfing, he people are praying and the time is now.
Let the eagles soar, unmolested by developers, temple destroyers and polluters (like PIERRE THOMPSON, grandson of the founder of
The St. Augustine Record
, who was convicted of molesting a bald eagle nest tree on Fish Island on October 10, 2001).
We're survivors. Yes, we are. St. Augustine has survived wars, slavery, arson, segregation and hurricanes. Yes. Unwilling to be deceived by developer shills, we're "survivors," as FEMA annoyingly calls us here, three weeks after Hurricane Matthews.
Voters in these two itty bitty cities of St. Augustine and St. Augustine Beach are voting for reformers, and voting out the crooks.
In
St. Augustine,
reform Mayor Nancy Shaver faces a pro forma challenge from a heavily-funded ditz. She's going to be reelected. Opponent KRIS PHILLIPS refused yesterday to return contributions from a shadowy PAC; asked about them at a Chamber of Commerce forum, she replied in one word: "No."
Meanwhile, we're about to defeat conceited catty City Commissioner LEANNA SOPHIA AMARU FREEMAN -- an other-directed divorce lawyer whose law firm's commercial landlord is none other than PIERRE THOMPSON. LSA FREEMAN was re-elected four years ago without an opponent. In 2016, FREEMAN faces a formidable opponent in St. Augustine North Davis Shores Neighborhood Association President Susan Rathbone. Susan is a lovely person who listens to people and will hold government accountable, unlike louche lapdog FREEMAN, whose most revealing line of the campaign is that she's "invested" in the City -- she's the apple of the corrupters' eye, all right, as shown by her behavior on the DOW PUD.
Vice Mayor and Commissioner Roxanne Horvath has support, as does Rev. Ronald Stafford -- call it a tossup, a horse race or a close election. I like them both: if Ms. Horvath had listened to people (instead of LEN WEEKS, DAVID BARTON CORNEAL and devious dastardly developers), she probably would not have to campaign so hard -- it was wrong what she did in the DOW PUD hearing -- having her mind already made up, with a multi-page statement she read (with a staple in it).
In
St. Augustine Beach,
Commissioner ANDREA SAMUELS, one of the nastiest people I've ever encountered in politics, is facing 24-year local resident Maggie Kostka, a small business owner and one of the nicest people I've encountered in polities. Some people say that longtime SABCA leader ANDREA SAMUELS sold her soul to developers and it doesn't help that her husband ROBERT SAMUELS is an assaultive nut, appearing on page one of this morning's
St. Augustine Record
as a vicious vituperative venomous villain, lying about his stabbing Vice Mayor Undine Pawlowski George in the shoulder with his finger and screaming at her at an event the Florida League of Cities held at the Marsh Creek Country Club. Sheriff DAVID SHOAR's coverup does not help the SAMUELS -- as the Record confirms, SHOAR contributed $500 to SAMUELS' campaign and endorsed her on letterhead. (The
Record
did not report this letter is under investigation by the United States Office of Special Counsel for Hatch Act violations -- Sheriffs receiving federal funds must obey federal laws on nonpartisanship, as the Marion County Sheriff found in 2008.
Finally, the finale is possibly about to be written for five-term, fourteen-year incumbent Commissioner RICHARD O'BRIEN, one of those limited local officials who views the world through a lens of, "How does this help my business?" RICH O'BRIEN is in hot water for dumping Hurricane Matthew water (containing what else, we don't know) into the Atlantic Ocean and into the sewers, without a permit, destroying vegetation and a dune). The day after the election, RICH O'BRIEN and developer lawyers will be in Circuit Court, facing a motion to dismiss and for contempt of court over their outrageous effort to silence government watchdog Tom Reynolds, who reported O'BRIEN's actions to the National Response Center (Report No. 1161722).
It's time to restore civility, decency and democracy in the cities of St. Augustine and St. Augustine Beach.
Ask questions, demand answers and expect democracy.
Energize, activate and vote.