Read how our federal government created segregated housing patterns. View maps and photos showing the terrible results.
Here in Northeast Florida, racist road builders skipped any access to West Augustine from I-95 while destroying Jacksonville's thriving LaVilla community.
Here in St. Augustine, Realtors refused to sell property to African-American buyers (even for cash in 2004 from a Justice Department retiree, who in 2008 was elected to County Commission (J. Kenneth Bryan). And white police officers under the
ancien régime
once quizzed residents about why they were living or visiting Lincolnville.
Ending redlining resonates with me. I was so proud when my father was told by NAACP that he was the only Realtor in South Jersey who would show a home in West Berlin, N.J., to an African-American couple. I treasure the day in 1977 when my friend, Ed McElwain, and I watched the U.S. Senate pass the Community Reinvestment Act (Proximire Amendment) by one vote in 1977 as a 20 and 22 year old legislative research assistants making recommendations on housing policy to Democratic Senators Jim Sasser and Gary Hart, respectively.
The amendment passed.
By one vote.
Decisions are made by people who show up.
The wall, a concrete barrier in 8 Mile, Detroit, built to divide black and white neighbourhoods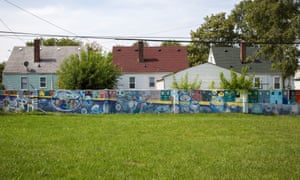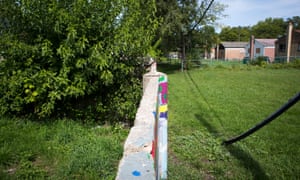 It was also adjacent to empty land – valuable land that developers were rapaciously turning into homes for a surging postwar population. Land that one housing developer wanted to use to build a "whites-only neighbourhood". The only problem was, he couldn't get federal funding to develop the land unless he could prove he had a strategy to prevent black people and white people from mixing. His answer: wall off the white neighbourhood with a concrete barrier.
"That wall is a monument," says Moon. "We survived it. It's a part of what happened, and no one feels any negativity towards what happened."
Her neighbour, Lou Ross, agrees. "What that Wall was intended for, it didn't work that way. It did for a minute – but it didn't last."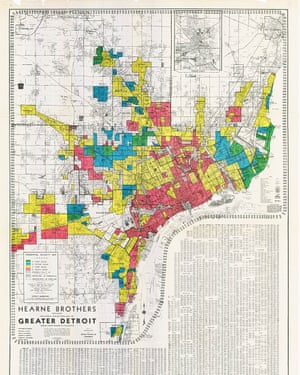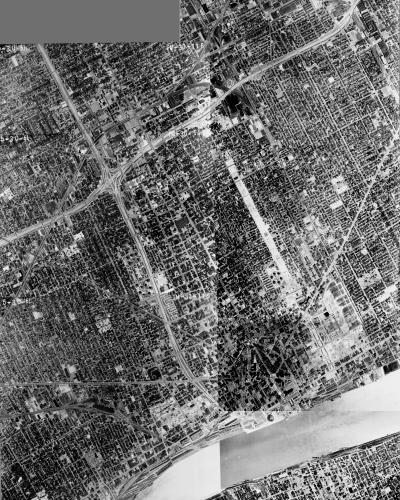 Left, an FHA Housing Map for Detroit circa 1939, with the 8 Mile neighbourhood clearly 'redlined'; right, an aerial photomosaic of the city in 1961, showing the completed I-94 and Route 10
If your neighbourhood had the misfortune to be "redlined", it was often doomed to a future of stillborn investment and decay. Specifically, it would be impossible to secure federally backed mortgages, a sort of scarlet letter branded across huge swaths of the city. Developers avoided these areas and concentrated investment into white areas, and services stagnated. The seeds of the future ghettos of America had been sown.


The I-980 and I-880 merge in West Oakland, California
West Oakland in California is a typical example of a redlined neighbourhood. Historically a working-class community of immigrants and African Americans, it stagnated after being redlined. By the 1950s and 60s, during the interstate building boom, West Oakland was in a prime position to be carved up and paved over: full of low-income housing, it offered little to no political opposition. A literal ring of concrete was poured around the neighbourhood, the precursors to today's I-580, I-880 and I-980, and the result was decay, pollution and crime that characterised West Oakland for decades. But it was by no means alone. The process of routing roads through black communities was so common it even had a name among critics: "White roads through black bedrooms."
Abandoned properties dot West Baltimore in a patchwork of blight
"It was an obvious name to give," says Denise Johnson, a community organiser who grew up in West Baltimore. "We lost families, we lost homeowners, we lost businesses, and we lost churches. And we lost people. People who were stable. People who didn't plan to leave the community."
In the 1950s, a vast increase in cars was beginning to clog the roads to and from the new suburbs. The federal government poured money into the brand new interstate system, encouraging radials, arteries and thoroughfares through dense urban neighbourhoods. This also presented city planners with what seemed an unprecedented opportunity – to use federal funds to clear out "slums" and open up vast tracts of land.
A view of Baltimore's freeways, with the 'road to nowhere' visible in the centre
Where to build a freeway became not only an economic decision, but also a moral one – a chance to uplift and sweep clean America's ghettos.
But were they ghettos?
"This was not a neighbourhood that was struggling," says John Bullock, the city councilman for Baltimore's ninth district, which includes the road to nowhere. "We're talking about middle-class neighbourhoods, which were seen through the eyes of others as slums or ghettos because of the colour of the people who lived there."
The road, says Bullock, who also teaches political science at Towson University, was yet another example of infrastructure marginalising black citizens. "We're talking about generations of black people who have faced these challenges. Not only from the highway, but also disinvestment, the redlining, the lack of employment. Because if we say housing was lost, churches were lost, we have to remember also businesses were lost. And oftentimes people have to go outside their communities to spend that money, which never gets recirculated in that community."
'Generations of black people have faced these challenges' … an aerial shot of West Baltimore
Moreover, while the freeways opened up routes from the suburbs to the city centres, there were often a conspicuous lack of entrances in black communities. The gigantic concrete ditch in West Baltimore is a perfect example: sunken, without exits – it effectively seals off one side from the other.
"I call it the falseness of community engagement," says Denise Johnson, her voice rising with emotion at the frustration of decades of failed promises. "Back then, when they were building that highway, there was no mandated policy that you had to engage the community. Now, there is a mandated policy to engage the community, which is a good thing. But at the same time, it's still just … their agenda."
Abandoned properties in Baltimore's Oliver neighbourhood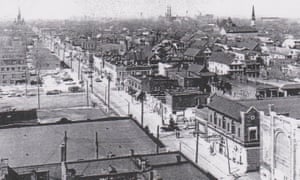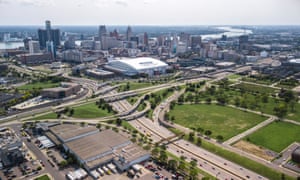 Hastings Street used to be the main thoroughfare in the Detroit neighbourhood of Black Bottom; an aerial shot of the area today
Today, Black Bottom is gone. All that remains are some vacant industrial buildings, empty fields and I-75.
Jackson Ward began to change, however, during the second world war. The construction of Gilpin Court, a large public housing project, and the I-95, a transport artery to connect Richmond to its neighbours, saw federal funds pour in. Unsurprisingly, the formerly redlined, historically important neighbourhood of Jackson Ward was chosen as the path of construction.
A shot of the I-95 in Jackson Ward, showing the road bending around the Sixth Mount Zion Baptist Church
Making the case that infrastructure itself can be exclusionary is hardly straightforward. Many of the worst decisions in US planning were made decades ago to intentionally disenfranchise, marginalise and separate communities; policies such as redlining and "blight clearing" are well-documented embarrassments. But many decisions that segregated communities were unintentional. The stop sign and one-way street might seem benign, but they shape our lives in ways we sometimes don't even realise.
Roads, bridges and walls are agents of change, with a direct impact on our lives. Who has control over where these are placed? Who says how many there will be? How big? As the US gears up for its biggest infrastructure revitalisation project in decades, it is only by asking these questions and acknowledging the power of city planning to impact lives that we can hope to prevent the injustices of the past and fix those of the present.