To promote healing, I support a statue honoring civil rights martyrs Harry and Harriett Moore, murdered in their beds by KKK in Mims, Florida on Christmas Day, 1951. The Moores registered 100,000 African-Americans to vote, investigated lynchings, and sued over African-American school teachers being paid less than whites for the same work. Edmund Kirby Smith ordered African-American prisoners of war murdered. The
vote last year was 83-32
in the Florida House of Representatives to remove the murderous Confederate general's statue from Statuary Hall in the U.S. Capitol. Obstructionist Florida State Rep. SCOTT PLAKON (R-Seminole County), one of the 32,
appeared on The Daily Show calling for drug-testing welfare recipients, while declining to take a drug test or support drug testing for legislators
, and supported
unnecessary legislation
to "protect pastors" from performing Gay and Lesbian marriages, even though the First Amendment already protects their rights.
Did you know? Florida is represented by a murderer in Statuary Hall in Washington, D.C. -- Confederate General EDMUND KIRBY SMITH, who ordered African-American POWs killed. Reckless rebarbative reprobate State Rep. SCOTT PLAKON (R-Seminole County) was one of 32 state representatives who opposed the removal of SMITH's statute in 2016 and is blocking a replacement statue in 2017. FYI: St. Augustine was founded by a murderer, who ordered the murder of a Gay French translator of the Guale Indian language, calling him a "Sodomite and a Lutheran." And St. Johns County Sheriff DAVID SHOAR, twice President of the Florida Sheriff's Association, has for seven years engaged in a coverup of the September 2, 2010 shooting death of Michelle O"Connell in the home of Sheriff's Deputy JEREMY BANKS, of whom SHOAR said (on PBS Frontline), "I've known his family for a long, long, long time." Why do you think
USA Today
called it "Flori-DUH" in a 2000 recount headline?
Rep. SCOTT PLAKON (R-Seminole County)
Confederate statue replacement blocked: No Disney, no statue
Published: April 14, 2017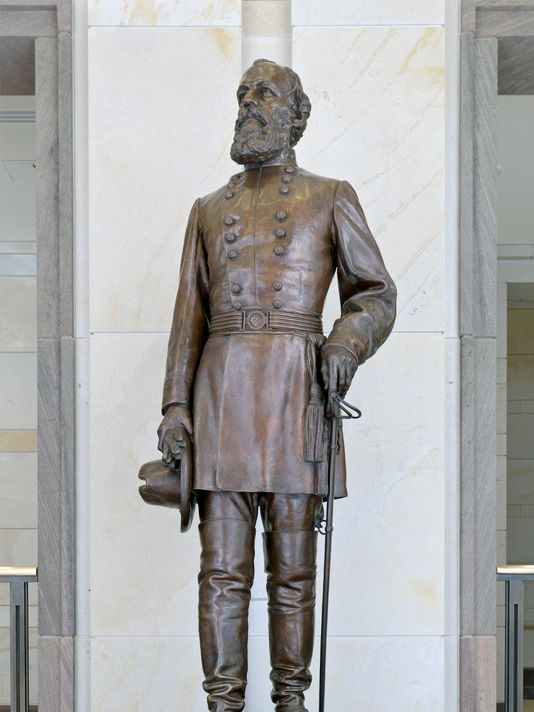 In this undated image made available by the Architect of the Capitol, shows the statue of Confederate Gen. Edmund Kirby Smith in the U.S. Capitol in Washington,. In 2016 the Florida Legislature passed a bill calling for the removal of Smith's statue at the U.S. Capitol and put in place a process to replace him. The replacement has been blocked by Republican Rep. Scott Plakon and it appears that a new statue will not happen anytime soon. (Architect of the Capitol via AP)
TALLAHASSEE, Fla. (AP) — A state representative who opposed removing a statue of a Confederate general from the U.S. Capitol is now blocking its replacement, apparently because he isn't happy that Walt Disney won't be representing the state of Florida.
Republican Rep. Scott Plakon blocked a bill to replace the statue Gen. Edmund Kirby Smith with one of Marjory Stoneman Douglas, who wrote "The Everglades: River of Grass" and is credited with helping create the national park that preserves 1.5 million acres of wetlands in southern Florida.
Why? He said the process to pick a replacement was flawed.
"My personal preference would be is we hit the reset button and look at all the options again," said Plakon, who last year voted against the bill to remove the Smith statue. "If it's only up to me, I would say scrap what we've done."
But Republican Rep. Jose Felix Diaz, who sponsored last year's bill to remove the Smith statue and is sponsoring this year's bill to have Douglas represent Florida, said he's discussed this with Plakon, and the real reason is, "He was really stuck on Disney."
Congress lets each state send two statues to the U.S. Capitol's Statuary Hall. Florida's other statue is of John Gorrie, whose inventions led to modern-day air conditioning.
The Legislature agreed last year that a Confederate general shouldn't represent the state — especially one who moved away from Florida when he was 12.
Smith is famous largely as the last Confederate officer to surrender a significant force at the end of the Civil War, nearly two months after Gen. Robert E. Lee gave in to Gen. Ulysses S. Grant in Virginia and formally ended the war on April 9, 1865.
The law requiring the removal of the Smith statue set up a process to replace it: An independent committee reviewed 130 recommendations from Floridians and presented the Legislature with three choices. The Legislature was then to pick one of the three.
In addition to Douglas, the committee recommended Publix supermarket founder George Washington Jenkins and Mary McLeod Bethune, who founded Daytona Literary and Industrial Training School for Negro Girls in 1904. Bethune's school eventually became the historically black university that bears her name in Daytona Beach.
Disney was tenth on the list of people Floridians suggested for a statue. While he built Walt Disney World in the Orlando area, he was raised in the Midwest and lived in California.
Plakon, who lives near Disney World, says he wants a do-over because only four of seven committee members were present for the vote narrowing the choices to three.
That doesn't make sense, said Democratic Sen. Perry Thurston, whose bill would send a Bethune statue to the Capitol.
"I don't buy his argument at all," Thurston said. "I just don't think he likes the selection."
Plakon refused to put Diaz's bill on his committee's agenda and plans no more meetings this year, effectively blocking state lawmakers from considering Douglas or Bethune. No lawmaker is pushing for a Jenkins statue.
Plakon said he wants to "come up with some other ideas."
Diaz said the independent committee was supposed to prevent lawmakers from playing favorites.
"Left to their own devices, every single legislator and every single committee chairman would want their local hero," Diaz said. "If we wait for a perfect process we're going to end up being the only state with one statue in D.C."