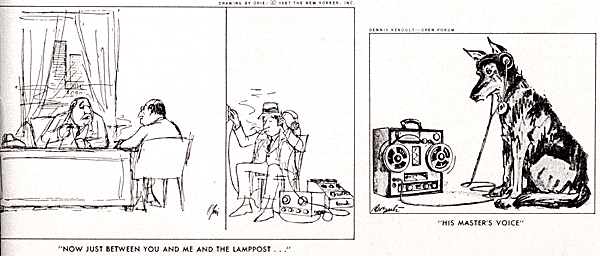 American Bar Association Journal: 11th Circuit nixes immunity for sheriff's officers who recorded attorney-client conversation
Constitutional Law
Posted Apr 11, 2014 5:50 AM CDT
By Martha Neil
Upholding an earlier summary judgment ruling by a trial judge, a federal appeals court has held that two Florida law enforcement officers who secretly watched and recorded an attorney-client meeting violated the Fourth Amendment and can be held liable in a federal civil rights suit.
Rejecting a qualified immunity argument, the Atlanta-based 11th U.S. Circuit Court of Appeals held Tuesday that the St. John's County sheriff's officers can be sued personally because their conduct violated Fourth Amendment protections against unreasonable search and seizure, among other constitutional prohibitions, Courthouse News reports.
The civil rights suit by attorney Anne Marie Gennusa and her then-client, Joel Studivant, also alleged violation of the Federal Wiretap Act.
At issue in the case is a June 2009 meeting in a room in the sheriff's office. Initially, a sheriff's detective interviewed Studivant about a possible misdemeanor violation of a domestic violence injunction. When the detective left the room, Gennusa and Studivant discussed the case, eventually agreeing that he would not complete a sworn written statement he had originally agreed to prepare.
Unbeknownst to the two, a hidden camera was recording their meeting, and sheriff's officers were monitoring it. Studivant was not under arrest, there was no search warrant, no signs warned of possible surveillance and the two had not been told their conversation could be recorded, the appeals court explains in its written opinion (PDF)
When a detective came back into the room and demanded the draft statement, the two refused to provide it. The detective then grabbed it, as instructed by a supervisor, allegedly breaking Gennusa's fingernail while doing so.
While the appeals court suggested that an exigent circumstances exception might conceivably have applied to the seizure of the draft statement under other circumstances, the sheriff's officers failed to meet their burden of proving it, the opinion states.
"The monitoring and recording of the privileged attorney-client conversations between Mr. Studivant and Ms. Gennusa, without notice and without a warrant, violated their clearly established Fourth Amendment rights," the 11th Circuit concluded. "So too, on this record, did the warrantless seizure of Mr. Studivant's written statement from Ms. Gennusa."
Comments
3
1.
B. McLeod
Apr 11, 2014 7:12 AM CDT
Officers making spur-of-the-moment, uncounseled decisions, versus a suspect represented by counsel, making a counseled decision.
There is a lesson here.
2.
Hooraytheist
Apr 11, 2014 9:23 AM CDT
Is the lesson that unlike the other thousand times a day this exact thing happens, someone proved it this time?
3.
Walter Fricke
Apr 11, 2014 2:51 PM CDT
I've known some police officers who were simply brilliant. Smarter than me, anyway.
And I have known some who were dumb as posts. The good ones in this category compensated just fine. Others, whether a bit down on the IQ scale or not, did not and ended up doing things like these officers.
Without reading the opinion I am sure it is well founded, and wasn't hard for the judges: how could any police officer not be aware of the attorney-client privilege at a minimum, and know that this kind of secret spying just wouldn't fly. Cops don't have to like lawyers, but they have to respect their role.
4.
Ed Slavin
Apr 11, 2014 8:38 PM CDT
This same St. Johns County Sheriff's Department has a sordid history of lawbreaking, misfeasance, malfeasance and nonfeasonce. It includes a maladroit, conflicted, incurious investigation of the September 2, 2010 death of a deputy's girlfriend in the deputy's house with the deputy's gun—a case from which Sheriff DAVID BERNARD SHOAR should have recused himself ab initio. That case is well-documented by The New York Times and PBS Frontline:
http://www.nytimes.com/projects/2013/two-gunshots/
http://www.pbs.org/wgbh/pages/frontline/death-in-st-augustine/
5.
BagOverHead
Apr 11, 2014 8:41 PM CDT
This incident took place in my county, St. Johns, Florida. It is a small county with approximately 250 sworn officers. The citizens here live in fear of a Sheriff's Department that is out of control. The symptoms of it's sickness have been many over the past ten years, including a suspected homicide by an officer that was determined by Deputies to be a suicide (2010 query New York Times article 2014 or Frontline PBS television show 2014 under "Sheriff Shoar"), racially motivated beat-downs in the black community (the Fourth Street incident- $250,000 settlement paid by the Sheriff), allegations of obstruction of Justice by the Sheriff in U.S. v. Tom Manual (query The St. Augustine Record, "Sheriff Shoar"), and the list goes on. This latest debacle is just one more symptom of incompetent management failing to safeguare the citizens of this county. That a law enforcement agency would not only tolerate blatent constitutional abuse, but encourage it, undermines the liberty of all of us and is a stain of disgrace to the millions that have fallen in an attempt to preserve our freedoms. Today we are forced to once again hang our heads in shame in St. Johns County, recognizing that decisions such as this one condem our Sheriff's Department, its management staff, their abusive illegal tactics and their continued efforts to control my neighbors, a cowering public at best, through illegal procedure, abuseful policy, fear, intimidation and bullying.