Let wealthy land monopolists build their own parking facilities, and not burden the people of St. Augustine with them. Keep your eye on Commissioner LEANNA SOPHIA AMARU FREEMAN. She's LEN WEEKS' toady.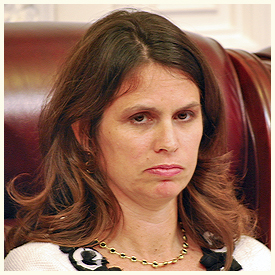 Commissioner LEANNA SOPHIA AMARU FREEMAN (R-PROCTORVILLE)
Speaking in code, did Commissioner LEANNA SOPHIA AMARU FREEMAN (R-PROCTORVILLE), a divorce lawyer signal at the February 27, 2017 Commission meeting her desire of City burghers to BUY the Broudy's Liquor and grocery property on U.S. 1 for parking? She talked of property on U.S. 1, San Marco and Anastasia Blvd increasing in price, and that if "we" want it, "we" need to consider buying it now before it increases again.
When LSA FREEMAN says "we," she generally speaks for her gauche louche Chamber of Commerce pals and in particular, for the man who guided her first campaign, CLAUDE LEONARD WEEKS, JR. a/k/a LEN WEEKS, ex-Mayor.
LEN WEEKS is partner with disgraced, defeated, ethically impaired ex-Mayor JOSEPH LESTER BOLES, Jr. a/k/a JOE BOLES in the 81 St. George Street sweetheart lease of City property at below market rates for FLORIDA CRACKER CAFE and SAVANNAH SWEETS.
WEEKS destroyed of Don Pedro Fornells House at 62A Spanish Street, working without permits and was fined only $3600 for this crime against history.
WEEKS' pompous economist father-in-law,
DAVID TRESCOTT GEITHMAN
,
wrote in 2014
of the "need" for the City to build ANOTHER parking garage to subsidize his antique and estate sale business, conveniently located in City Hall, with rent below market rates. Why? No good reason, apparently, but he's WEEKS' father-in-law.
As I wrote in November 2014:
Dr. DAVID TRESCOTT GEITHMAN benefit from one of those below-market rate City of St. Augustine City ? Linked-in lists him as an owner-manager of a Lightner Museum Courtyard antique store at 75 King Street, Churchill & Lacroix Antiquaire.
City records show DAVID TRESCOTT GEITHMAN pays a mere $564.81 for 430 square feet (sweetheart deal with City Manager WILLIAM BRUCE HARRISS' minions in 2009, with C.P.I. adjustments; lease expires 2018).
DAVID TRESCOTT GEITHMAN needs to remember the old economic wisdom of Milton Friedman: "There's no such thing as a free lunch."
And in the words of JFK's Ambassador to India, acerbic descriptive economist John Kenneth Galbraith, "the most important piece of wisdom in economics is knowing what you do not know."
St. Augustine Record
articles and columns reveal that GEITHMAN is a global warming denier, right-wing Republican and married in Las Vegas in 2011 to a
St. Augustine Record
inside sales employee.
God bless him! Fancying himself an expert witness (or witless), abusing his UF Economics Ph.D., not disclosing his City lease deal, making darkly emotional and manipulative arguments for a subsidy to his antique business hobby and the businesses of his pals, perhaps including Mayor JOSEPH LESTER BOLES, JR. and ex-Mayor CLAUDE LEONARD WEEKS, Jr., perhaps among his classmates at UF.
We don't need any more big city parking garages in our small historic downtown, Professor DAVID TRESCOTT GEITHMAN.
The witness (or witless) is excused.
Oddball, other-directed divorce lawyer FREEMAN said during the 2016 campaign that she is "invested" in St. Augustine. She rents her solo practitioner law office from developer PIERRE THOMPSON, grandson of the founder of
The St. Augustine Record
, who on October 11, 2001, destroyed a bald eagle nest tree on Fish Island, leading to a federal court guilty plea for violation of the Endangered Species Act, Bald and Golden Eagle Protection Act and Migratory Bird Treaty Act.
Watch the tape of the February 27, 2017 City Commission meeting during Commissioner's comments.
Is the purpose of City government to bring in still more tourists?
Mercantilism for greedy merchants?
Or is to work for the people?
You tell me.
Twenty years ago, there was a federal court bribery scandal involving Broudy's and a local politician, Commissioner Richard White.
Some people have short memories and ethically impaired souls. Does LEANNA FREEMAN suffer from both disabilities?
We don't need to spend public funds building more parking lots, do we? Let the rich guys build them, if any are to be built at all.
As Mayor Shaver suggested, wouldn't residents be better off with more
ad valorem
property taxes from commercial properties, rather than going on a tear and building parking lots for WEEKS et pals?
Why should the City residents subsidize merchants by joining the City Manager, a/k/a "Minister of Propaganda" in his egotistical "Edifice Complex?"
At the January 23, 2017 City Commission meeting during a recess, City Manager JOHN PATRICK REGAN, P.E. was flummoxed, and tried to explain to me that the City did not endorse the page of the (unnumbered) report in which overpriced consultant LITTLEJOHN sounds like it wants to represent the City in real estate negotiations with Broudy's Liquors or other landowners for development of an intermodal transportation facility -- definitely not in the scope of secretive LITTLEJOHN's work:
Phase 2 will identify a handful of sites for targeted redevelopment and initiate the conversation with suitable developers
.
These s
i
tes will serve as cata
l
ysts for the surrounding areas
,
inciting a paradigm shift through good design, promoting a walkable, bikeable city, embracing the unique character of St. Augustine
.
(
Red
in original, to match REGAN's red face when I finally got to ask the question privately, having been refused permission to ask a single question.)
You've got to watch these guys. Every single day of our lives.
That's why the FBI Corruption Task Force is investigating St. Johns County corruption.
UPDATE: Here's the
St. Augustine Record
article, unadorned by any mention of Broudy's (
St. Augustine Record
advertiser):
Posted February 28, 2017 05:15 am - Updated February 28, 2017 06:16 am
By SHELDON GARDNER sheldon.gardner@staugustine.com
'Satellite parking' could be part of St. Augustine traffic solutions

4 Comments
Share
Buying lots for satellite parking might be on the table for the city of St. Augustine, but it's just a discussion at this point.
Commissioner Leanna Freeman suggested Monday at a commission meeting that the board discuss whether the city should acquire properties outside of the city's core for parking. She said residents have supported having parking that keeps visitors out of neighborhoods.
Property that is available now likely won't be available for long or at the current price, she said. Commissioners supported exploring the idea as the mobility process moves along.
The main issue is keeping visitor parking out of neighborhoods. Residents in Davis Shores have dealt with overflow parking from commercial areas and at times noisy visitors and trash being left behind, Freeman said.
"So this is growing, growing, growing into all of our neighborhoods," she said.
One part of the city's mobility project, which City Manager John Regan talked about at Monday's commission meeting, focuses on improving the city's parking policies overall.
With events in 2016, the city tested a shuttle system with parking lots on the outskirts or outside of the city limits. Arrangements had to be made for the lots because they aren't city property.
Mayor Nancy Shaver said the mobility effort will help the city understand what's needed and what solutions will work best.
Commissioner Nancy Sikes-Kline said she wanted to think about the issue, and she said that she sees building parking lots with tax dollars as "building economic development for the business community, and not so much for the residents."
As part of the mobility update, Regan talked about the new mobility program office with engineer Reuben Franklin Jr. at the helm and with Mobility Coordinator Xavier Pellicer III on staff.
After creating a strategic plan for mobility, the city is working on 11 areas from the plan. Of those, the focus now is on truck loading zone changes, improving pedestrian and bicycle friendliness in neighborhoods and street improvements, redoing the residential parking system, and "optimizing" the city's parking business plan.
Looking at the parking business plan will help the city with questions like whether to switch to hourly rates at the city parking garage or to extend enforcement times for city parking meters, Regan said.
Revamping the business plan will also help the city be more proactive about things like satellite parking, he indicated.
"When we designed the garage we designed it to handle peak load," Regan said. "Really what we're saying in mobility is that we're converting the garage to handle more of a base load, and satisfying peak load through satellite parking systems. It's a major shift."
The city's also working on mapping out other parts of the mobility strategic plan, Regan said.
Officials also mentioned a study about the possibility of having some type of shuttle circulate St. Augustine Beach, St. Johns County and St. Augustine.
Details on the study will be presented to commissioners in St. Johns County, St. Augustine and St. Augustine Beach, said Martha Graham, public works director.
"The next step would be to discuss how the three entities as well as private partnerships might organize themselves to talk about implementation and funding," she said, adding that federal transportation dollars are "very dried up … so it would need to be funded by the entities that partner and benefit from the program."
In other business
Commissioners unanimously voted to increase dockage and electricity rates at the St. Augustine Municipal Marina, effective April 1. The move also creates two new rate categories for vessels greater than 100 feet.
The Madeira and Sebastian Inland Harbor Planned Unit Developments now have extended deadlines because of state law that allows development orders to be extended because of emergency declarations by the governor, such as for Hurricane Matthew. The new completion date for Sebastian Inland Harbor PUD is Oct. 19, 2029, according to the city. That date for the Madeira PUD is June 29, 2029. The issue wasn't something the City Commission could control.
Comments
MARTY
Meanwhile they continue to dig that traffic congestion hole deeper by advertising for more and more visitors with no place to put them. Who does this benefit? The tour trains mostly and those with paid parking. Is it worth it to the rest of St. Augustine's citizens to be stuck in gridlock so that these few business owners can rake in some extra tourist dollars? The cure is not extra parking, the cure is fewer people and vehicles coming here. Think how much less budget the city might need if tourist levels were kept to a manageable level. But all they can focus on is more heads in beds and more parking fees. If crowds are so large on a regular basis that we require satellite parking, then we have a big problem, yet they continue to dig that hole deeper.
ReplyShare+2
FLOYD BOATWRIGHT
Satellite parking, buy land now, before the price goes up and keep cars out of town.
ReplyShare+1
Jack (sponger) Harvell
Floyd, too late. The prices are already inflated and they will tax the tar out of you also.
Marty You are right on the money and as First coaster says, "follow the money".
ReplyShare+2
Wayne (mach) Hoyle
Is that a $115,000.00 Little John Engineering recommendation?