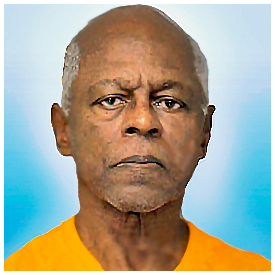 ERROL DONLEVY JONES, February 13, 2017 arrest photo (SAPD)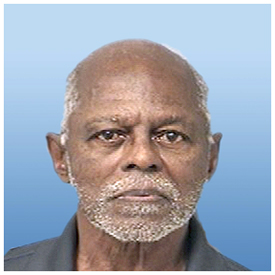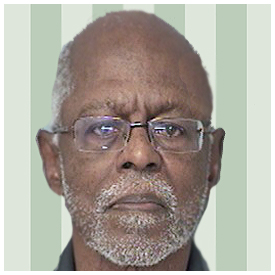 SAPD, March 2016 arrest photos (arrested twice in one weekend)
(SAR PHOTOS)
(T-U)
At 7:30 PM on February 13, 2017, former St. Augustine City Commissioner ERROL DONLEDY JONES allegedly beat a woman, who allegedly shoved him. Both JONES and JAMIE PONCE were arrested, with the police report stating that JONES committed:
THE ACT OF BATTERY ON JAMIE PONCE BY SHOVING HER ONTO HER BED AND SLAPPING HER ON THE RIGHT
SIDE OF HER FACE 3 TIMES. PONCE SAID HE YANKED HER HEAD BACK AT WHICH TIME SOMEONE SAID "THE COPS ARE :p
HERE". PONCE SAID SHE IS TIRED OF JONES BEATING HER AND SHE WANTED HIM ARRESTED. I BELIEVE THE 1
FOLLOWING TO BE TRUE BASED A SWORN STATEMENT FROM PONCE.
Officer Michael Linsky's report states:
On February 13th 2017 at 1930 hours, I responded to 113 Dehaven St, in reference to multiple 911 disconnects. When responding, a female called the police department saying "Errol Jones is off the chain again". Upon my arrival I was waved down by Holly Bradley and Thomas Hall who were on the front porch. As I was approaching the residence Bradley advised that a female in the back room shoved Errol Jones to the floor. I spoke with Jones briefly and he advised he was ok and he wanted her out of his house. I proceeded to the back room of the house and came in contact with Jamie Ponce.
Ponce said she had money come up missing from her room and
Jones has prostitutes coming to the residence giving them money in exchange for sex.
Ponce said when she noticed the money missing she confronted Bradley. Ponce said Jones began raising his voice and began demanding she leave. Ponce said she has lived at the residence for approximately 2 years now and is planning on moving out. Ponce said Jones attempted to swing at her at which time she moved, causing Jones to fall on the floor. Ponce said she proceeded to her room at which time jones followed threatening to throw hot
.water on her. She said Jones then shoved her down on her bed and slapped her 3 times on the right side of her face. Jones then jerked her head back at which time someone said "cops are here". Ponce said she is tired of Jones beating on her and she wants him arrested.
I then spoke with Holly Bradley outside the residence. She advised that Ponce came out of the room screaming at Thomas Hall accusing him of doing "drugs and sex". She said her and Jones walked out to see what was going on at which time Jones told Ponce to leave. She said Ponce then shoved Jones to the floor. Bradley said Ponce returned to her room and Jones went back that direction but she didn't see or hear anything.
1then spoke with Thomas Hall. He said the same thing Bradley said, that Ponce came out of her room irate and shoved Jones to the floor when he told her to leave. Hall also said Jones walked towards the back of the house but he didn't see or hear anything.
I spoke with Jones and he advised he wanted Ponce arrested and he wanted her gone. Due to Jones and Ponce both accusing each other of battery i';and both parties wanting prosecution,
both were arrested.
'
The only injury I observed on scene was a small scratch on Ponces right shoulder and her right ear appeared red. Photos were taken of both and submitted to SAPO evidence. Ofc FShipp was also on scene who conducted the primary interview with Jones. Both subjects were transported to St Johns County jail without incident.
----
Angry racist pro-developer former St. Augustine City Commissioner ERROL DONLEDY JONES was ignominiously defeated for re-election in 2012 (with 12% of the vote), after sexual harassment allegations and arrests. Ex-Commissioner ERROL JONES has a long police record.
The louche lackey for developers no longer has City Manager WILLIAM BARRY HARRISS to protect him. Since his 2011 arrest, when he unsuccessfully appealed to City Manager John Patrick Regan, P.E. to let him go, JONES' abusiveness has been a matter of public record. As first reported by Historic City News, JONES was arrested again on February 13, 2017 (ironically the night of a City Commission meeting).
HARRISS now works for Sheriff DAVID SHOAR.
WILLIAM BARRY HARRISS
(Photo by J.D. Pleasant)