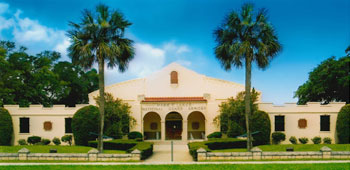 Mark Lance National Guard Armory:
House of unAmerican activities?
St. Johns County, Florida Republicans held their Election Night and Inaugural parties at our Mark Lance Armory on San Marco Blvd., violating federal laws prohibiting political activities in National Guard facilities. I've asked the National Guard for documents, but not one has been provided yet. Coverup?
Senator Bernie Sanders (I-VT) planned a speaking engagement at a West Virginia National Guard Armory in February 2017, only to have it cancelled abruptly. Why? Because it ran afoul of DoD law. Yet here in Governor RICHARD LYNN SCOTT's Flori-DUH, without any concerns being raised by Florida National Guard lawyers, two (2) Republican parties were held in the National Guard Armory. I requested documents and have gotten nothing.
Perhaps the U.S. Office of Special Counsel and the Inspector General of DoD will initiate federal criminal, civil and administrative investigations of the Florida National Guard for violation of federal laws, including the DoD law and the Hatch Act. Here's the
article
on the West Virginia National Guard's canceling Senator Sanders' speaking engagement in Welch, W.Va.
So let me get this straight: a respected United States Senator who formerly chaired the Senate Veterans Affairs Committee, who did so much for our veterans, gets publicly embarrassed by DoD and the West Virginia National Guard, banned from a National Guard Armory in McDowell County, West Virginia.
But right here in St. Augustine, where the Florida National Guard is headquartered in Our Nation's Oldest City, the Florida National Guard witnessed, permitted and facilitated two (2) Republican parties, one on November 8, 2016 (Election Night) and one on January 20, 2017 (Inauguration Day). When I requested records, I was treated disdainfully, told the record keeper for the armory was out of town last week, then this week, received no further response from MAJOR TERRENCE A, GORMAN, the General Counsel of the Florida National Guard, who identifies himself as "Airborne."
Interesting.
My father enlisted in the Pennsylvania National Guard in the 1930s; he loved riding horses. He later served in the 82nd Airborne Divn., F Co., 505th P.I.R., with three combat jumps in North Africa, Sicily and Normandy. The South Jersey Chapter of the 82nd Airborne Divn. Assn. is named the "CPL Edward A. Slavin Chapter" for my late father, who was awarded three Bronze stars, but modestly told me when I learned of it, "they gave one to everyone who jumped." My father taught me that if you don't stand up to people with power, they walk all over you. My Dad was the "morale non-com" as well as a
de facto
union steward for his fellow paratroopers: he taught me what an Inspector General can do to protect soldiers' and other peoples' rights. This one's for you, Dad!
Here's my complaint to the Department of Defense Inspector General:
-----Original Message-----
From: Ed Slavin

To: glenn.a.fine ; public.affairs
Cc: terrence.a.gorman.mil ; tina.m.guillotte.nfg ; retlyn ; judgelitt10
Sent: Fri, Feb 24, 2017 11:51 pm
Subject: WASTE, FRAUD AND ABUSE BY FLORIDA NATIONAL GUARD, Mark Lance St. Augustine Armory -- November 8, 2016 and January 20, 2017 Republican Party events

Dear Inspector General Fine:
1. Please refer this case to a DoD IG Special Agent for immediate investigation concerning possible criminal misconduct by Florida National Guard for allowing two Republican political events in the Mark Lance National Guard Armory in St. Augustine, Florida on November 8, 2016 and January 20, 2017, and for violating Article I, Section 24 of our Florida Constitution and F.S. 119 by failing to provide documents in response to my February 13, 2017 request. Please see our correspondence, below.
2. I find MAJOR TERRENCE GORMAN's disrespectful failure to provide documents inculpatory. Please investigate.
3. What role did MAJOR GORMAN have in any coverup of the lawbreaking by FNG, and in FNG allowing two political events?
4. It is ironic that Senator Bernie Sanders' recent speech at the National Guard Armory in Welch, W.VA. was abruptly cancelled due to "DoD law" on political events, while two (2) such events were held in Florida, in St. Augustine, where our Florida National Guard is headquartered. http://cleanupcityofstaugustine.blogspot.com/2017/02/florida-national-guard-violated-law.html
5. This is not the first time that I have had to report to our DoD IG irregular, illegal and unethical activities by the Florida National Guard, which were reported in our local newspaper, which ignored the legal implications of the undisputed facts and overt acts they reported.
6. When FNG Adjutant General Douglas Burnett retired in 2010, our Florida National Guard openly, notoriously and publicly announced and planned a "flyover" by two F-15s and two F-22s for his retirement party at Camp Blanding. This lawbreaking, waste, fraud and abuse that was halted after I reported it to the Honorable Gordon S. Heddell, then Department of Defense Inspector General.
http://cleanupcityofstaugustine.blogspot.com/2010/06/blog-post_192.html http://cleanupcityofstaugustine.blogspot.com/2010/06/blog-post_25.html http://cleanupcityofstaugustine.blogspot.com/2010/06/flyover-scandal.html http://cleanupcityofstaugustine.blogspot.com/2010/06/blog-post_5539.html
7. Please send your best criminal investigators to conduct a thorough investigation of the Florida National Guard for waste, fraud and abuse, including contracting procedures like the ones in quo -- apparent sweetheart contracts for unlawful political activities by the St. Johns County Republican Executive Committee.

Thank you for all that you do at the DoD IG.

With kindest regards, I am,
Sincerely yours,
Ed Slavin
904-377-4998
www.cleanupcityofstaugustine.blogspot.com
www.edslavin.com
-----Original Message-----
From: Ed Slavin
To: easlavin ; terrence.a.gorman.mil ; tina.m.guillotte.nfg
Cc: scottopengov
Sent: Fri, Feb 24, 2017 5:40 pm
Subject: Re: [Non-DoD Source] Request No. 2017-55: St. Augustine Armory -- November 8, 2016 and January 20, 2017 Republican Party events.
Good afternoon:
Last week, you promised the records this week.
Please explain why you broke your word to me.
With kindest regards, I am,
Sincerely yours,
Ed Slavin
904-377-4998
www.cleanupcityofstaugustine.blogspot.com
www.edslavin.com

-----Original Message-----
From: Ed Slavin
To: terrence.a.gorman.mil ; tina.m.guillotte.nfg
Sent: Fri, Feb 24, 2017 12:11 pm
Subject: Re: [Non-DoD Source] Request No. 2017-55: St. Augustine Armory -- November 8, 2016 and January 20, 2017 Republican Party events.
Good afternoon:
Please provide the records today, requested on February 13, 2017, on "the two Republican Party parties held at our St. Augustine National Guard Armory on Election Night and Inauguration Day, including the lease, contract and legal approval by the National Guard Bureau."
Please provide me with the e-mail address for the Inspector General.
Thank you.
With kindest regards, I am,
Sincerely yours,
Ed Slavin
904-377-4998
www.cleanupcityofstaugustine.blogspot.com
www.edslavin.com

-----Original Message-----
From: Ed Slavin
To: terrence.a.gorman.mil ; tina.m.guillotte.nfg
Sent: Thu, Feb 16, 2017 6:40 pm
Subject: Re: [Non-DoD Source] Request No. 2017-55: St. Augustine Armory -- November 8, 2016 and January 20, 2017 Republican Party events.

Dear Capt. Gorman:
Thank you -- it was the Lance Armory, and well reported.
With kindest regards, I am,
Sincerely yours,
Ed Slavin
904-377-4998
www.cleanupcityofstaugustine.blogspot.com
www.edslavin.com

-----Original Message-----
From: Gorman, Terrence A MAJ USARMY NG FLARNG (US) (US)
To: Ed Slavin ; Guillotte, Tina M NFG NG FLARNG (US) (US)
Sent: Thu, Feb 16, 2017 4:09 pm
Subject: RE: [Non-DoD Source] Request No. 2017-55: St. Augustine Armory -- November 8, 2016 and January 20, 2017 Republican Party events.

Sir,

I have requested records from the records custodians with respect to the rentals requested. Your request referenced St. Augustine National Guard Armory. There are three National Guard facilities in St. Augustine, St. Francis Barracks (located on Marine Street). Robert F. Ensslin Armory (located on State Road 207) and Mark Lance Armory (located on San Marco Avenue). Your request was for documents relating to Election Day and Inauguration Day, 8 November 2016 and 20 January 2017.

St. Francis Barracks and Robert F. Ensslin Armory were not rented or otherwise occupied on 8 November 2016 or 20 January 2017, except for normal business activities of the Florida National Guard and the Department of Military Affairs. I did not limit the search to "Republican Party," instead the records reflect that no person or organization (other than the Florida National Guard and DMA for normal business) utilized the any building on that date. No records exist from these facilities that satisfy your request.

The records custodian for Mark Lance Armory is on leave this week and will return next week. I have a pending request for those documents. As soon as they research their files, I will advise you of any documents they find which satisfy your request.
If you think that I have missed something in my search or I failed to understand your request correctly, please advise.

V/R

Terrence Gorman
General Counsel
FL Dept. of Military Affairs
82 Marine Street
St. Augustine, FL 32084
(w)904-823-0294
(c)904-814-3534
terrence.a.gorman.mil@mail.mil
TERRENCE GORMAN
MAJ, JA
SOD-C (Airborne)
Command Judge Advocate
terrence.gorman@soccent.centcom.mil

-----Original Message-----
From: Ed Slavin [mailto:easlavin@aol.com]
Sent: Monday, February 13, 2017 8:05 PM
To: Guillotte, Tina M NFG NG FLARNG (US) ; Gorman, Terrence A MAJ USARMY NG FLARNG (US)
Subject: [Non-DoD Source] Request No. 2017-55: St. Augustine Armory -- November 8, 2016 and January 20, 2017 Republican Party events.

All active links contained in this email were disabled. Please verify the identity of the sender, and confirm the authenticity of all links contained within the message prior to copying and pasting the address to a Web browser.

Dear Ms. Guillotte and Capt. Gorman:
Please send me the records on the two Republican Party parties held at our St. Augustine National Guard Armory on Election Night and Inauguration Day, including the lease, contract and legal approval by the National Guard Bureau.
Thank you.
With kindest regards, I am,
Sincerely yours,
Ed Slavin
904-377-4998
Caution-www.cleanupcityofstaugustine.blogspot.com
Caution-www.edslavin.com
< Caution-http://www.edslavin.com/ >