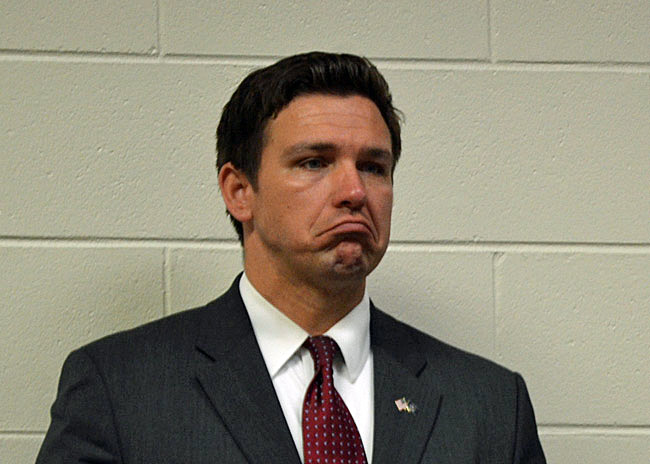 REP. RONALD DEON DeSANTIS (R-FL4-KOCH INDUSTRIES)
(Flagler Live photo)
Liberals "wear [U.S. Rep. RON DeSANTIS'] scorn as a badge of honor."
This ambitious, anti-literate, vulgar energumen sounds like DONALD TRUMP.
DeSANTIS falsely claimed to be a Navy SEAL (he was a JAG Corps lawyer). He's ducking public Town Halls out of fear of liberals.
See
West Wing video where the fictional character Rep. Matt Santos explains why wing nuts hate liberals:
GOP rep: Many career civil servants are liberal
BY MARK HENSCH - 02/17/17 10:17 AM EST 275
The Hill
Rep. Ron DeSantis (R-Fla.) says a significant number of career government officials are politically left-wing.
"When you start getting into the bowels of the bureaucracy, intelligence but certainly the State Department, you have a lot of career officials who are supposed to be nonpartisan, but they really do have a liberal bent," he said Friday on Fox News's "Fox & Friends."
"So you have the president of the United States, they don't agree with him, so some of them are taking matters into their own hands," DeSantis added. "That is not the way this system is supposed to operate."
President Trump voiced frustration over repeated leaks from administration officials during a Thursday press conference.
"The leaks are real," he said at the White House. "The leaks are absolutely real. The news is fake because so much of the news is fake."
"Over the course of time I'll make mistakes and you'll write badly and I'm OK with that," Trump added of journalists. "I'm not OK when it's fake."
Trump's administration is struggling with leaks to the media about topics ranging from infighting in the White House to the president's ties with Russia.
The president promised earlier Thursday he would punish those who gave the press damaging information about his administration's inner workings.
"We're going to find the leakers, and they're going to pay a big price," he told reporters in the Roosevelt Room during a meeting with GOP leadership.
Press secretary Sean Spicer told reporters last week that the White House has launched an investigation into the leaks.