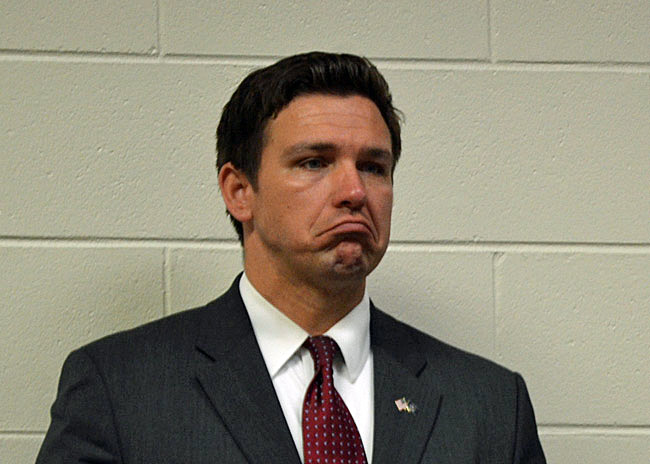 REP. RONALD DEON DeSANTIS
(Flagler Live)
Radical reactionary reprobate Republican Representative RONALD DEON De$ANTI$ (R-FL4--KOCH INDUSTRIES) is holding a telephonic "Town Hall" to avoid "Indivisible" protesters tonight, February 16, 2017.
Misrepresenting only half of St. Johns County since the second redistricting in a decade, De$ANTI$ is a plutocratic puppet, a sycophantic sissified sissy who once falsely claimed he was a "Navy SEAL." He was a JAG Corps lawyer. He's a 'fraidycat who can't stand criticism and hates liberals, going so far as to condemn his alma mater, Harvard Law School, as harboring "Communist" professors," as he did at a 2013 Town Hall at Matatnzas High School in Palm Coast. (Matanzas is Spanish for slaughters). That Town Hall meeting was held at the usual time and place of the Tea Party, with hate literature and bumper stickers distributed, including one stating "TAKE BACK AMERICA." (From whom? For whom?)
In his defense, this doltish fascistic dupe is not the first Republican reprobate from Florida to hold a phone town hall. That distinction may belong to our disgraced former Congressman, JOHN LUIGI MICA (R-Big Oil), facing Tea Party protests.
In the immortal words of Wm. F. Buckley, Jr., "Why does baloney reject the grinder?"
DeSantis, facing protests, to hold telephone town hall Thursday evening

DAYONTA BEACH NEWS-JOURNAL
Stories From Chatter Network
By Mark Harper
U.S. Rep. Ron DeSantis — who spoke at a campaign rally for President Trump in St. Augustine in October — is facing calls at home to support a Congressional investigation of that very campaign's contacts with Russia and is planning a telephone town hall Thursday with constituents.
DeSantis, R-Palm Coast, appeared on two network talk shows Wednesday, saying he wants to see more details, including transcripts of former National Security Adviser Michael Flynn's conversations with the Russian ambassador and other details from the FBI investigation. He is a member of the House Oversight and Foreign Affairs committees, but says it's the House Intelligence Committee that should review the matter.
WHAT HE'S SAYING: DeSantis, who reiterated he opposes any effort to relax sanctions against Russia, took to the airwaves to offer views on how Congress should proceed.
"It should be very easy to get this transcript and to get some of the information from the FBI to see what did Flynn discuss, did he do anything wrong, and then obviously how did he communicate that to the White House," DeSantis told CNN.
He also told MSNBC he can't commit to making the transcript public.
DeSantis said he supports Congressional inquiry into the source of leaks to the news media about the investigation into the White House-Russia matter. "The intelligence community has got a lot of authority, and it's supposed to be to keep America safe. If that's going to be used for political purposes, that's something that's concerning to Americans, as well," he told MSNBC.
He cautioned that if all Flynn was doing was communicating the Trump administration's positions on sanctions and the future relationship between the two countries, that wouldn't be a violation of law.
TELEPHONE TOWN HALL: DeSantis has a signup here for a telephone town hall starting at 7:15 p.m. Thursday. Only constituents of the 6th Congressional District, which includes all of Volusia and Flagler counties, plus portions of Lake and St. Johns counties, can participate. The conference can handle up to 50,000 callers, but those interested should sign up before 5 p.m., said Elizabeth Fusick, his press secretary. DeSantis has no in-person town hall-type events planned in the district until April 17, when he will appear on the campus of Embry-Riddle Aeronautical University in Daytona Beach as part of a speaker series, Fusick said.
Some DeSantis detractors are questioning why he doesn't host a town hall in person.
"I think he doesn't want to face all these people," said Jewel Dickson, chairwoman of the Volusia County Democratic Party. "This is typical of him. He would not debate the Democratic candidate during the last election, Bill McCullough."
Fusick said DeSantis has spent most of his time in Washington the past month.
PROTESTS PLANNED: Trump opposition groups that have begun forming under the banner "Indivisible," are planning another rally outside DeSantis' office in Port Orange City Hall from 4 to 6 p.m. Thursday. Backers of Trump and DeSantis are also organizing a show of support. Last week more than 200 individuals affiliated with Indivisible groups rallied there against Trump's travel ban executive order, also attracting a crowd of more than 50 vocal supporters of Trump and DeSantis. A statement from the Volusia-Flagler Indivisible groups reads: "The House Oversight Committee lead by Rep. Jason Chaffetz has refused to investigate the Russian connections with Flynn and the Trump administration. We demand that DeSantis support an investigation as proposed by Congressman (Jerrold) Nadler and do his job as our representative."
Dana Humphrey, one of the organizers of Indivisible Volusia, said part of the call is to simply demand their congressman's attention, adding: "We'd like him to be more available."