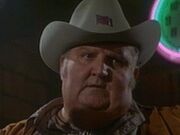 Some small towns in Florida are run by satraps, with looney laws that are enforced rarely, if at all, staying on the books, a trap for the unwary who might be ensnared in a web of unconstitutional official behavior.
They're like a real-life version of Hollywood Movies populated by wicked evil Southern Sheriffs, redneck peckerwood
Porky's
-like jurisdictions, with humorless elected officials like the city council in
Footloose.
Check out the law banning surfing in Hallandale Beach, long the mafia's favored gambling den in South Florida, run by Meyer Lansky.
Meanwhile, organized criminals and "developers" carve loopholes big enough to drive entire condominium projects or Leviathan Levittowns through.
From
Sun-Sentinel:
Later dude, Florida town tells surfers. Not so fast, say legal experts
By Susannah Bryan
Sun Sentinel
(TNS)
Jan 11, 2019 Updated
HALLANDALE BEACH, Fla. — Surfers who dare to catch waves off Hallandale Beach are breaking a town law that bans the sport.
But the ban itself may be illegal, experts say.
A landmark ruling handed down 48 years ago prohibits cities from outlawing surfing.
"That could be taken to court," said Tom Warnke, executive director of the Florida Surfing Museum in West Palm Beach. "The (Florida) Supreme Court ruled you could regulate it, but you can't ban it."
Hallandale's ban has been on the books for at least a decade.
Back in 1964, the town of Palm Beach banned surfing. Soon Riviera Beach and Palm Beach Shores outlawed the sport too. The Florida Supreme Court struck down those bans in 1970, citing them as arbitrary and unreasonable.
City Attorney Jennifer Merino, who's been with the city since February 2017, says Hallandale's long-standing ban needs to be changed. Merino says she's working on a revised law that could be voted on by the commission as soon as next month.
Bob Jarvis, a law professor at Nova Southeastern University, says the legal precedent regarding a ban on surfing is clear.
"A city can ban surfing in an area where it might be dangerous because of rocks or ships coming out or where they might be colliding with swimmers," Jarvis said. "But you can't do a blanket ban."
Jarvis said Hallandale is likely not the only city to run afoul of a landmark case.
"This happens all the time," he said. "Think of how many ordinances a town has. And a lot of ordinances are on the books and never get enforced."
Hallandale Beach has not cited anyone for violating its ban, city officials say. And if the lifeguard gives them a verbal warning, most people comply.
In Hallandale, surfing isn't the only forbidden sport.
Scuba diving, spear fishing and skim boarding are also prohibited.
And four years ago, Hallandale outlawed the use of watercraft along its 1.7-mile beach.
Hallandale's law defines watercraft as any vehicle, vessel or craft designed to move across or through water. And that includes kayaks, paddleboards and personal watercraft like Jet Skis, city officials say.
———
©2019 Sun Sentinel (Fort Lauderdale, Fla.)
Visit the Sun Sentinel (Fort Lauderdale, Fla.) at www.sun-sentinel.com
Distributed by Tribune Content Agency, LLC.