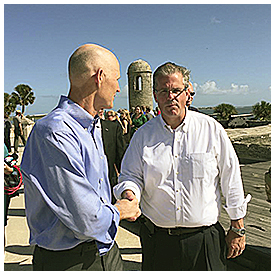 JOE SAVIAK has been hired as Executive Director of the Flagler County Sheriff. SAVIAK left Flagler College last month.
Why this matters:
SAVIAK threatened the Florida Board of Law Examiners and judges with criminal and civil actions when he flunked the Florida Bar.
SAVIAK falsely attacked Bill Nelson as an. anti-Semite in 1998.
SAVIAK made false and malicious attacks on Mayor Nancy Shaver, 2016-2018.
SAVIAK made illegal threats agains me in 2016.
SAVIAK claimed he would not be hired by many colleges and universities because he's a "Christian" and a "conservative."
Flagler College wisely decided it no longer needed SAVIAK's services, such as they are.
So Flagler County Sheriff Frederick "Rick" Staly hired him?
Wonder why?
I've asked the Flagler County Sheriff for the Joe Saviak hiring documents, including the job vacancy announcement to which he responded, showing where it was posted/advertised:
job application,
job description
document showing date of creation of position and vacancy
letters of recommendation/reference,
c.v./ resume,
undergraduate school transcript,
law school transcript,
published or unpublished writing samples,
interview notes and videotapes,
background, fitness-for-duty and security clearance investigations,
EEO/Affirmative Action search documents,
interviewer evaluations of all applicants.