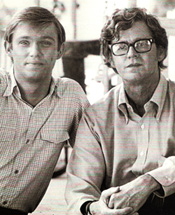 Earl Henry Hamner, Jr. has
died
.
Earl Henry Hamner, Jr. was a Virginia gentleman and a gifted writer, who created
The Waltons
television drama, and narrated it weekly, circa 1971-1981.
I loved
The Waltons
, and I was known to cry during its episodes, both as a teenager and a young adult.
The writing, acting and casting was superb. It was wholesome family television, about a Depression-era family in the foothills of the Blue Ridge Mountains.
The Waltons
' eldest, John Boy, aspired to be a writer.
The Waltons
dealt with serious issues, including inequality and the Holocaust (brought to light amidst book-burning attempts and bigotry).
The actor who played John Boy's grandfather,
Will Geer
, had been blacklisted (among many others) amidst anti-Communist hysteria: he was an out and proud Gay American activist.
Commencing with the beginning of my second semester at Georgetown, in 1975, I had my trusty tiny black and white television upon which to watch
The Waltons
, every week, no matter what other guys thought. Do you reckon I identified with the character of "John Boy" as a fellow "hick from the sticks?"
During the 1970s, a good friend in Colorado Democratic U.S. Senator Gary Hart's office was known to leave our usual hangout (Tune-Inn redneck bar on Pennsylvania Avenue, southeast), saying,
"I've got to go watch The Waltons
. He understood.
Years later, four of us were celebrating the glorious denouement and just desserts in a nuclear powerplant whistleblower case, breakfasting with my client, my co-counsel and our investigative consultant: I looked at my watch, and I said the exact same words:
"I've got to go watch The Waltons"
(on cable television in our San Diego, California hotel). They understood.
When Brian first met my parents,
in situ
, he compared us to
The Waltons
(and the Kennedys). He understands, too.
If there were more movies and television programs like
The Waltons
, the world would be a much better place.
One of my favorite quotes is from
The Waltons
: "The world stands aside for a man who knows where he's going."
The obituaries today reflect that Emmy-winning writer Earl Hamner, Jr. died at Cedars Sinai hospital in Los Angeles with family and friends, while John Denver's song, "Rocky Mountain High," was played.
Goodnight and rest in peace, Earl Henry Hamner, Jr.