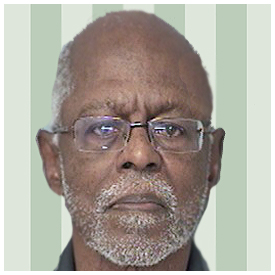 SJSO
SAR
Controversial, developer-driven ex-City Commissioner ERROL JONES (2004-2012) was in jail again and released again today, Sunday 3/13.
Pray for his tortured soul to find healing and redemption.
On the one hand, JONES did speak out on civil rights issues, proposing an apology for 1964 events (which fellow Commissioners weakened and adopted over JONES' Dissent. JONES also following my suggestion to move to amend the City's Fair Housing ordinance to include "sexual orientation" as a protected class in August 2012, after his defeat for re-election in the primary election (and after Jacksonville refused to adopt such an ordinance: the vote was unanimous three times.
But make no mistake: JONES was a notorious, nasty, deceitful developer shill defeated in 2012, who came in fourth in four-way primary with 12% of vote.
ERROL JONES was the most chauvinistic St. Augustine City Commission developer shill, an unstinting, uncritical advocate for developers like CHESTER STOKES' and STOKES' indecent demand for tax expenditures/subsidies (bronwfield status and $1.5 million tax credit) for destroying the historic 1916 Ponce de Leon Golf course for a dodgy development project that has now been extended to the year 2027. He said the golf course was "not historic" because his "daddy couldn't play there." The votes in favor of Madeira were 3-2, with STOKES-funded JONES the deciding vote. I once saw JONES all but kiss STOKES' ring, in front of the Commission table (before the cheesy Matlock-style TV set barrier was installed).
http://cleanupcityofstaugustine.blogspot.com/2006/11/chester-stokes-madeira-government.html
JONES was as shrill, staunch and supercilious a defender of environmental racist City Manager WILLIAM BARRY HARRISS as ever made a chair squeak. JONES made the motion in 2007 to bring the illegally dumped 40,000 cubic yards of solid waste back to Lincolnville. JONES often yelled at and interrupted activists speaking about the City's dumping a landfill in a lake. When we tried to demonsrated the of porous nature of coqina with what he derisvely termed "a science experiment," JONES, the unprincipled Vice Principal or "Dean" of St. Augustine High School, shrieked, "That's not coquina!"
ERROL JONES attempted to stop me from providing the web adress of my blog, www.cleanupcityofstaugustine.blogspot.com, stating it was forbidden to "advertise your blog" during public comment.
ERROL JONES once interrupted me and said, "We don't need a National Park! We don't want a National Park!"
When Judith Seraphin ran against him in 2008, she accused JONES of being intoxicated at City and community meetings, side-by-side in an interview with
The St. Augustine Record
editorial board; then-Commissioner JONES did not deny the allegation by either word or gesture. During that campaign, the mercurial JONES assailed and insulted an African-American man for distributing her literature, asking "Who is she to you?" (Wally jokingly replied, "She's my mother!")
In 2012, after a sexual harassment case no contact order and an arrest for interfering with an officer, JONES said to the arresting officers, "Do you know who I am?" (This led another City Commissioner to jokingly say to her colleagues that she was pondering having her badge redone, with "Do you know who I am" below her name). By post-midnight phone call, then-Commissioner JONES tried to get City Manager John Regan to order his released; Regan refused. Prior City Managers were known to intervene and fix cases, leading me to say to Mr. Regan, "When the City Manager isn't blackmailing Commissioners, the police can do their job." Prior to Mr. Regan, Commissioners and other influentials could appeal to the City Manager to intervene on their behalf in police matters.
Well, It looks like the police have done their job again, without fear or favor, as JONES was arrested for assault with deadly weapons (two steak knives), made bond, then rearrested and held for allegedly violating pretrial release conditions, to wit, going home when the judge forbade him to do so,
The St. Augustine Record
and
Historic City News
report. Update: Jones has been re-released from jail as of 3:17 PM on Sunday, March 13, 2016, according to the St. Johns County Sheriff's Jail website. Earlier, SAR and HCN reported:
SAR reports:
Former city commissioner arrested, rearrested over weekend

Posted: March 13, 2016 - 12:25pm | Updated: March 13, 2016 - 1:13pm
By THE RECORD
After violating the terms of a conditional release on Saturday, former St. Augustine city commissioner Errol D. Jones was rearrested and remains in the St. Johns County Jail, the Sheriff's Office said Sunday.
According to jail records, the St. Augustine Police Department arrested Jones Friday on charges of aggravated assault with a deadly weapon without intent to kill and resisting an officer without violence.
Sheriff's Office spokesman Cmdr. Chuck Mulligan said Jones was later released but deputies arrested him on Saturday for violating the terms of that release.
"The judge gave him an order not to go home and he did," Mulligan said.
Jail records indicate Jones is now being held on a single charge of conditional release violation in lieu of $2,500 bond.
HCN reports:
Jones re-arrested after release on assault charges

Errol D. Jones was released from the St Johns County Detention Facility at the Neil J Perry Criminal Justice Center after posting a $2,000 appearance bond at 4:15 p.m. this afternoon [March 12].
One hour and eight minutes later, at 5:23 p.m., Jones was taken back into custody, this time by the St Johns County Sheriff's Office, charged with violation of a pretrial release condition involving domestic violence.
He remains in custody — this time, without bond. He will appear before a judge in the morning for a first hearing.
----
Police arrest former city commissioner

Posted on March 12, 2016
Historic City News crime reporters noted that Friday night was a busy night for arrests by the St Augustine Police Department according to the booking records available from the St Johns County Sheriff's Office.
Among those arrests was a 73-year-old former city commissioner who, in the past, accused an all-white local police department of being overly aggressive and targeting him for arrest because he is black. This time, Jones is accused of committing aggravated assault with a deadly weapon, a third-degree felony, and resisting a police officer making an arrest.
Corporal Jonathan Marston responded to a domestic disturbance call at former Commissioner Jones' residence at 9:15 p.m. Friday, March 11th. For the past two years, Jones and a family member have shared the home at 60 Julia Street.
Jones told Corporal Marston that after he returned home from a store, he got into an argument with his relative about a female friend who was allowed into the house when he was away. Jones alleged that the woman would steal things from the home.
Marston reported that he asked Jones if the argument Friday night was verbal or physical, and Jones responded that it was "verbal only". Jones would not provide any further information about what happened before officers arrived, according to Corporal Marston.
When asked for his account of what had occurred, the relative stated that the two men had gotten into a verbal argument about the location of the television remote control. The argument escalated to profane language.
At that point, the relative asked Jones where his Toyota 4-Runner was parked. Apparently, Jones has been known to loan the vehicle "to questionable people".
The question provoked Jones to go into the kitchen and remove two steak knives from the drawer. The victim says Jones came at him, armed with the knives, pushed him against the wall, and held the points of the knives to his throat.
Marston did not observe any wounds on the victim, who provided police with a written statement of the events and told officers at the scene that one of the knives was still located inside the house on the couch closest to the door.
Marston said that when he returned to the residence, he did observe one steak knife with approximately a four inch blade sitting on the couch.
Assisted by police investigator Kevin Carroll, Marston took Jones by the wrist and instructed him to place his hands behind his back. Jones refused to cooperate, according to the report. Carroll and Marston repeated the order, to which Jones responded by tensing his arms and resisting efforts to restrain his hands.
During their efforts, Jones reportedly told them to "throw me on the ground and tase me". The officers physically forced Jones' hands behind his back, while still standing, and placed him in handcuffs.
Jones was placed under arrest and transported to the county jail. A day later, Jones remains in custody in lieu of $2,000 bond.