Florida does not deserve ALJs bossed by the Governor. HB 1225 is a truly dangerous proposal would make ALJs hired hands hand-picked by the Governor. This bill stinks. One of the things that distinguishes Florida law from other states is that there is an independent panel of ALJs, not employed by the agency whose cases they decide.
I was honored to clerk for Chief Administrative Law Judge Nahum Litt and ALJ Charles P. Rippey of the U.S. Department of Labor Office of Administrative Law Judges, 1986-1988. These two ALJs and others exemplified judicial independence. They stood like Horatio at the Bridge as a bulwark against official oppression, empowering judges at other agencies to unite in asking for a central corps of ALJs and working to resist demands for ALJ performance appraisals amidst Reagan-Bush era pressures on Social Security disability ALJs to decide cases against disability claimants. From 1979-1995, during the Carter, Reagan, Bush and Clinton presidencies, USDOL Chief Judge Litt protected independent ALJs from unpatriotic unseemly unconstitutional
ex parte
pressures on behalf of powerful employers.
Only a few years later, as Legal Counsel for Constitutional Rights of the Government Accountability Project, I was retained to represent seven U.S. Department of the Interior ALJs -- a majority of DOI ALJs -- who were challenging Reagan-Bush era assaults on judicial independence. I wrote about their case in a peer-reviewed American Bar Association journal written for and about judges.
See
Edward A. Slavin, Jr., "ALJ Independence Undermined; What the Interior. Department Is Doing and Why," 31
Judge's Journal
26 (Spring 1992); "The Pecking Order," 31
Judge's Journal
31 (Spring 1992). The American Bar Association Journal dedicated a November 1991
cover story
to their cause.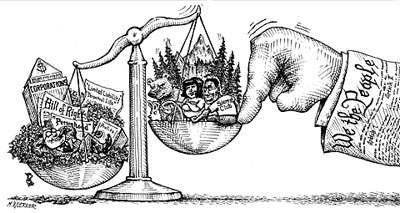 Judicial independence is a hot topic this week of the Neil Gorsuch Supreme Court confirmation hearings.
President Ronald Wilson Reagan said in an address carried live on Russian television, "Go into any courtroom and there will preside an independent judge, not beholden to any government power."
Or as Judge Gorsuch said he was told by a wise old judge, judicial independence is when the government can lose in court and accept the result."
Obviously, Florida's energumen Governor sick RICK SCOTT does not accept judicial independence.
Is he unAmerican?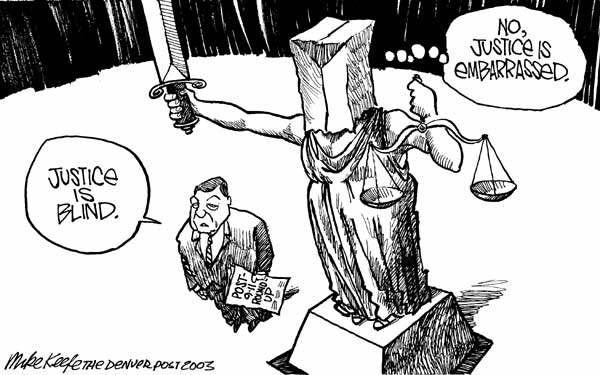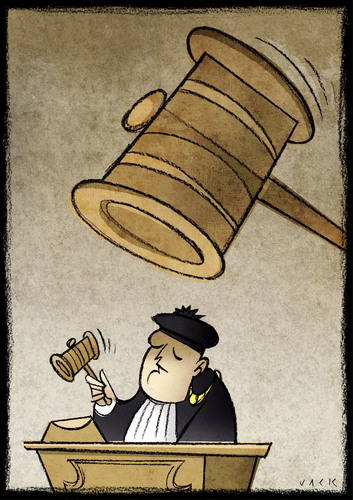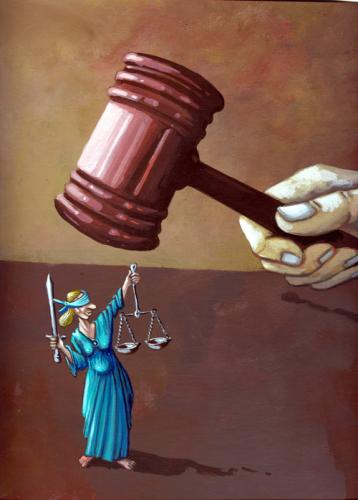 Plan would let governor pick administrative judges
By DARA KAM
THE NEWS SERVICE OF FLORIDA
THE CAPITAL, TALLAHASSEE, March 22, 2017......... One case involved a tiny horse track where an employee waved a red rag to start a "race" between two aging nags.
Another centered on whether pari-mutuels could continue to offer popular "designated-player" poker-style games at card rooms throughout the state.
And a third focused on a dispute between a public hospital system and an industry giant over building a new medical center in Doral.
The cases are just a sample of the skirmishes at the Florida Division of Administrative Hearings, where nearly three dozen judges weigh in on state agency actions on matters ranging from the mundane to the colossal.
In recent months, administrative law judges have sided against gambling regulators, health officials and other state agencies for exceeding their authority or failing to do their jobs correctly.
Now, lawmakers are considering giving Gov. Rick Scott the authority to appoint the judges, who would also be limited to serving a maximum of eight years --- unless they get fired by the governor.
The proposed overhaul, which has remained under the radar, would essentially give Scott control over the judges who decide whether the governor's agencies are acting properly.
Proponents maintain that the changes would instill "transparency and accountability" into the administrative hearing process, while critics contend the revamp could potentially allow agencies to run roughshod over the public.
House bill sponsor Heather Fitzenhagen, R-Fort Myers, told the House Oversight, Transparency & Administration Subcommittee this week that administrative law judges, hired by the agency's chief judge and treated as career-service employees, effectively serve lifetime terms, regardless of their performance.
"There's no turnover whatsoever. There's no accountability. There's no election process," Fitzenhagen said before the panel's 12-3 vote in favor of the measure (HB 1225). "What we're endeavoring to do here is create more transparency and accountability."
But Rep. Eric Eisnaugle, an Orlando Republican who voted against the bill, questioned whether the appointment process, and the ability of the governor to ax judges for unspecified reasons, would put a damper on the administrative judges' oversight of executive agencies.
The proposal "is going to undermine their willingness and their independence to say no to an agency," said Eisnaugle, who, like Fitzenhagen, is an attorney.
"Agency overreach is one of the biggest problems we deal with," Eisnaugle said. "We need to put more checks on agencies, not fewer. … An administrative law judge is one of the few opportunities that Floridians have to fight back against an agency that's out of control."
Currently, the director of the division is the agency's chief judge, who answers to the governor and Cabinet and must be confirmed by the Senate.
The notion of limiting the tenure of administrative law judges comes as House Speaker Richard Corcoran pushes a constitutional proposal that would restrict appellate judges to serving a maximum of two consecutive six-year terms.
Under Fitzenhagen's proposed bill, the governor would pick administrative law judges from a list of three nominees offered by a statewide commission. The governor would appoint three members to the nominating commission, and each member of the Florida Cabinet --- the attorney general, the chief financial officer and the agriculture commissioner --- could each appoint two commissioners.
The judges would be appointed to four-year terms, but could be removed by the governor "for cause." Before a judge's term expires, the nominating commission would conduct a review to determine whether his or her performance was satisfactory. Judges would be limited to serving two terms.
Robert Cohen, who serves as chief judge of the Division of Administrative Hearings, told the House panel that he undergoes an annual review when he is reappointed by the governor and Cabinet.
Cohen, who was hired by the governor and Cabinet 12 years ago, said he welcomes "more transparency" but provides a detailed review every year to his bosses.
"I get grades from the Cabinet members," Cohen said.
Cohen also said that, under the current system, administrative law judges are not susceptible to outside influence by the governor, which protects petitioners and judges.
If judges nearing the end of their terms want to be reappointed, "somewhere in the back of my mind might be swimming around that I can't be fair and impartial" when ruling against executive agencies, Cohen said.
"If a member of the public challenges an agency rule, then why would you want the agency deciding whether this rule is good or bad? The agency has already decided this rule is good," Cohen said. "We don't have any independent or special or God-given powers. … We are bound to follow the law and apply the law to the facts of the case before us. And that's where it ends."
Bill Pfeiffer, a former administrative law judge, called the proposal "very dangerous in the long term."
"While I have huge respect for this governor and don't think he would place his finger on the scale of fairness or justice, it opens the door very wide for any future executive to completely control all future outcomes in any challenges to an agency," he said. "The public should be outraged."