The State of Florida and our frail planet both lost a zealous protector Friday March 3, 2017. John Henry Hankinson, Jr., 67, was a tough but fair environmental regulator with more than 30 years of experience, who headed President Obama's Gulf Oil Spill Cleanup and ran the EPA's regional office for seven states, 1994-2001. He will be greatly missed. Over a span of decades in environmental law and policy, Mr. Hankinson helped make this country a better cleaner, healthier place.
As Stanton said when Lincoln died, "Now he belongs to the ages."
In 2006, when I learned our City of St. Augustine dumped a landfill in a lake, it was Mr. Hankinson, among others, who encouraged me to seek the the truth. We did. The truth shall set us free.
In 2006, Mr. Hankinson encouraged me to pursue the City of St. Augustine's illegal dumping of a landfill in a lake (Old City Reservoir), calling the coquina pit lake "an open sore going straight down into the aquifer and the groundwater. We won that case. He explained supplemental environmental projects in environmental cleanups and was proud that he "stuck it to the City of Atlanta" on its massive sewage pollution, fining the city and forcing it to provide an emerald necklace of parks as partial remediation.
His analysis and wisdom at an early stage helped "we band of brothers and sisters" in "the reality-based community" stand up to awful, crooked St. Augustine City Manager WILLIAM BARRY HARRISS, III, who gave orders not to settle the case if it called for removing the landfill from the lake and putting it into a Class I landfill.
We won in 2008. We halted addlepated DEP and City of St. Augustine plans to bring 2000 truckloads of contaminated solid waste back to Lincolnville, plop dirt onto and call it a park.
That park is now named the Dr. Robert Hayling Freedom Park.
Mr. Hankinson testified in public comment before St. Johns County Commissioners on an Anastasia Island coastal construction variance/rezoning permit. It was sought for construction of a private residence on fragile flood-prone land just north of the Flagler County line. Joining the South Anastasia community association and nature defenders, Mr. Hankinson testified the frequently flooded spot is the southern gateway to St. Johns County along A1A, which he said remains a
"vista that is equal to many national parks.
" Mr. Hankinson was head of land acquisition at the St. Johns River Water Management District and helped Henry Dean acquire 20,000 acres across the river for preservation.
"You can call me a NIMBY if you want, but what a backyard!"
See
July 19, 2017
County
Commission meeting video at 51:34
http://stjohnscountyfl.swagit.com/play/07192016-529
Let's get the park study enacted into law and let's assemble the facts needed to protect the public from coastal flooding, protect our homes, history and nature, and enact the St. Augustine National Historical Park and National Seashore.
From Flagler Live:
Remembering John Hankinson Jr., Towering Force in Environmental Protection in Flagler and Elsewhere

FLAGLERLIVE | MARCH 5, 2017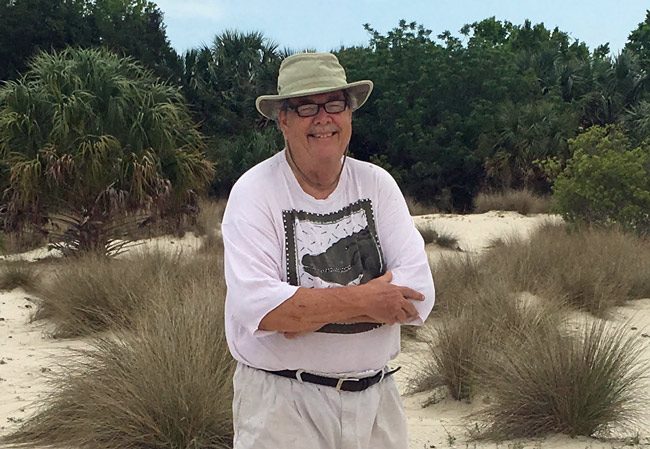 John Hankinson Jr. on an island along the Matanzas River last year. (Chris Kelly)
John Hankinson Jr., a towering force in the environmental community, a long-time resident of Summer Haven just north of Marineland and a frequent performer in the local musical scene as Johnny Matanzas, died Friday. He was 68. He was the former director of Planning and Acquisition for the St. Johns River Water Management District, regional administrator of the Environmental Protection Agency in Atlanta, and, in the wake of the Deepwater Horizon oil spill, executive director of the Gulf Coast Ecosystem Restoration Task Force. He was appointed to that position by President Obama. "John figured out that perfect balance in life," Palm Coast Mayor Milissa Holland said of Hankinson. "He created a career around his passion, which was the protection of the environment, but most importantly a life by which all who knew and loved him mattered most, a sense of community, a preservation of history, an eye for the future and to love life. Flagler County Attorney Al Hadeed, who knew Hankinson well professionally and personally, wrote the following account of Hankinson's legacy locally and beyond.
Services are scheduled for Tuesday, March 7, at 3 p.m. at Fort King Presbyterian Church, 13 Northeast 36th Ave Rd., Ocala

By Al Hadeed
John was a grand person, somewhat a modern day Da Vinci. He was a patriot of Florida, one of its native-born sons, having invested a professional career in environmental acquisitions in many parts of the state with a quiet visionary force. But he also excelled as an engaging musician and bandleader with a great sense of soul, personality and humor with his bands, "Johnny Matanzas and the Hombres" and, earlier in Atlanta, "The Nonessentials." With his wife, Gail, he also was a consummate host and cook whether in the Ocala National Forest, or other wilderness place or at his historic house in Summer Haven, whether in a kitchen or outdoors with his specially designed and fabricated "Armagrilla," named for one of Florida's own, the armadillo.
For his love of natural Florida, John ran the environmental lands program at the St. Johns River Water Management District during the earliest era of Florida's quest to save its special places. He led the way in the state by targeting large acreage acquisitions and connecting them in a way that preserved ecosystems and not just isolated parks that had limited value in preserving large and complex native systems. This is what he taught us specifically in Flagler. He showed us what greenways were and how they enhanced the quality of life and how to use them as a valuable land planning tool.
When Flagler bought the very first phase of Princess Place in the early 1990's, with all community leaders basking in the County's success, he laid down a challenge: "Now look around, all around this property and across the waters that adjoin it. You will have to protect everything you can see from the Princess Place." Protecting the "view shed," he called it. And pointing out that we had the opportunity to protect a vital ecosystem relatively untouched since Florida's earliest founding.
Hankinson could see what it would take to protect the "view shed" around Princess Place.
That guidance was taken to heart, as Flagler bought or worked with other agencies and organizations to acquire all of the Pellicer Creek Corridor, amounting to thousands of acres, all for the benefit of the public in perpetuity. This led to more key acquisitions in other parts of Flagler protecting its diverse native ecosystems.
Flagler then went beyond to lure the National Estuarine Research Reserve to this area. Now 40,000 contiguous acres of land and waters have been preserved, creating one of the most spectacular and healthy estuarine ecosystems in Florida. He was the catalyst that sparked this to happen, inspiring many others to pick up the lead.
He worked hard in other parts of the State where there were challenges in achieving environmental protection such as in the Everglades, the Ocklawaha River basin and Lake Apopka in central Florida or in the Florida Keys National Marine Sanctuary.
On the national level, when he was the Director of the EPA Regional Office in Atlanta, he shepherded a major urban redesign, infill project. Called Project Excel by the EPA, he oversaw the permitting and master planning of a site for a former manufacturing plant that needed environmental remediation. The property was cleaned and redeveloped into a live work and play urban community called Atlantic Station. It reduced car trips and had a measurable effect on reducing auto emissions in the city. The project turned out to be the only urban Project Excel in the Nation, and John Hankinson did it, bringing together the local, state and federal governments and numerous private parties. He was good at building collaboration through partnerships.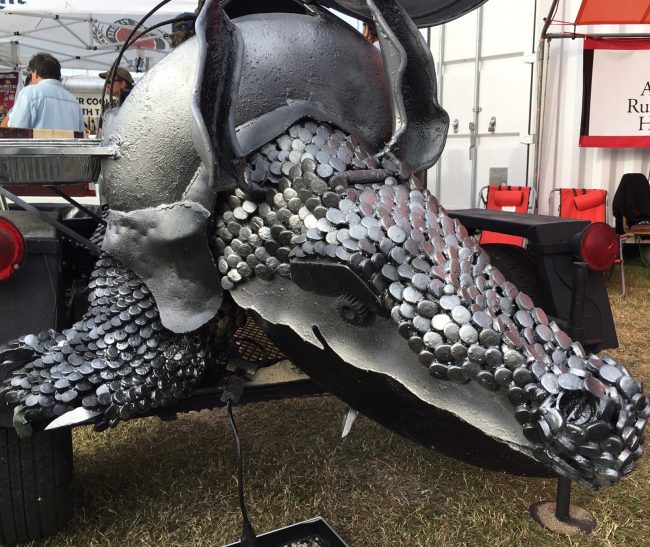 John Hankinson's 'Armagrilla,' his specially designed and fabricated grill. Click on the image for larger view. (© Al Hadeed)
Later in his career, after the BP Deepwater Horizon oil spill, he was asked by the White House to be the Executive Director of the Gulf Coast Ecosystem Restoration Task Force, a multi-state scientific committee to guide the restoration efforts of this region of the United States.
But he was more than an environmental and land use visionary. He was a good father with his wife, Gail, who raised two sons who today are scientists. He made people laugh and he made people dream.
John Henry Hankinson's name is known in every quarter of Florida. He has touched all of the special places in Florida, not just ours in this region. He was a true visionary and leader in environmental preservation and protection. Without his footprint here in Flagler, without his guidance, we would never have achieved the expanse and quality of our greenways that have earned national distinction.
He leaves us the enduring legacy of his work.
Al Hadeed, attorney for the Flagler County Commission, played a central role in the environmental acquisition of the Princess Place Preserve and the creation of the greenway around it.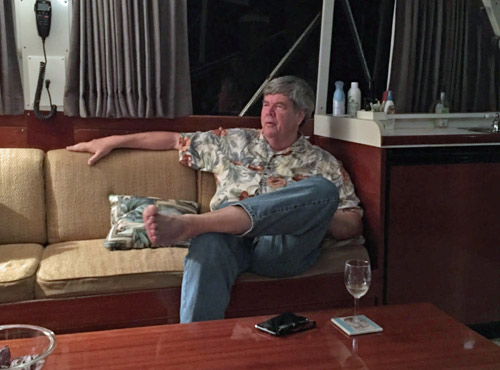 John Hankinson. (© Al Hadeed)
-----------------
From POLITICO:
Hankinson, former EPA and water district official, dies at 68

By BRUCE RITCHIE 03/06/17 10:55 AM EST
TALLAHASSEE — A memorial service is scheduled for Tuesday for John H. Hankinson Jr., a former official with the St. Johns River Water Management District and the U. S. Environmental Protection Agency, who died on Friday.
Hankinson, 68, died from complications following a stroke he suffered in February, according to Henry Dean, who served as executive director of the water management district when Hankinson worked there.
Dean said Hankinson was dedicated not only to the environment in Florida, but across the nation, as director of EPA Region IV in Atlanta from 1994 to 2001. Hankinson also served as executive director of the EPA's Gulf Ecosystem Restoration Task Force dealing with the aftermath of the 2010 Deepwater Horizon oil spill.
"It's a tragedy — it's just an absolute tragedy," Dean, who now is a St. Johns County Commissioner, said of Hankinson's death.
As director of EPA's regional office, Hankinson worked on programs promoting Everglades restoration, establishing national estuary program sites and negotiations among Alabama, Florida and Georgia over water from the Apalachicola, Chattahoochee and Flint rivers, according to a
published obituary
. He had previously served as director of land acquisition for the St. Johns River Water Management District and acquired important lands in the upper St. Johns River and Ocklawaha River basins.
"Very few people have that multitude of talent to understand conservation in Florida and all that it means," Dean said. "And understand the 65-year-old farmer who doesn't want to sell him land (but agrees to) sell his land and make him feel good about it."
Hankinson was moving towards retirement while still playing harmonica in bands and most recently had worked as a consultant, Dean said. Hankinson "was probably the kindest soul I've ever known," Dean said, and frequently worked on weekends with his wife in soup kitchens serving the homeless.
Hankinson, who lived in St. Augustine, is survived by his wife, Gail, and two sons and his mother. A memorial service has been scheduled for Tuesday in Ocala.
----------------------------
From St. Augustine Record and Legacy.com:
John H. Hankinson Jr. (1948 - 2017)
Send Flowers
Obituary
Guest Book
"Please know that I am sending my thoughts and prayers to..."
- Heidi Hall-Jones
View Sign
More Photos
View all 2 photos
Florida has lost a friend, mentor and leader.
John H. Hankinson, Jr. of St. Augustine, Florida, died on March 3, 2017. John was born to John and Shirley Hankinson on May 8, 1948 in Cincinnati, Ohio. He moved to Ocala, Florida at a young age and graduated from Ocala High School in 1966. John graduated from Florida Presbyterian College (now Eckerd College) in 1970 and UF School of Law in 1979, remaining a devoted Gator fan throughout his life.
John is survived by his mother, Shirley Hankinson of Ocala; his wife of 38 years, Gail Hankinson of St. Augustine; and two sons, John H. Hankinson V, of Atlanta and Samuel J. Hankinson, soon to be married to Laura Mills of Tallahassee. He has two sisters, Mary Dingman (Russel) and Margaret Spontak (Vince) both of Ocala, and a brother Judge James "Jimmy" Hankinson (Allison) of Tallahassee. He also had 11 nieces and nephews and 11 great nieces and nephews he cherished.
John's professional career revolved around the inter-relationship of land and water resources, protecting watersheds to assure there would be clean and abundant water in the future. Early in his career he served as the Director of Planning and Acquisition at the St Johns River Water Management District where he focused on the acquisition of critical watersheds, such as the Upper St. Johns River Basin, Lake Apopka and the Ocklawaha River Basin. Working with public and private partners he participated in the acquisition of over 200,000 acres of environmentally important lands in Florida. In 1994 John was appointed as Regional Administrator of EPA's office in Atlanta, overseeing federal wetland regulation and state implementation of delegated Clean Water Act programs in eight southern states. John promoted comprehensive watershed and coastal aquatic ecosystem management including the Florida Everglades, National Estuary Programs, and efforts to establish a compact for the Apalachicola/Chattahoochee/Flint (ACF) river system. Following the Deepwater Horizon oil spill he was asked to serve as the executive director of the Gulf Coast Ecosystem Restoration Task Force where he worked with 11 federal agencies and five states to develop a strategy for restoration of the Gulf of Mexico. Hankinson was semi-retired but continued to work occasionally as a consultant for environmental management and policy projects. His desire to restore the Ocklawaha River to be a free flowing system continued to be a passion.
In addition to his professional career, John was widely known for his talent as a blues harmonica player producing a dozen CDs with several bands, including "Johnny Matanzas and the Hombres" and "The Non-Essentials." He was a friend and mentor to many musicians throughout his life. John had an extraordinary cadre of friends that was always expanding. He maintained close ties with scores of his friends from Fla. Presbyterian and from UF. His business associates quickly became his personal friends and the circle of musicians he jammed with was ever expanding. In both his professional and personal pursuits he constantly elevated those around him to be the best they could be. His generous spirit and infectious laughter will be sorely missed.
A memorial service, conducted by Rev. Jim Bullock, will be held on Tues., March 7, at 3 p.m. at Ft. King Presbyterian Church, 13 NE 36th Ave., Ocala. An informal reception will follow in the church fellowship hall. In lieu of flowers, the family suggests a donation to Florida Defenders of the Environment for the John H. Hankinson, Jr. Ocklawaha River Restoration Fund (put on bottom left of check), P.O. Box 357086, Gainesville, FL 32635
- See more at: http://www.legacy.com/obituaries/staugustine/obituary.aspx?n=john-h-hankinson&pid=184354176#sthash.CBRhLXA6.dpuf
---------------------------
From EPA website archive:
John H. Hankinson, Jr., Executive Director, Gulf Coast Ecosystem Restoration Task ForceJohn H. Hankinson, Jr.
John H. Hankinson, Jr. brings more than 30 years of government service in environmental policy and regulation. From 1994-2001 he served as the Regional Administrator for EPA's southeastern regional office in Atlanta, covering eight southern states, directing a staff of almost 1200 people and a budget in excess of $500 million. His top priority while at EPA was helping states and communities protect air and water quality and restoring and protecting key ecosystems such as the Everglades and the Gulf of Mexico. Prior to his service at EPA, Hankinson worked for almost ten years as Director of Planning and Acquisition for the St. Johns River Water Management District in Palatka, FL, and directed the purchase of over 200,000 acres of environmentally sensitive lands. Hankinson most recently served as an environment and conservation lands consultant, advising on land conservation, strategic land use decision-making, and constructive environmental management and policy projects across the Southeastern United States.
As the executive director of the Gulf Coast Ecosystem Restoration Task Force, Hankinson who reports directly to EPA Administrator Lisa P. Jackson coordinates interagency efforts, oversees staff and outreach efforts in developing a regional ecosystem restoration strategy and ensures that science underpins the task force's efforts. The task force is an advisory body comprised of lead officials from the five Gulf states appointed by the President upon recommendation of each Governor, and 11 Federal agencies and White House offices. Engagement of local stakeholders, representatives from affected tribes, and the scientific and academic communities is ongoing and will inform the development of the strategy. Offices for the task force are located in Washington, D.C.