On Memorial Day, we all remember the sacrifices of millions of Americans, 1775-date.
Freedom is not free.
The U.S. Capitol 1/6 insurrection taught us that freedom must be zealously guarded by all of us. My dad taught me, as JFK's dad taught him, that you have to stand up to people with power or they walk all over you. As the German immigrant, Civil War General and later Wisconsin's Republican U.S. Senator Carl Schurz so eloquently said, "My country, right or wrong; if right, to be kept right; and if wrong, to be set right."
On Memorial Day, I'm fondly remembering my late father, Edward Adelbert Slavin, Sr., a WWII 82nd Airborne Division paratrooper, sole surviving son of Polish-American immigrants who fled Russian oppression and pogroms.
Dad volunteered for military service the day after Pearl Harbor was sneak attacked by Japan. (The Navy would 't take him because he was color-blind. So he volunteered to be one of the new paratroopers in the 82nd Airborne Division.)
One Memorial Day, my dad bought American flags for every row house on our block in Pennsauken, N.J., just before we moved to a ten acre former farm in Mantua. The Cathoic Star-Herald ran an evocative photo of my dad holding me up as we adjusted one of the American flags he bought for Norwood Avenue. I learned from the caption or "cutline" of that ancient newspaper photograph that my dad was a machine-gunner with the 82nd. He never told me that.
With the 82nd, my dad jumped into Nazi-occupied territory on two continents, in North Africa, Sicily (where dad caught malaria) and Normandy (where dad was wounded).
My dad recovered from his knee wound in U.S. Army hospitals, including one in Amarillo, Texas. Dad later taught map-reading to soldiers at Fort Benning (where he and my mom were married after VJ-Day).
My dad was sometimes called "the old man" by his much younger 82nd Airborne comrades. He was the "morale non-com."
Research confirms that my dad was one of the oldest men in the 82nd, at nearly 32, when he and the 505th Parachute Infantry Regiment helped liberate Sainte-Mère-Église, the very first French town taken back from Nazi tyranny, before dawn on June 6, 1944.
The South Jersey Chapter of the 82d ABN DIVN. ASSN., INC. is named in his honor, the "Edward A. Slavin Chapter." He served on the 82nd ABN DIVN ASSN. Board of Directors for years,
Dad did a lot to find 82nd veterans and enlist them in chapters and conventions. Dad and I researched newspapers using the Editor and Publisher yearbook we borrowed from the Woodbury Public Library, sending press releases around the Nation. Dad was grateful when many fellow former soldiers would read articles in their local newspapers (in North Dakota, or wherever). Inspired, they attended conventions, joined nascent chapters, and relived their experiences with former comrades, at a time when Americans had not yet come to grips with PTSD among our veterans,
As a Georgetown University student, I was proud to receive an 82nd ABN DIVN ASSN, INC. scholarship to help pay for my tuition and expenses.(A few years before, during the Vietnam War, my dad proudly stated that I was "anti-war" on national television, in an interview by Joe Garragiola with three 82nd veterans during their annual convention, on NBC's Today Show circa 1970 during the Vietnam War. It appeared Mr. Garragiola was trying to bait combat vets into condemning anti-war protesters. My dad calmly replied, "My son is anti-war," ending Garragiola's divisive line of attack.)
Here is a photo of my dad's company commander, the remarkable Col. Benjamin Hayes "Vandy" Vandervoort, recently located by Col. Mark A. Tolzmann (Ret.):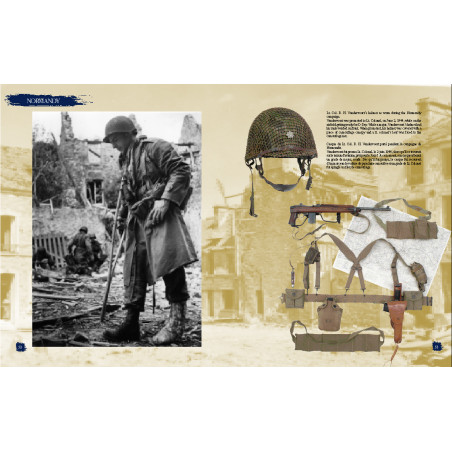 Col. Benjamin Hayes Vandervoort was portrayed by John Wayne in the movie, The Longest Day.
* Footnote: My dad won three Bronze Stars, a fact he also did not tell me, and which I did not learn about until Memorial Day weekend of 1998, when I was visiting at home during the recess of a nuclear powerplant whistleblower trial in Camden, N.J., where I was born,.
Airborne All American
Benjamin Hayes "Vandy" Vandervoort (March 3, 1917 − November 22, 1990) was an officer of the United States Army, who fought with distinction in World War II. He was twice awarded the Distinguished Service Cross. He was portrayed by John Wayne in the 1962 war film The Longest Day.
Vandervoort transferred to the newly established paratroopers in the summer of 1940, and was promoted to first lieutenant on 10 October 1941. Promoted to captain on 3 August 1942, almost eight months after the American entry into World War II, he served as a company commander in the 505th Parachute Infantry Regiment (PIR), commanded by Colonel James M. Gavin. He was promoted to major on 28 April 1943,[2] a few weeks after the 505th had been assigned to the 82nd Airborne Division, then commanded by Major General Matthew Ridgway, and served as operations officer (S-3) in Colonel Reuben Tucker's 504th Parachute Regimental Combat Team in the Allied invasion of Sicily and in the landings at Salerno.
Promoted to lieutenant colonel on 1 June 1944, he was the commanding officer of the 2nd Battalion, 505th PIR, during the American airborne landings in Normandy. Vandervoort led his battalion in defending the town of Sainte-Mère-Église on 6 June in "Mission Boston", despite having broken his ankle on landing. During "Operation Market Garden" in September 1944, he led the assault on the Waal Bridge at Nijmegen while the 3rd Battalion, 504th PIR, made the assault crossing. Ridgway described Vandervoort as "one of the bravest and toughest battle commanders I ever knew".At Goronne he was wounded by mortar fire, so was unable to take part in the 82nd Airborne Divisions' advance into Germany in 1945.
He was promoted to colonel on 7 July 1946, and left the Army on 31 August. After studying at Ohio State University he joined the Foreign Service in 1947. He served as an executive officer in the Department of the Army in 1950-54, acting as joint political adviser to the commanding general United Nations forces and UN ambassador, Korea, in 1951-52, and studied at the Armed Forces Staff College (now the Joint Forces Staff College) in 1953. He served as a military attaché at the US embassy in Lisbon, Portugal, in 1955-58, and was assigned to the Department of State in 1958-60. He then served in the Executive Office of the Central Intelligence Agency (CIA), from 1960–66, also serving as a consultant on politico-military affairs to the US Army Staff in 1960, and as a plans and program officer on the Army Staff, Department of Defense, in 1964.
Benjamin Vandervoort died on November 18, 1990 at the age of 73 years at a nursing home from the effects of a fall. He had two children with his wife Nedra; a son (Benjamin Hayes Vandervoort II) and a daughter (Marlin Vandervoort).
Photo courtesy Michel Detrez
D-Day Experience, Saint Côme du Mont
Taken Thursday, May 21, 2020 at 1545.
Thank you, Rep. Waltz
VA's then General Counsel, Co. William Hudson, Jr., U.S. Army (Ret.); Honorable Randy Reeves, VA's then Under Secretary and his staff, and our St. Johns County Veterans Council! We did it,