Full en banc Eleventh Circuit Court of Appeals ruled 7-4 for St. Johns County School Board in the federal civil rights case of Mr. Drew Adams, a transgender boy whom the trial judge and a three-judge panel found had been discriminated against by St. Johns County.
A peculiar institution still under undue influence by KKK-style haters, ninnies and satraps, our St. Johns County School Board was pressured to oppose Drew Adams' simple request re: bathrooms.
That pressure on other-directed School Board members was led and egged on by a bigoted campaign run by the St. Johns County Republican Executive Committee Chairman, the late WILLIAM MARK KORACH, II.
Even by local norms, KORACH was an especially arrogant, unkind and cruel critter who was later removed by the Republican Party of Florida, in part for his taking a position on the bathroom "issue" without authorization, and in part for peculation and sexual harassment.
For uneducated rebarbative reprobate retromingent radical Dull Republican hick hacks like the late disgraced WILLIAM KORACH and disgraced former President* DONALD JOHN TRUMP, it's all about the cruelty.
Note that every single one of the Court of Appeals Judges who voted to deny Drew Adams rights was appointed by a Republican President.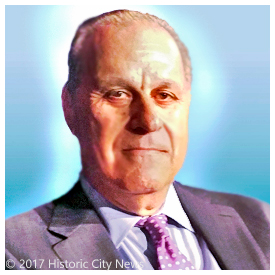 From Tampa Bay Times/News Service of Florida:
By News Service of Florida
Adams enrolled in the St. Johns County district in fourth grade, with information listing him as a female, according to court documents. But he entered high school in August 2015 as a transgender male.
Lagoa wrote that the school district's policy involved looking at the sex listed on documents, such as birth certificates, submitted when students entered the system.
"The school board's bathroom policy requires 'biological boys' and 'biological girls' — in reference to their sex determined at birth — to use either bathrooms that correspond to their biological sex or sex-neutral bathrooms," Lagoa wrote. "This is a sex-based classification. Adams challenges the policy's requirement that Adams must either use the female bathrooms — which correspond with Adams's biological sex — or the sex-neutral bathrooms. Simply put, Adams seeks access to the male bathrooms, which correspond with the gender Adams identifies with."
Lagoa focused heavily in the majority opinion on the school district's interest in protecting the privacy of students in bathrooms and said the policy does not unconstitutionally discriminate against transgender students.
"The bathroom policy does not depend in any way on how students act or identify," she wrote. "The bathroom policy separates bathrooms based on biological sex, which is not a stereotype."
But in a dissent, Wilson challenged Lagoa's conclusion, writing that underlying the policy is the "presumption that biological sex is accurately determinable at birth and that it is a static or permanent biological determination."
"In other words, the policy presumes it does not need to accept amended documentation because a student's sex does not change," Wilson wrote. "This presumption is both medically and scientifically flawed. After considering a more scientific and medical perspective on biological sex, it is clear that the bathroom policy's refusal to accept updated medical documentation is discriminatory on the basis of sex."
Jill Pryor's dissent argued the majority opinion "employs stereotypic ideas and assumptions in an attempt to persuade readers that admitting transgender students into the bathrooms corresponding with their consistent, persistent, and insistent biological gender identity will result in the elimination of sex-separated bathroom facilities."
"Our law, both constitutional law and statutes and regulations, recognizes a legitimate, protectible privacy interest in the practice of separating bathroom facilities by sex," she wrote. "But that interest is not absolute: it must coexist alongside fundamental principles of equality. Where exclusion implies inferiority, as it does here, principles of equality prevail."
Conservative activists have pressed the Pasco County school district for about four years to adopt a policy regulating student restroom and locker room use based on sex assigned at birth. Officials have declined to change their rules, citing in part the Adams case as the guiding principle.
Terry Kemple of the Community Issues Council, a former executive director of the Florida Christian Coalition, has led the charge against the district. He anticipated a large turnout at the Pasco School Board's Jan. 4 meeting, calling again for change.
Board attorney Dennis Alfonso "kept holding the School Board back with this, saying 'We've got to see,'" Kemple said. "Now we see. Now it's time."
Alfonso said he quickly read through the ruling and sent a copy to board members, because they are "going to start getting pressured immediately."
He said he would not advise the board to adopt a bathroom policy, which the district currently does not have. At the same time, he said, he would feel more comfortable with the board creating such a rule now that the ruling has come out.
Previously, Alfonso advised the board not to craft guidelines that ran counter to the trial court opinion, which the appellate court overturned.
"Now there is some clarity," he said. "It's going to be up to the board whether they want a policy or don't want a policy."
Pasco schools superintendent Kurt Browning said he had not read the ruling, but planned to consult with his leadership team about the issues in advance of the public meeting.
Myndee Washington, a local teacher and LGBTQ advocate, said she expected the issue to remain a point of contention. "We will continue to fight for our students' rights," Washington said via Facebook Messenger. "This is going to cost lives. We are moving backwards."
By Jim Saunders. News Service of Florida. Times staff writer Jeffrey S. Solochek contributed to this report.