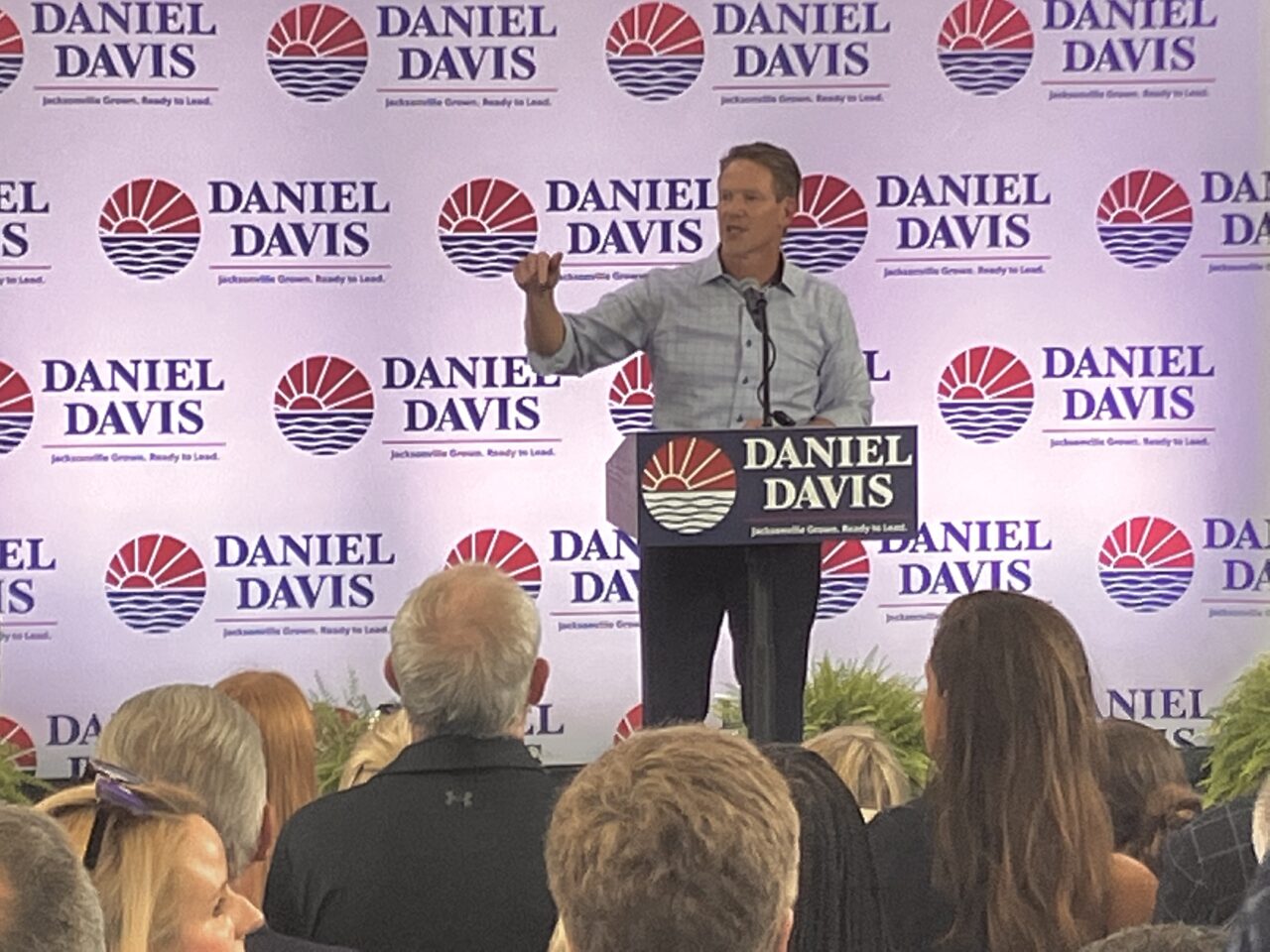 Overpaid pompous Jacksonville Chamber of Commerce (a/k/a "Chamberpot") President and CEO DANIEL DAVIS, who has an undergraduate business degree, a former Dull Republicann state legislator, and government-subsidized candidate for Jacksonville Mayor, began his campaign against Donna Deegan March 21, 2023 with typical porcine Reichwing propganda, emitting hate.
DAVIS was formerly head of the Northeast Florida Builders Association, the lobbyist for devious developers destroying our wetlands, history, nature and wildlife for benefit of multinational corporate oligarchs, some foreign-funded, who purchase politicians (or rent them).
I love Donna Deegan and voted for her for Congress in 2020. DANIEL DAVIS, who wought to privatize JEA, is unworthy of public office.
What an orotund orifice his dupey DANIEL DAVIS, a louche lickspittle for the rich and powerful.
The Chamber of Commerce of the United States was founded in the White House by Republican President William Howard Taft as an anti-labor organization.
The Chamber of Commerce pays DAINEL DAVIS $500,000 annually: what do you expect from a pig from a grunt?
May the best woman win!
From First Coast News:
Lawsuit claims Jacksonville Chamber of Commerce CEO to keep $500k salary amidst mayoral campaign
Billie Tucker, a Chamber member and co-founder of the First Coast Tea Party, filed the lawsuit Tuesday.
Author: Sarah Glenn
Published: 3:25 PM EST January 18, 2023
Updated: 6:48 PM EST January 18, 2023
JACKSONVILLE, Fla. — The Jacksonville Chamber of Commerce is being sued by one of its own members for continuing to pay President and CEO Daniel Davis a salary while he campaigns to become the city's mayor.
Davis announced his candidacy in Sept. 2022 and formally qualified last week. He continues to earn his half-million dollar salary as part of an agreement with the Chambers' Executive Committee.
The lawsuit was filed Tuesday by Billie Tucker, a Chamber member and co-founder of the First Coast Tea Party. According to the complaint, Davis receives an annual salary of $536,000 for a 55-hour work week, based on a 2019 tax return. The suit claims he will work less than 55 hours a week while running for mayor.
"The Jax Chamber is there for the city and its members, for small businesses, it's not to line the pockets of Daniel Davis," said Andrew Bonderud, the attorney representing Tucker, "this is not political, the Chamber and their board of directors made this a political matter and we want it to stop."
According to Jax Chamber's Bylaws, no party of the Chamber's earnings or assets should be used to the benefit any member, director, officer or employee of the Chamber beyond "reasonable compensation." Additionally, due to the tax-exempt status of the Chamber, which is a nonprofit, the lawsuit claims earnings should not be used "to the benefit of any private shareholder or individual."
"There's no way that he can continue working part time for the Chamber and deliver on his obligations while he also runs for mayor full time," said Bonderud, "any clear thinking individual who sees that he's running for mayor and a leading candidate for mayor, that's not something you can do part time and that's his priority. His priority is to become mayor of Jacksonville, that's fine, he can do that but the Jacksonville Chamber of Commerce shouldn't be subsidizing that and using its resources to benefit him personally."
The lawsuit claims Davis reached the deal with the chamber "at a meeting scheduled for a date when one member of the Executive Committee known to be opposed to the approval of these actions was unavailable for the meeting."
"She believes the Jax Chamber has lost its way and entered certain agreements with its own CEO that we believe are designed to benefit him personally," said Bonderud. "Daniel Davis is the CEO of Jax Chamber and is the most highly compensated Chamber employee in all of Florida"
Bonderud says that Tucker has not endorsed any candidate in the mayor's race.
Tucker's complaint argues that the chamber failed to take the appropriate course of action, which would have included:
Making sure the compensation agreement was approved by people without a conflict of interest
Obtaining data to determine if continuing to pay Davis' full salary is appropriate
Properly documenting the reason for their decision
First Coast News reached out to the Jacksonville Chamber of Commerce and Daniel Davis and were provided with the following statement from Davis:
"The Jacksonville Chamber is the most respected voice for our business community and it is unconscionable that anyone would play politics with the 3000 members who keep our city working. This lawsuit is a sad, cheap political stunt filed by someone who joined the Chamber nine days ago, and instigated by a failing candidate grasping for relevance. LeAnna Cumber has spent nearly $1 million and all she has to show for it is a campaign in chaos. We'll leave the cheap tactics to her while the rest of us have a thoughtful discussion about the future of this great city."