I just finished former FBI Associate Director Mark Felt's autobiography,
A G-Man's Life -- The FBI, Being "Deep Throat" and the Struggle for Honor in Washington
. America deserves in this dark hour, after the retaliatory firing of FBI Director James Comey, FBI agents to blow the whistle, just like Mark Felt did to
Washington Post
reporter Bob Woodward about the Watergate coverup. The Lloyd-LaFollette Act, 5 U.S.C. 7211, empowers FBI agents (and all federal employees), stating, "The right of employees, individually or collectively, to petition Congress or a Member of Congress, or to furnish information to either House of Congress, or to a committee or Member thereof, may not be interfered with or denied."
Posted May 12, 2017 07:19 pm | Updated 13 minutes ago
By Garrett Pelican
Florida Times-Union (Jacksonville)
FBI's acting director McCabe is Bolles grad, former state champ runner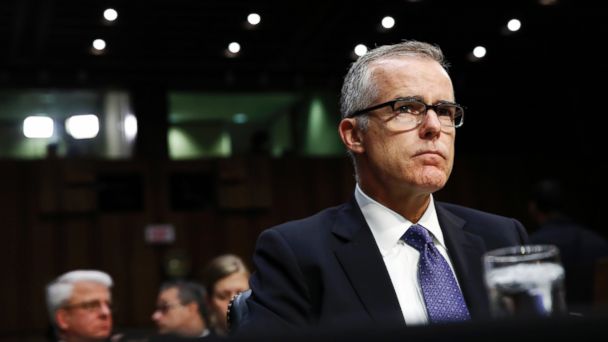 Acting FBI Director Andrew McCabe listens on Capitol Hill in Washington during Thursday's Senate Intelligence Committee hearing on major threats facing the U.S. (AP Photo/Jacquelyn Martin)
Andrew McCabe, the man in charge of the FBI after this week's shakeup, is a graduate of The Bolles School.
McCabe was named acting director of the FBI following President Donald Trump's firing Tuesday of former Director James Comey. McCabe is expected to keep that role until until Comey's successor is appointed and confirmed by the Senate.
McCabe is among four candidates for the permanent FBI director job expected to be interviewed by Attorney General Jeff Sessions and Deputy Attorney General Rod Rosenstein, according to The Washington Post. The newspaper reported his interview is scheduled for Saturday. The appointment requires Senate confirmation.
McCabe graduated in 1986 from Bolles, where he was part of three Class 2A state championship cross country teams between 1983-85, according to the school's website. He won the individual state title in 1985.
After Bolles, McCabe graduated from Duke University followed by law school at Washington University in St. Louis. McCabe devoted three years to private practice, then joined the FBI in 1996 as a special agent based in New York, where he embarked on a 20-year career focused on organized crime and counter-terrorism.
McCabe was promoted to FBI deputy director in January 2016, a role in which he oversaw the agency's international investigative and intelligence activities. With Comey's departure and the lack of a Senate-confirmed successor, McCabe became the acting director.
Garrett Pelican: (904) 359-4385