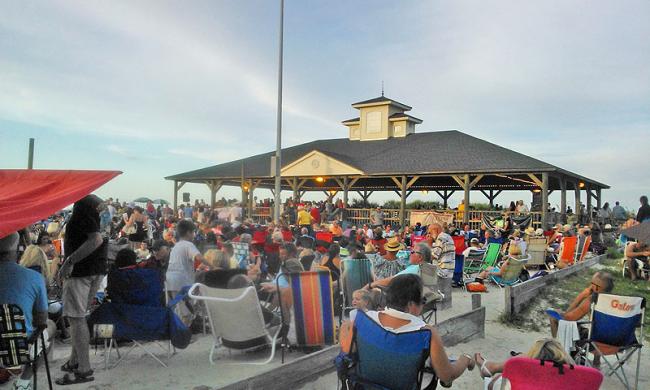 After years of louche lackadaisical lax local law enforcement desuetude, tonight begins the first ever alcohol free Concerts by the Sea (maybe)(there's rain in the forecast).
County Beach Code, section 19, prohibits alcohol without permits. There have never been any permits.
Giving tens thousands of dollars worth of computers and other items to City of St. Augustine Beach offices and officers over the years, the St. Augustine Beach Civic Association induced St. Augustine Beach officials to look the other way when it came to their alcohol consumption at Pier Park events and City Hall, without permission or permits. No more.
The illegal influence of SABCA President and Sheriff's Civil Process Supervisor WILLIAM JONES is waning. While "rank has its privileges," the privileges obtained by this rank obscenity -- illegal alcohol use without permits -- potentially risk vehicular homicides in DUI wrecks from cars leaving the pier after drivers drank too much alcohol.
The enforcement of alcohol laws will begin at St. Augustine Beach Pier tonight. No permits, no alcohol, says County Attorney Patrick Francis McCormack in an e-mail, after legal research.
Will SABCA seek a permit?
Or does SABCA reckon itself above the law, Republican Lords of All They Survey, protected by Almighty St. Johns County Sheriff DAVID BERNARD SHOAR, whose name was changed by court order from his original "HOAR" in 1994. That SHOAR. The one who covered up the September 2, 2010 shooting death of Michelle O'Connell in the home of St. Johns County Sheriff's Deputy JEREMY BANKS, subject of a PBS Frontline documentary and New York Times investigations. Yes. Sheriff SHOAR/HOAR looked the other way for years because his employee JONES was in charge.
The Equal Protection clause of the United States Constitution requires that SABCA comply with the same laws as everyone else.
SABCA functioned for years as a 501c4, doling out its support and opposition to candidates and cause in a vengeful fashion, SABCA is coming under scrutiny.
Its ADA violations have led to several ADA complaints by disability advocate Merrill Paul Roland.
SABCA fails to provide portable toilets, unlike other events drawing hundreds or thousands of people, at Pier Park, which has small bathrooms that the county illegally closes at 8 pm at a pier that is open 24 hours a day.
SABCA parks its vehicles in disabled parking spaces.
SABCA uses special influence to avoid being ticketed for ADA violations.
No one is ticketed or towed for ADA violations involving SABCA, thanks to JONES.
Tonight's concert will test whether local law enforcement will enforce the law.
Tonight's concert will test whether we live in a democracy or dictatorship.
In Memphis, our law professors explained wacky local judicial rulings by reference to "Shelby County rules." In St. Johns County, we have had "St. Johns County rules" for far too long.
While beachgoers with a beer are subject to arrest, persons attending the Concerts by the Sea were given protection under St. Johns County rules -- bad law and bad sociology, once mocking law and order, showing the world that there is not equal law enforcement here.
No longer must ROBERT AND ANDREA SAMUELS (a/k/a "CUPCAKE"®*) and their effusive, abusive frontman, Sherif's Civil Process Supervisor and SABCA President WILLIAM JONES function as bosses of the beach, having people arrested (ask William Rosenstock), spreading rumors and Lashon hara, and generally acting as the ungracious hosts of what some view as a public nuisance -- alcohol fueled concerts by the sea, held in violation of Florida state and local alcohol laws and in violation of federal disability discrimination laws.
Enough flummery, dupery from the SAMUELS, JONES and other hick hacks.
* ANDREA SAMUELS will forever be known as "CUPCAKE" for her insolent, insulting, obtuse behavior on Commissioner George's birthday in 2015 -- see blog report on it here.
http://cleanupcityofstaugustine.blogspot.com/2015/12/birthday-barbarism-at-st-augustine.html
http://cleanupcityofstaugustine.blogspot.com/2016/12/goodnight-cupcake.html