It's finally happening. St. Johns County Commissioners, or most of them, are now more likely to vote against tree-killing developments. Case in point: May 2, 2017 3-2 vote against MILL CREEK FOREST, a development that would have destroyed existing agriculture-tree farms (silviculture) zoning. Commissioners Jay Morris, Jeb Smith and Paul Waldron voted against this outrage, pushed by devious developer mouthpiece DOUGLAS NELSON BURNETT.
The 305 spec homes were proposed by Jacksonville developer HELOW PROPERTIES, LTD. Sde Jake Martin's article.
From circa 1998 until the election of reformer Ben Rich, Sr. in 2004, the ISSUES GROUP, comprised of Jacksonville developers, their money and their moll, picked all of our St. Johns County Commissioners. The Commissioners were toothless tap dancers, fawningly obeisant and compliant de facto prostitutes, funded by developers and selected by THE ISSUES GROUP, a confederacy of developers led by then-Sheriff NEIL PERRY's wife, SYD PERRY. Rezoning requests were once liberally granted, leading to ecocide, and the slow death of democracy -- amidst suburban sprawl and a putative budget crisis because developers won't pay their fair share of infrastructure.
HELOW's counsel, former St. Augustine Beach City Attorney DOUGLAS NELSON BURNETT, was allowed to advertise his ST. JOHNS LAW GROUP on the City of St. Augustine Beach website, whose law firm brought the bogus stalking injunction against government watchdog Tom Reynolds, and who listed on his firm website as a client the shopping center owner that wanted to steal a St. Augustine Beach park to expand the Publix Shopping Plaza.

DEFEATED DEVELOPER LACKEY DOUGLAS NELSON BURNETT
, whose law firm bought charity auction dinner cooked by then-Mayor JOSEPH LESTER BOLES in 2010 -- that's BURNETT at right of triptych, with City of St. Augustine Mayor BOLES' right arm around BURNETT's shoulder. BURNETT's law firm displays the photo to tout its influence with government officials. BURNETT is the son of Lt. General DOUG BURNETT (Ret.), formerly head of the Florida National Guard and currently a member of the board of the St. Johns River Water Management District, which routinely rubber-stamps developer applications amidst a drought and water shortage.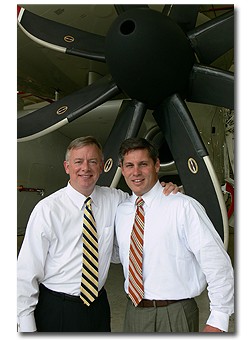 There's then Florida Lt. Governor Jeff Kottkamp in 2009, with his left arm around DOUGLAS NELSON BURNETT's shoulder.
Posted May 3, 2017 12:01 am
By JAKE MARTIN jake.martin@staugustine.com
St. Johns County Commission says 'no' to 305 homes in northwest by split vote

St. Johns County commissioners by a 3-2 vote on Tuesday denied a request for a Comprehensive Plan amendment that would have allowed for up to 305 single-family homes in the northwest.
The split decision on Mill Creek Forest, a residential-only development, came after concerns were raised about crowded roads and schools and overburdened infrastructure in the fast-growing sector of the county, as well as a lack of funding to address any of those issues any time soon.
Commissioners Jay Morris, Jeb Smith and Paul Waldron voted against Commission Chair Jimmy Johns' motion to approve the development. Johns was joined only by Commissioner Henry Dean in voting yes.
The property is about 264 acres on the north side of Greenbriar Road and to the east of Longleaf Pine Parkway, although more than 128 of those acres are wetlands (of which about 123 acres would be preserved).
Developer Helow Properties proposed changing the Future Land Use Map designation from Rural/Silviculture to Residential-B and the zoning from Open Rural to a Planned Unit Development. The surrounding area is primarily developed with single-family residential to the west but it's mostly undeveloped immediately to the south, east and north.
Although the proposed development had no commercial component, the applicant said additional residential dwelling units would assist in bringing more commercial services to the area. A single 10-year phase was proposed for the development, to commence within five years of the effective date of the PUD.
A review by county staff of the transportation situation said there would be adverse impacts to County Road 210 from Greenbriar Road to Cimarrone Boulevard; Roberts Road from State Road 13 to Longleaf Pine Parkway; and Longleaf Pine Parkway from Roberts Road to Veterans Parkway.
Phong Nguyen, transportation development manager for the county, told commissioners the corridors in question were already deficient but that the proposed development would exacerbate the existing situation.
County staff said despite concurrency mechanisms in place to address transportation capacity issues, the county does not have adequate revenue resources to complete improvements to the affected segments and it is not anticipated proportionate fair share contributions would be enough to close the gap.
The applicants said they were willing to donate right-of-way along Greenbriar Road and to the north of the property where a future road system is anticipated, depict and construct a future access to the north, as well as provide a corridor study for the area that was lacking funding.
Attorney Doug Burnett, representing the developers, said upon the denial their 3-year-old project predates other projects in the fast-growing area and that they've never said they would argue with the county's determinations or demands concerning transportation.
"This is about as good as you can possibly get, I think, for a project in this area," he told commissioners after their denial of the Comprehensive Plan amendment. "This is one where I just don't know how you get one that's better than this."
Development in the area has come under increasing scrutiny by commissioners in recent months as more previously approved projects have come online, but without hitting thresholds where agreements to build or improve roads or certain infrastructure are put into action. Commissioners in March delayed making a decision on ICI/Middlebourne, a 450-home development with commercial components at Longleaf Pine Parkway and Veterans Parkway, citing similar issues.
Morris told Burnett the county does not have the funding to correct the worsening traffic or infrastructure situation throughout much of the northwest area. He said there are existing, long-standing needs for new roads or road widening that remain unfunded as it is.
"We're getting into this logjam," Morris said. "The project is great, it's just ahead of its time when the county can provide what they have to do to support the project."
He said the project was "deficient," even with the impact fees factored in, and that the county would have no money to continue and complete the accommodating roads and infrastructure.
"We can't even maintain the current roads we have," Morris said.
Commissioners continued the developer's request for a rezoning of the property to a PUD, potentially to come back at a future meeting and paired with a new request for a Comprehensive Plan amendment.
Attorney's contract
Commissioners unanimously approved entering into a new, slightly revised contract with County Attorney Patrick McCormack.
Dean, whose comments were echoed by Morris, said he was "perfectly comfortable" proceeding with the contract as proposed. Waldron said the county attorney has always been forthcoming with him and that McCormack has even kept him from putting his foot in his mouth more than once. Johns said he's confident in the ability of McCormack and his staff.
Smith, while saying the contract was done "very well" and that he appreciated McCormack's integrity and trustworthiness, asked if he would be willing to take a decrease in salary.
McCormack said he did not come to the board with a request for an increase it hasn't already given him and that he felt the salary is a "competitive" one.
In November, Smith voted alone in dissent to give McCormack a 2.8 percent raise (the same rate granted to all county employees this fiscal year), which brought the county attorney's salary up to $173,571.85. Dean and Waldron had not yet joined the board.
McCormack's previous contract with the county was due to expire Oct. 15. His new contract, effective immediately, is due to expire on Sept. 30, 2021, although the agreement can be renewed for an additional two-year term upon mutual, written consent of both parties. The duration of the renewed term can also be modified by an affirmative vote of a majority of the full membership of the board.
Drone regulations
Commissioners also nixed some proposed regulations relating to the operation of drones in open spaces or over open air assemblies. The decision came after an update from the county's legal team that bills in the state Senate and House that would prohibit local governments from passing ordinances specifically on drones seemed poised to go through.
The ordinance as prepared for Tuesday's second reading was already a scaled-down version of what was originally proposed at the board's April 18 meeting.
"The more Tallahassee takes away from the county, the more screwed up we're going to get," Morris said.
5 Comments
Sponger2 Harvell
Looks like someone grew a pair. Must be something in the water, or something that didn't make it to their wallets...
john fellis
Its about time - long past due!!!!!!!!!!!!!!!!!!!!!!!!!!!!!!
Joann Janson
Should have done this about 5,000 homes ago!
MARTY
Did the check bounce?
Scott Sankey
Jimmy Johns voted yes....Imagine that.....