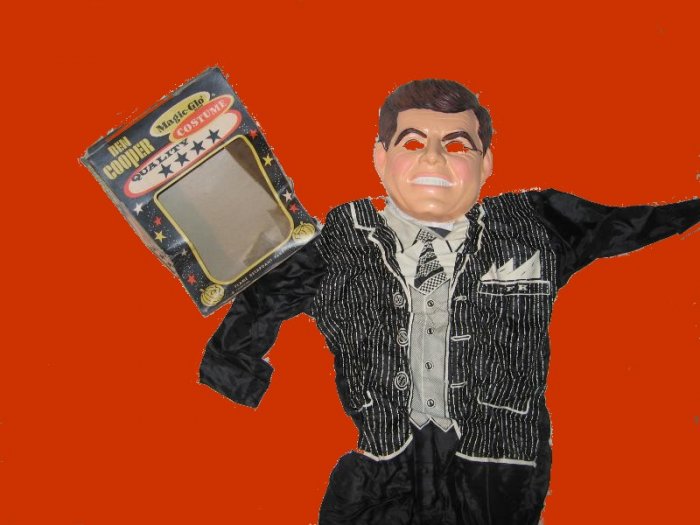 I was six years old on Halloween. October 31, 1963, wearing a JFK costume with mask, trick-or-treating among other six year olds in my Southern New Jersey neighborhood.
Only 22 days later, JFK was murdered.
I cried for days. I was never the same again.
JFK's murder was covered up.
To be charitable, the investigation (sic) was incurious, with an insolent attitude toward government accountability.
The November 22, 1963 JFK homicide is still being covered up, with some government records still hidden from us 58 years alter.
My dad passionately and intelligently beloved that JFK was not killed by a lone gunman or single bullet. My dad was an expert marksman, with medals to prove it.
After the Warren Commission Report, which my dad and I both read, along with its critiques, my dad attended his WWII Army unit reunion convention, asking the eight (8) top master sergeants in the 82nd Airborne Division: "Could you make that shot?" Every single one said NO!
Dad and those top master sergeants were all expert marksmen with combat experience. They knew ballistics, from shooting and being shot, and seeing their comrades and enemies cut down and killed by bullets. (Dad carried Nazi shrapnel in his knee until he died).
My Dad would call in to Philadelphia evening radio talk shows to express his views, which he would outline on notebook paper, often afforded more than the usual caller time limit because he had the facts, was eloquent, and persuasive.
The House Special Assassinations Committee (HSCAC) agreed with dad and the majority of the American people: there was no lone gunman.
Footnote: The South Jersey Chapter of the 82nd Airborne Division Assn., Inc is named the "Corporal Edward A. Slavin Chapter" in honor of my Dad, who helped to organize the association and to enlist members. He'd and I researched American newspapers, sending annual press releases to enlist, empower and enliven new members in remote locations throughout America, where the many proud former members of the "All American" Division, "America's Guard of Honor," moved after their service.
Dad served our country with three (3) combat jumps, in North Africa, Sicily and Normandy. He won three Bronze Stars, but modestly demurred after I learned of it late in life, "They gave one to everyone who jumped."
The JFK assassination investigation was a coverup.
Most Americans agree it was a coverup.
My dad and I both read about the JFK assassination, and shared each others views.
Yet, even under new ownership by JEFF BEZOS, the Washington Post contemptuously continues spreading lies -- see my unanswered e-mail query, below.
Wonder why?
Even under new ownership, The Washington Post still has delusions of adequacy, and DAVID BYLER, apparently a newly hired hick hack hobbledehoy is too big for his britches:
-----Original Message-----
From: Ed Slavin <easlavin@aol.com>
To: david.byler@washpost.com <david.byler@washpost.com>; corrections@washpost.com <corrections@washpost.com>
Cc: waltbog@nytimes.com <waltbog@nytimes.com>
Sent: Mon, Nov 22, 2021 4:39 pm
Subject: JOURNALISTIC MALPRACTICE? RE: JFK assassination -- thinly researched 10/6 Opinion piece in WaPo



Dear Mr. Bylers and WaPo editors:

1. Would you please be so kind as to respond to my October 6, 2021 riposte to your thinly-researched opinion piece on JFK murder?

2. That was 47 days ago

3. That was one (1) month and sixteen (16) days ago.

4. No response.

5. Why?

6. What sloth and torpor What disdain and disredcpt.

7. Will th

e Post

kindly allow me the courtesy of an Op-Ed reply this weekend, to express my concerns about possible

Post

journalistic malpractice on JFK murder, 1963-date?

Thank you.

With kindest regards, I am,




-----Original Message-----
From: Ed Slavin <easlavin@aol.com>
To: david.byler@washpost.com <david.byler@washpost.com>; corrections@washpost.com <corrections@washpost.com>
Cc: waltbog@nytimes.com <waltbog@nytimes.com>
Sent: Wed, Oct 6, 2021 6:40 pm
Subject: JFK assassination -- thinly researched 10/6 Opinion piece in WaPo



Dear Mr. Byler and WaPo Corrections Editors:

Concerning your 10/6 Opinion piece,

https://www.washingtonpost.com/opinions/interactive/2021/conspiracy-theory-quiz/?itid=hp_opinion

s :

1. You are sadly mistaken, and omitted HSAC report conclusion the there was a second gunman, and later information about the CIA withholding evidence from Warren Commission and HSAC

2. Why?
3. At an 82nd Airborne Division Assn. reunion after the Warren Report, my dad, CPL Edward A. Slavin, Sr., asked the eight top master sergeants -- all expert marksmen -- if they could nave made the shot.

4. All eight said "no."

5, Oswald was a patsy and a bad shot.

6. He defected to the Soviet Union, came back, and was not prosecuted. He was involved with U.S. intelligence. These links were long concealed.

7. The CIA withheld evidence and stage-managed information available to Warren Commission and HSAC.

9. There was a "

second gunman,"

hence by definition a "conspiracy."

10.. Please note a correction.

Thank you.

With kindest regards, I am,