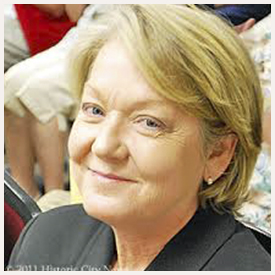 Form 1 filed by Commissioner NANCY SIKES-KLINE discloses work for land planner KAREN TAYLOR, former County Commissioner. There's a
13 page list
of Ms. TAYLOR's projects (below). On October 8, 2015, I asked Commissioner SIKES KLINE to identify the projects on which she worked for Ms. TAYLOR, and to support an ethics and disclosure reform ordinance. No response. Reckon she's been too busy advising tree-killing wetland-destroying "developers" to answer my query? What do you reckon?
https://drive.google.com/open?id=0B-qWCfAhowhjX09mNnh6R2d1SVk
From: easlavin

To: nsikeskline
Sent: Fri, Dec 11, 2015 2:03 pm
Subject: Re: Request No. 2015-382: St. Augustine City Commissioner SIKES-KLINE's work for land planner KAREN TAYLOR (13 page list of projects)


Please respond to my October 8, 2015 request for you to disclose which of the projects on the enclosed 13 page list you worked on for Karen Taylor, Land Planner.
-----Original Message-----
From: easlavin

To: nsikeskline
Sent: Thu, Oct 8, 2015 10:25 am
Subject: Request No. 2015-382: St. Augustine City Commissioner SIKES-KLINE's work for land planner KAREN TAYLOR (13 page list of projects)

Dear Commissioner Sikes-Kline:
1. Which of the projects on the attached 13-page list did you work on for land planner KAREN TAYLOR?
2. The list was supplied by St. Johns County Attorney Patrick McCormack's office in response to my Request No. 2015-380.
3. The list is a reliable, regularly kept, government business record, admissible in court or administrative proceedings pursuant to F.S. 90.803.
4. I request that this 13-page document be spread upon the minutes of the next City Commission meeting and be made a permanent record by the City.
5. I request that you kindly answer my question under oath and in writing, and please make your response a permanent record of the City.
6. Will you please support adoption of an ethics and disclosure reform ordinance by the City of St. Augustine?
7. Shall we enlist the University of Florida in helping us write a strong ethics and disclosure reform ordinance?
Thank you.
With kindest regards, I am,
Ed Slavin
www.cleanupcityofstaugustine.blogspot.com
904-377-4998


-----Original Message-----
From: Asha Rimel
To: 'easlavin@aol.com'
Cc: Loni M. Silvestris ; Regina Ross ; Patrick McCormack ; Diane Lehmann
Sent: Thu, Oct 8, 2015 9:38 am
Subject: RE: Request No. 2015-380: List of projects involving land planner Karen Taylor

Dear Mr. Slavin:

Attached are responsive records to your public records request. If any other responsive documents are identified, they will be provided to you under separate cover. If you have any further requests, please let me know.

Thank you,
Asha.

Asha Rimel
Office of County Attorney
St. Johns County Board of County Commissioners
500 San Sebastian View
St. Augustine, FL 32084
Phone: 904.209.0812 | Fax: 904.209.0806
Email: arimel@sjcfl.us | Web: www.sjcfl.us



5215 US One South
5855 DATIL PEPPER RD/ Bank of St. Augustine 5855 Datil Pepper/ Bank of St. Augustine
8300 Morrison Road (Barn)
890 Ponte Vedra Boulevard
Adyton Group Property
Adyton Vilano Road Complex
AEA Networks Commercial Center
Airborne Trucking
Airborne Trucking, Inc.
Airport Commerce Park
Airport Commerce Park
AJ MCGUINESS AND BRENDAN KEMP
Alan Simpson/Elkton Partial Plat Vac.
Anastasia Baptist Church
Anastasia Baptist Church
Anastasia Baptist Church at SR 16
Anastasia Boat & RV Storage
Anastasia Hills Unnamed Road Vacation
Anastasia Mosquito Control District Headquarters
Ancient City Plaza
Ancient City Plaza
Ancient City Plaza
Ancient City Plaza
Ancient City Plaza
Andalusia
Andalusia
Andalusia (Closed)
Andalusia PUD (Closed)
Andalusia PUD (Increase units)
Anderson Park PUD
Angyalfy Office Park
Angyalfy Office Park
Armstrong Addtion
Arnett Heating & A/C
Arnett Heating and Air Conditioning
Ashby Landing (multiple)
Ashton Downs PRD
Ashton Oaks
Ashton Oaks PRD
Ashton Oaks PRD
Ashton Oaks PRD
Atlantic Dodge Inc
Atlantic Dodge Inc.
Atlantic Dodge Renovation & Addition
Aunt Kate's Restaurant
Aunt Kate's Restaurant (formerly Oscar's Seafood)
Aunt Kate's Restaurant @ 610 Euclid Ave
Azalea Plaza
Bank of St. Augustine - Datil Pepper Road
Barcelona PUD
Bartram Executive Park
Bartram Executive Park PUD (Julington Center PUD) BB&T Ponte Vedra
BB&T Ponte Vedra Beachcomber PUD Beachcomber PUD Beachcomber PUD Beachcomber PUD Beachcomber PUD Beachcomber PUD Beachcomber PUD
Beaver Creek Crossing II
Beaver Creek Crossing II
Beaver Creek Crossing PSD
Beck Mitshubishi Beck Mitsubishi
Beck Mitsubishi
Belles Chase PUD
Beverly Commercial Lots
Beverly Commercial Lots II North PUD PUD PUD Big Oak Road South
Binninger Office Center
Binninger Office Center BizAtomic
Bizatomic Offices
Blind Ventures PUD Boardwalk
Bobinski PRD
Bobinski PRD
Bocage
Bono's Pit Bar-B-Q
Bredan Kemp
Bridge Venture Office
Bridle Ridge
Bridle Ridge (Small Scale)
Bridlebourne Farms
Brown - Grable North Beach Property
Buzzmart Rezoning
Camachee Island PUD
Camachee Island PUD
Canal Boulevard Office Complex
Canal Boulevard Shops
Canal Boulevard Shops
Canal Boulevard Shops
Canal Road
Canal Road
Canal Road Variance
Capili Medical Office
Capili Medical Office
Carcaba Road Lot Division
Carter Family Farm (Parcel id# 016550-0010)
Cartwheel Bay at Cimarrone
Cedar Point (increase lots)
Cedar Point (replaced by new Agreement CONSCA 2014-08) Cedar Point PUD
Cedar Point PUD
Cervantes PUD
Chalk Business Center
Chalk Business Center PUD
Chapman Island Commercial
Chapman Island Commercial
Chapman Plat Vacation
Chapman Village
Chapman Village PSD
Chapman Village PSD
Chapman Village PUD Charles Street SubdivisionCharles Street Subdivison
Chasewood Planned Unit Development Chasewood PUD
Cimarrone Golf & Country Club (Master 2001-65)
Colee Cove Farm Northeast PRD
Colee Cove Landing North PRD
Colee Cove Landing North PRD
Comfort Suite/ Huddle House
Commercial Drive
Coquina Ridge Planned Unit Development
Coquina Ridge PUD
CR 210 Atlantic Self Storage and Retail Center
Crescent Key PUD (fka Datil Pepper Place) Crescent Key PUD (fka Datil Pepper Place)
Crescent Key PUD aka Datil Pepper Place PUD
Cypress Lakes PUD (Commercial Parcel)
Cypress Point II Phase I
Datil Pepper Place PUD
Datil Pepper Rd Rezoning
Datura Street
David Rideout
Davis Office Park
Davis Office Park
Deerfield Meadows
Deerfield Meadows (Expired)
Deerfield Meadows PUD
Deerfield Trace (Expired)
Deloris Batson/Road Vacation
Desoto Place
Devil's Elbow PUD
Devil's Elbow PUD
Devils Elbow Fish Camp
DH Commercial
DH Commercial (withdrawn)
Dobbs Road Warehouse
Dobbs Road Warehouse Phase 1
Double Bridges
Double Bridges Modification
Double Bridges Planned Rural Development
Double Bridges Planned Rural Development
Double Bridges PRD
Durbin Crossing PUD (Northeast Boat & RV)
Durbin Crossing PUD (Southeastern Boat & RV)
Duvalpilot Equipment Outfitters Rezoning
E-94-77A Satelite Innovations Relocation Edgewater PUD Elkton Center Rezoning
Elkton Center Rezoning
Elkton Concrete Expansion
Elkton CornersElkton Corners Rezoning Elkton Corners Rezoning Encanta PUD
Encanta PUD
Encanta PUD (PUD 2013-04; SUBCON 2013-25)
Enclave at Palm Valley
Escambia Street
Eva's Walk
Evas Walk Subdivision (EXPIRED)
Fairfield @ Ponte Vedra PUD Family Kia of St. Augustine
FEC Railway Property
Fiore Industrial Park
Fiore Industrial Park Ph. 2B Self-Storage
Flagler Village Apartments
Flagler Village Apts.
Flagler Village Apts.
Flagler- Whitehall
Fortuna Avenue Offices
Frantz Shoppes
Frantz Shoppes
Frontier Commons (fka: Ravenswood)
Fruit Cove Medical Plaza
Fruit Cove Medical Plaza Addition
Galleria de Mexico
George Residential Lots
Gerlak Commercial
Golden Eye Planned Rural Development
Golden Eye Planned Rural Development
Golden Eye PRD
Golfway Centre PUD
Good News Presbyterian Church
Gran Lake PUD (f.n.a. Liberty Park PUD)
Grand Banks Estates PRD
Greenbriar Preserve
Greenbriar Preserve (Kendall Creek)
Greenbriar Preserve PUD
Greenbriar Preserve PUD
Greenbriar Preserve School Concurrency PSM Agreement Grey Hawk PUD
Grey Hawk PUD
Grey Hawk PUD
Hancock Place
Harley Davidison- 2575 SR16
Harley Davidson of St. Augustine PUD
Harley Davidson of St. Augustine PUD
Harley Davidson Seasonal Sales Lot
Hartley Mud Bogging and Concession at St Augustine Racetrack Harwil Fixture
Harwil Fixture Company Rezoning
Harwil Fixtures
Harwil Fixtures
Harwood Residence
Heyman Residence
Hilltop Commercial Rezoning
Hodgins-Sheldon Rezoning
Holiday Inn Express
Honey Branch Estates
Honey Branch Estates PRD
Honey Branch Estates PRD
Hughes Palm Valley
Hughes Palm Valley
Hughes Palm Valley
Hughes Palm Valley (CONMIN )
Hydro Aluminum Driveway
Hydro-Aluminum-PUD
IGP Recycling of North Florida, LLC
Indian Creek Commercial
Indian Forest Campground & Commercial Park -CDR Office Indian Forest Campground and Commercial Park
Indian Forest Campground and Commercial Park PUD
Island Cottages
Island Cottages
Island Cottages
Jobson Residence
Joy II RV Sales
Julington Center
Julington Center PUD
Julington Park PUD
Julington Place Lots 10-13 (Westminster)
Karsam Offices
Kelsey Medical Offices
Kelsey Medical Offices (withdrawn)
Kent Business Park
Kent Business Park
Kent Business Park
King's Trace - Lot 59
Knights Inn
Knights Inn
Kolielat Industrial
Lakewood Pointe
Lakewood Pointe PUD
Lakewood Pointe PUD
LDC Business Park
Levy Commercial at US1 South
Levy Commercial at US1 South
Liberty Development County Road 208 PRD Liberty Park
Liberty Park
Liberty Park
Liberty Park
Liberty Park
Liberty Park
Lighthouse Toyota
Lightsey Road Properties
Linda M. & William F. Young Vesting Determination Lyons Boat and RV Storage
Lyons Boat and RV Storage at SR 206 Magnolia Hammock PUD
Makarios South PUD
Marbrisa PUD
Marina Club Palm Valley Marina Club PV PUD Mariners Way
Marsh Landing PUD, Unit 32A
McCubrey Property/SR 206
Merritt Office Building
Merritt Office Building at 624 SR 16 Merritt Office Building PUD
Mexican Imports PUD
Mexican Imports PUD Small Adjustment Meyers RV Center
Meyers RV Center
Mill Creek Boat & RV Storage
Mill Creek Boat & RV Storage
Mill Creek Hardware PUD
Mill Creek Hardware PUD
Mill Creek Hardware PUD
Mill Creek Hardware PUD (Small Scale)
Mill Creek Plaza
Morgan's Fish Camp
Moultire Bluff Plaza PUD ( CONMAJ )(Begins SB 1752) Moultrie Bluff Planned Unit Development CONMAJ (Sent) Moultrie Commons
Moultrie Commons
Moultrie Crossing
Moultrie Office
Moultrie Publix Center Expansion
Moultrie Village
Moultrie Woods Phase II
Moultrie Woods PUD
Moutrie Bluff Plaza PUD
Mr T's Heating & Air
Mueller' s Landing PRD
Mueller' s Landing PRD (PRD)
Mueller's Landing (withdrawn)
Muellers Landing PRD (Colee Cove Farm Northeast) CONMAJ
Navara Park
Nelson Commercial
Nelson Commercial
North Beach Campground Sign
Oak Ridge Lot Division
Offices @ Island Cottages
Offices @ Island Cottages
Old Brick Road
Old Brick Road PUD
Old Brick Road PUD
Old Dixie Commercial Center
Old Florida PUD (revert back to OR)
Old Moultrie Storage and Office
Oldfield Forest (Small Scale)
Oldfield Forest PUD
Oldfield Forest PUD
Olson Total Car Care Center
Orthodox Christian Mission Center PUD
Orthodox Christian Mission Center PUD
Osceola Business Park aka Mizell Commercial/Reta
Osceola Landing PUD
Osceola Landing Rezoning
Osprey Cove Estates
Osprey Cove Estates PRD
Pacetti Road Plaza
Pacetti Road Plaza
Palm Lakes aka (Murabella )
Palm Valley Subdivision
Palm Valley Weddings
Palm Valley Weddings
Palmetto Landing (fka: Canal Blvd. Office Complex)
Palmetto Landing (fka: Canal Blvd. Office Complex) -= WITHDRAWN
Palmetto Walk
Pantheon Professional Park Paradise Gardens
Patel Medical Offices
Pellicer Campground Rezoning
Pellicer Campground Rezoning
Pellicer Creek Campground
Pellicer Creek Campground
Phillips- McCarty Commercial PUD
Playa Rive (Aslan)
Playa Rive (Aslan)
Playa Rive (Aslan) PUD
Ponte Vedra Beach Preserve
Ponte Vedra Beach Preserve (fill requirements) Ponte Vedra Beach Preserve (OPSP 2015-01)
Ponte Vedra Beach Preserve (PVZVAR 2015-02) Ponte Vedra Place (The Palms at Ponte Vedra)
Ponte Vedra Point Retail Expansion
Ponte Vedra Pointe Outparcel
Ponte Vedra Station (add medical) (CONMINPDRA) Ponte Vedra Station PUD
Ponte Vedra Station PUD
Ponte Vedra Station PUD
Ponte Vedra Station PUD (MAJMOD)
Prairie Lakes PUD (Previoulsy Striar's Acres) Professional Marine Consultants
Publix Supermarket Inc.(Moultrie) Package Store Publix Supermarket Inc.(Moultrie) Package Store Racetrack Road Lot Division(Expired)
Ravenswood
Ravenswood Forest
Ravenswood Forest Subdivision
Ravenswood Planned Unit Development Ravenswood PUD
Regis Lakes PUD
Residences at Tolomato
River Crest PUD
River Crest PUD Initial Determination Request Riverside Blvd Road Vacation
Riviera Boulevard Southern Portion Road Vacation Rodriguez Medical Office
Rodriquez Medical Office
Rojek Car Dealership
Rowell Rezoning
Ruggeri Residential Rezoning
Ruggeri Residential Rezoning
Safe Tarp Corporation
Safety Shelter of St. Johns County
Sandy Creek PUD
Sandy Creek PUD
Santa Rosa Garden Homes (withdrawn) Sawl Enterprises Mulching Operation Sea Love Marina Expansion
Sea Pines II Subdivision
Sea Pines PUD
Seaside School (Daycare)
Seminole Winds
Silver Creek PUD aka Sea View Landings (Formerly Regis Pines)
Silver Creek PUD aka Sea View Landings (Formerly Regis Pines)
Simpson Office Complex
Smart Recycling of North Florida LLC
Smith Business Park COMM (HB 503)
Smith Business Park Rezoning
Smith Industrial (PUD) (HB 503)
South East Floating Docks
South Street/ Rothschild's Addition(Expired)
Southeast Floating Docks
Southeast Floating Docks Office
Southeast Floating Docks Office
Southlake Commercial Par 3 (MDP 02-25)Southlake PUD Par 3 D & E (03-32)
Southlake PUD
Southlake PUD Commercial
Southshore
Southshore
Southwood
Southwood
Southwood
Southwood
SOUTHWOOD PHASE 1B
Southwood PUD
Southwood PUD Phase III
Southwood PUD, Southwood Multi-Family/Phse II Southwood- Phase 1B
Spanish Cay PUD
Springer Veterinary Clinic
SR 16 Properties Commercial Rezoning
SR 16 Properties Commercial Rezoning
St Augustine Circle Subdivision
St Augustine Reserve PUD (Watson Village/Tuscany Estates)
St Augustine Reserve PUD (Watson Village/Tuscany Estates)
St Johns Interchange Parcels PUD (Pacifica St. Augustine)
St. Augustine Centre PUD/Gander Mountain (COMM 08-01; MODCP 07-68)
St. Augustine Crest (R-PUD-86-013) St. Augustine South Offices PUD
St. Augustine Tire Rezoning
Plaza
Plaza (Expired) Plaza PUD
- Ph 1C Modification Multi-Family Phase II MDP Ph 1 B Mod. Phasing
St. Johns County Complex and Sheriff's Office
St. Johns Interchange Parcel PUD (MAJMOD 2006-24) St. Johns Interchange Parcels PUD
St. Marks Pond Boulevard/King
State Road 16 Rezoning
State Road 206 Truck Repair and Sales
Stillwater PRD (PRD 07-03)(HB 7023)
Stillwaters Planned Rural Development (PUD) (HB 503) Stillwaters PRD
Stonebridge Oaks
Stonebridge Oaks
Stonebridge Oaks PUD
Stonebridge Oaks PUD
Suggs Veterinary Clinic
Suggs Veterinary Clinic
Summerhill PUD
Summerhill PUD
Summerhill PUD
Summerset Village
Summerset Village
Summerset Village
Summerset Village
Summerset Village
Sunnyside House
Sunnyside House PUD
Sunnyside House PUD
Sunnyside House PUD
Sunsational Sun Room Rezoning
Terra Pines Reserve I PUD
Terra Pines Reserve I PUD
Terra Pines Reserve I PUD
Terra Pines Reserve I PUD & Terra Pines Reserve II PRD Terra Pines Reserve II
Terra Pines Reserve II PRD
Terra Pines Reserve II PRD
Terra Pines Reserve II PRD
The Bluebird of Happiness
The Bluffs
The Lakes Subdivision Lot 12
The Mattress Link & Furniture Store
The Mattress Link & Furniture Store
The Meadows (Deerfield Trace)
The Meadows (Deerfield Trace)
The Oaks
The Oaks
The Offices @ Island Cottages
The Pastures of Picolata
The Pastures of Picolata
The Pastures of Picolata
The Plantation at Ponte Vedra - Unit 13
The Plantation at Ponte Vedra PUD
The Preserve @ St Johns fka Cartwheel Bay at Cimarrone The Red Frog & McToads Restaurant
The Red Frog and McToad's
The Sattich Offices PUD
The Sattich Offices PUD
The Sattich Offices PUD
The Southern Villas
Thirteen Storage & Retail
Thomas Business Park
Thomas Business Park
Thomas Business Park SUPMAJ (HB 503) Thomas Industrial Park COMM (HB 503) Thompson Commercial Rezoning (Bank) Timberwood PUD
Tolomato River Farms Development
Treaty Ground PUD (removing land & one access point)(Andalusia PUD)
Tringali Family Farms
Tringali Family Farms CPA
Troymara
Turnbull Preserve (Stonegate)
Turnbull PUD
Twin Lakes
Twin Lakes PUD
US 1 Offices (Runk Properties)
Vaill-Gatlin Family Lot Division
Vilano Beach Holdings(Applicant did not pursue amendment) Vilano Beach Restaurant
Vilano Beach Town Center
Vilano Beach Town Center (Grocery Store Design Three) Vilano Beach Town Center (Grocery Store Design Two) Village Professional Center PUD
Volusia Woods
Wesley Manor Inc C/O Westminster Services Inc
Wesley Woods PUD
Wesley Woods PUD aka Westminster Woods
Wesley Woods PUD Phase 1 aka Westminster Woods Wesley Woods/Westminster Woods Mod.
West Gate Planned Unit Development
Westchester
Westchester Planned Rural Development
Westgate Crossing (EXPIRED)
PUD/PRD PA 2006000011 Westminster Woods DEVSVC 3/6/2006
View
CONMOD 2009000002 Westminster Woods TRAPL 3/27/2009
View
PUD/PRD PA 2013000015 Westminster Woods PNZ 7/25/2013
View
DOE 2010000054 Westminster Woods PUD Ph III (CONMAJ) DEVSVC 9/30/2010
View
DOE 2009000116 Westminster Woods (CONMAJ) APPCO 12/24/2009
View
PUD/PRD PA 2003000034 Westminster Woods PUD DEVSVC 9/25/2003
View
MAJMOD 2010000004 Westminster Woods PUD PNZ 5/7/2010
View
PUD/PRD PA 2006000012 Westwind DEVSVC 3/8/2006
View
PREAPP 2002000051 Whisper Ridge DEVSVC 6/5/2002
View
MODCP 2003000043 Whisper Ridge DEVSVC 6/11/2003
View
MODCP 2003000104 Whisper Ridge DEVSVC 11/26/2003
View
MODCP 2005000021 Whisper Ridge DEVSVC 3/2/2005
View
CONMAJ 2001000016 Whisper Ridge (aka The Ridge) Phase II GRWTH 7/3/2001
View
MODCP 2004000104 Whisper Ridge (drainge) DEVSVC 11/30/2004
View
PREAPP 2001000045 Whisper Ridge PUD DEVSVC 6/7/2001
View
PREAPP 1999000098 Whispering Woods DEVSVC 11/29/1999
View
CONMAJ 2002000006 Whispering Woods GRWTH 2/11/2002
View
COMM 2002000014 Whispering Woods Apartments (MF) DEVSVC 4/2/2002
View
IFA 2002000003 Whispering Woods PUD PNZ 6/5/2002
View
CONMIN 2003000021 Wildrew Gaerinson Co. Warehouse Lot 23 TRAPL 6/16/2003
View
PREAPP 2005000237 Wildwood Dr Commercial DEVSVC 5/4/2005
View
PREAPP 2007000099 Wildwood Drive at SR 207 DEVSVC 10/1/2007
View
PUD/PRD PA 2004000054 Wildwood Plantation PUD DEVSVC 12/28/2004
View
PUD 2005000015 Wildwood Plantation PUD PNZ 4/21/2005
View
SMADJ 2013000024 Wildwood PUD PNZ 7/31/2013
View
PUD/PRD PA 2004000017 Woodlake PUD DEVSVC 5/26/2004
View
CONMAJ 2004000021 Woodlake PUD TRAPL 5/19/2004
View
MASTER 2004000183 Woodlake PUD TRAPL 5/25/2004
View
VACPLA 2011000001 Woodland Heights (Lots 15 thru 35) DEVSVC 3/9/2011
View
MULTIFAM 2003000003 Woodlawn Terrace DEVSVC 5/21/2003
View
PREAPP 2003000046 Woodlawn Terrace DEVSVC 4/24/2003
View
ZVAR 2003000002 Woodlawn Terrace (AKA Flagler Village Apartments) PNZ 1/23/2003
View
NDRCSTPL 2009000024 Young Contracting DEVSVC 3/26/2009
View
CONMINPDRA 2008000038 Young Contracting Office Rezoning TRAPL 12/4/2008
View
PREAPP 2004000103 Z Best DEVSVC 9/14/2004
View
PUD/PRD PA 2004000011 Z-Best (Absolute Development PSD) DEVSVC 3/25/2004
View
SMADJ 2004000066 Z-Best - Absolute Development PNZ 11/16/2004
View