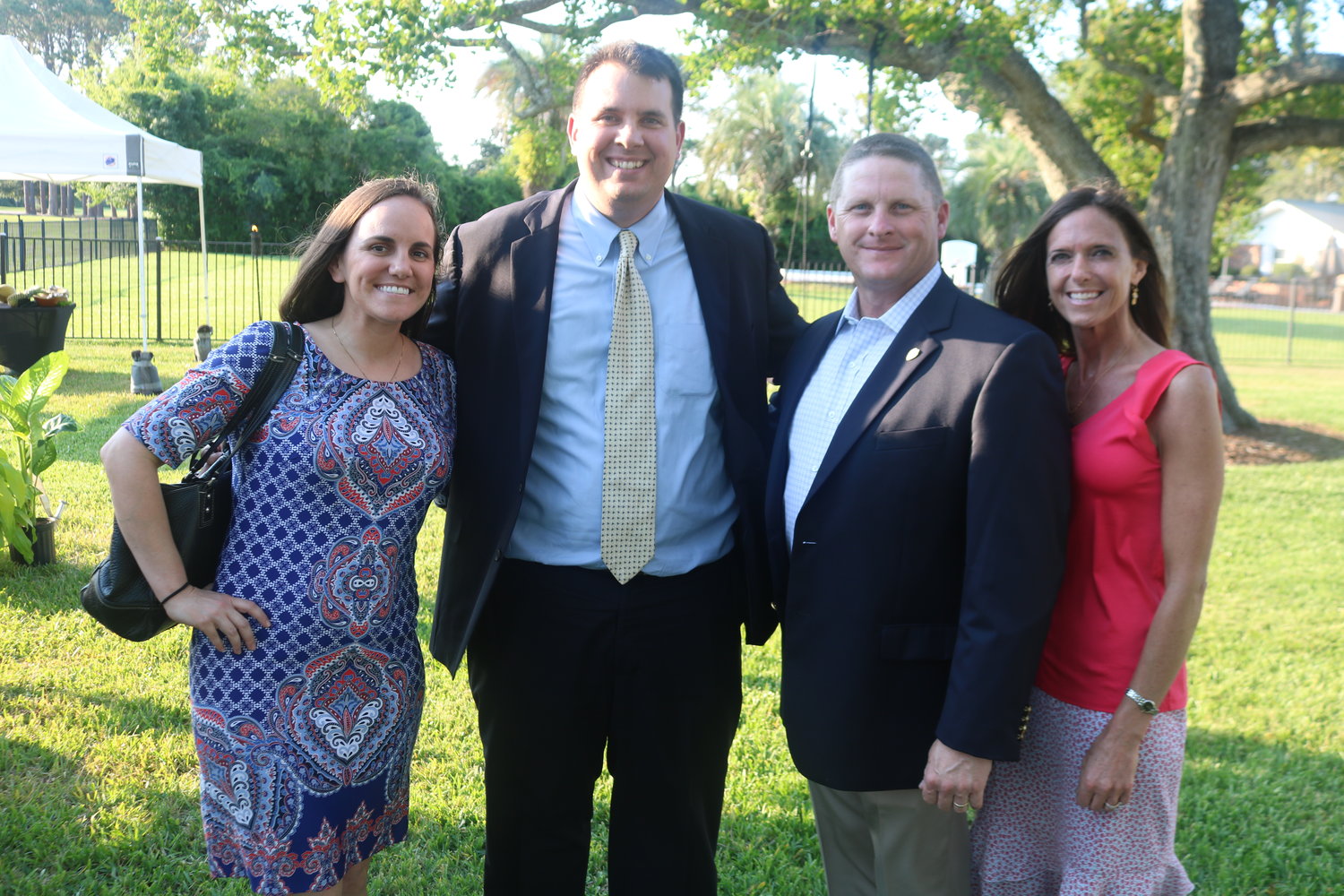 After a February 17, 2022 federal court order (below) dismissed Sara Bloomberg's lawsuit against County Commissioner JEREMIAH RAY BLOCKER on refusal to issue an LGBTQIA+ Proclamation, an apparently intoxicated BLOCKER repeatedly texted insults to me, February 17-18, 2022, commencing by calling me "little guy," and giving me a tour of his deeply disturbed Weltanschauung.
BLOCKER's Pyrrhic victory over LGBTQIA+ people is likely to be short-lived, as he faces:
likelihood of reversal if case appealed by Sara Bloomberg and lawyer Rook Ringer. and
the verdict of the voters on November 8, 2022.
Pictured above: "All in The Family?" From left, 2021 Governor RONALD DION DeSANTIS appointee, County Court Judge LAUREN BLOCKER et ux, County Commissioner JEREMIAH RAY BLOCKER, with
Sheriff ROBERT HARDWICK
and his wife, Kendell.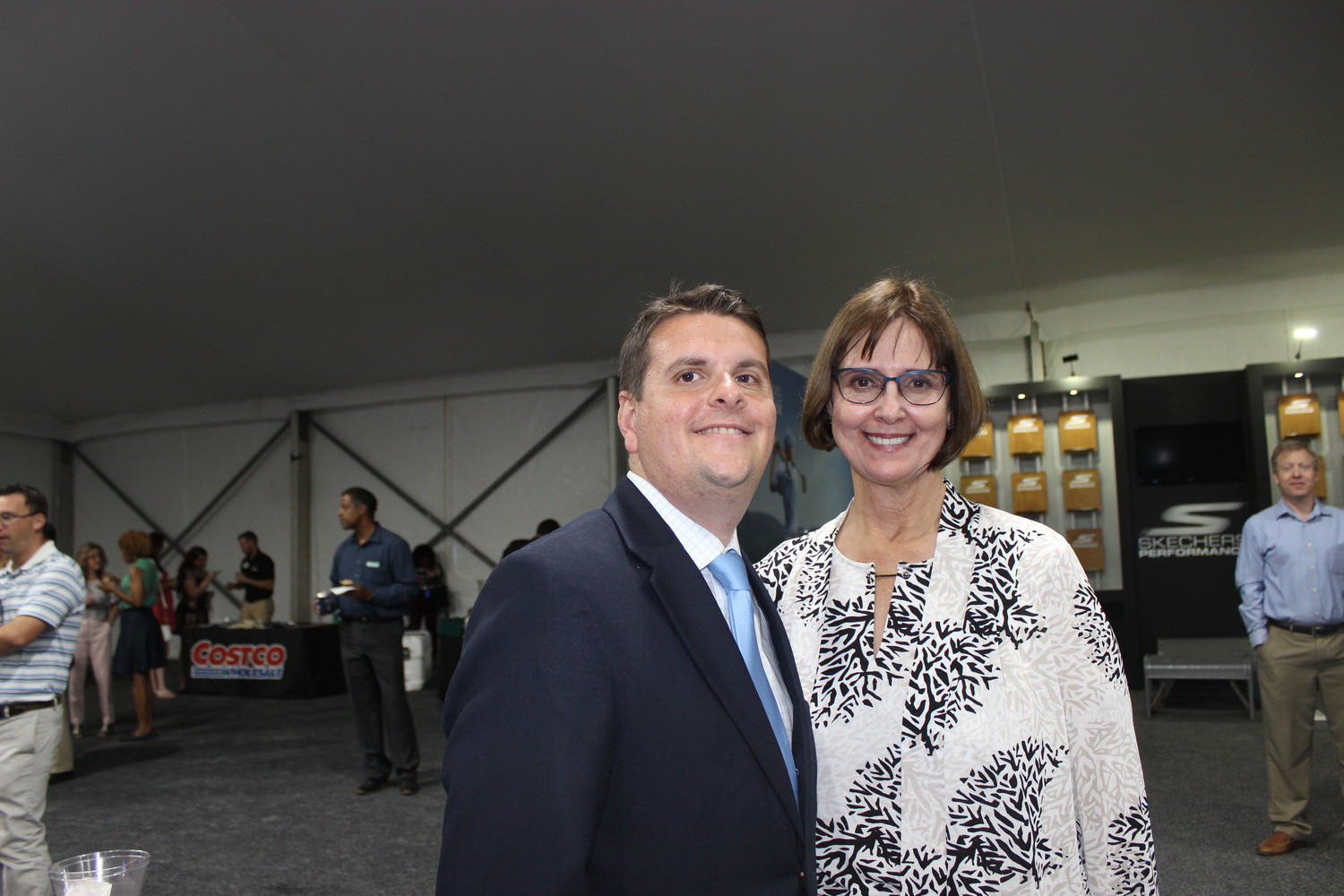 Homophobic, transphobic St. Johns County Republican Executive Committee Chair ROY ALAIMO with State Rep. CYNTHIA WARD STEVENSON.
United States Judge Timothy Corrigan dismissed the Bloomberg v. Blocker complaint on February 17, 2022, refusing to allow discovery or trial on St. Johns County Commissioner JEREMIAH RAY BLOCKER's alleged illegal, discriminatory 2021 refusal as Chair to issue a routine LGBTQIA+ Pride proclamation.
Then-Chairman JEREMIAH BLOCKER never publicly explained his refusal to issue such a proclamation, much like those routinely issued by the cities of St. Augustine and St. Augustine Beach.
Then St. Johns County Republican Executive Committee Chair ROY ALAIMO, JR. lustily issued bigoted fundraising e-mails, supporting BLOCKER, who has never publicly explained his blocking a proclamation.
Judge Timothy Corrigan's former law clerk is Bradley Bultheis, Assistant County Attorney, who did not sign any of the County's legal papers.
Judge Corrigan's decision looks just a bit misguided, as if one of his law clerks cribbed its words from the insurance defense lawyer's grump legal brief.
Federal court law clerks are the eyes and ears of the judge, and if the clerks are biased, bigoted or ambitiously seeing future employment opportunities, who will ever know? (I once saw a U.S.District Court law clerk tell a law firm messenger in the Clerk's office to "say hello to Leo Bearman for me," a shameless display of obsequious at Memphis's larges corporate law firm, later known as Baker Donelson. 0
Corrigan's decision looks reversible, particularly in light of the Shurtleff v. City of Boston "Christian flag" case the the United States Supreme Court will decide by June.
In January 18, 2022, the Supreme Court signaled it is likely to address discrimination in government speech, in a case where the City of Boston allowed diverse groups to fly flags on a city flagpole, but refused an application from Harold Shurtleff to fly a Christian flag.
Boston discriminated. It's a public forum. It's authoritarian, strained reading of "government speech" vs. "public forum" infects the erroneous decision of Judge Timothy Corrigan.
As The Washington Post reported:
"From 2005 to 2017, the city approved 284 consecutive requests. But then Harold Shurtleff, who leads a conservative group called Camp Constitution, applied to raise a white flag with a red cross on a blue square in the upper left corner, which he noted was a 'Christian flag.'"

"He was turned down, on the grounds it would appear that the city was endorsing one religion over another."

"Lower courts said the city had that prerogative. But Shurtleff's case has had the remarkable effect of uniting conservative religious groups with the American Civil Liberties Union and the Biden administration, all of whom said the city was wrong."
Prediction: If Boston loses that case, the 11th Circuit will likely send the case of Bloomberg v. Blocker back to Judge Corrigan.
In that event, JEREMIAH RAY BLOCKER, the Defendant former St. Johns County Commission Chair, who so angrily texted me February 18-19, 2022, commencing at 8:27 pm, will have some crow to eat.
This bumptious bully, throwing his weight around via grumpy frartboy baiting text messages, was elected to represent the people of St. Johns County. His otherizing LGBTQIA+ people is a stench in the nostrils of our Nation
BLOCKER cannot rebut the optics of his secretive mishandling of the Gay Pride proclamation.
This scion of an old Florida family is a graduate of a defunct for-profit law school, Florida Coastal School of Law. Blocker's nutty text messages disdained my "elite education" in his text messages. (Georgetown University School of Foreign Service and Memphis State University, now University of Memphis).
Is this nasty mocker off his rocker, this JEREMIAH RAY BLOCKER?
Here is Judge Corrigans decision:
UNITED STATES DISTRICT COURT MIDDLE DISTRICT OF FLORIDA JACKSONVILLE DIVISION
SARA BLOOMBERG, Plaintiff,
v. Case No. 3:21-cv-575-TJC-LLL
JEREMIAH RAY BLOCKER, in his personal and professional capacity as the chair of St. Johns County Board of County Commissioners and as Commissioner for District 4, and ST. JOHNS COUNTY BOARD OF COUNTY COMMISSIONERS,
Defendants.
ORDER
This case requires the Court to determine whether Defendants St. Johns County Board of County Commissioners and its Chair Jeremiah Ray Blocker violated Plaintiff Sara Bloomberg's constitutional rights when they declined to consider a proclamation submitted by Bloomberg. This case is before the Court on Defendants' Motion to Dismiss (Doc. 18), to which Bloomberg responded (Doc. 19).
I. BACKGROUND
Bloomberg is a citizen of St. Johns County, Florida, where Blocker is Chair of the St. Johns County Board of County Commissioners. (Doc. 13 ¶¶ 9–10). On March 8, 2021, Bloomberg emailed St. Johns County Commissioner Henry Dean about a proclamation celebrating "LGTBQ [sic] civil rights progress and the contributions of LGBTQ individuals to the St. Johns County community . . . ." Id. ¶ 12. Commissioner Dean responded that he supported the proposed proclamation and would approach the Chair about placing it on the agenda for consideration by the Board. Id. ¶ 13. Later, Michael Ryan, the St. Johns County Assistant Director of Public Affairs in the Office of the County Administrator, called Bloomberg and said, "the Chair of the St. Johns County Board of County Commissioners [Chairman Blocker] ultimately decides whether to place a proclamation on the agenda." Id. ¶ 14 (alterations in original); (see also Doc. 13-2 ¶ 4). Ryan called Bloomberg again on April 28, 2021, to report that "they would not consider proclamations that were 'controversial' or 'too far left or too far right,' and therefore that the proclamation would not come before the Board for consideration." (Doc. 13 ¶ 15).1
According to Bloomberg, "'far left' refers primarily to adherents of Communism, Anarchism, or other extreme revolutionary ideals" and does not
1 In Ryan's affidavit, which is attached to the First Amended Complaint, he denies mentioning Chairman Blocker in his conversation with Bloomberg and denies speaking with Chairman Blocker about the proclamation. (See Doc. 13-2 ¶ 7). However, on a motion to dismiss, the Court accepts the allegations in the First Amended Complaint as true
describe the LGBTQ proclamation, which Bloomberg attaches to the First Amended Complaint (FAC). Id. ¶ 16–17; (Doc. 13-1). Bloomberg adds that St. Augustine, the largest city in St. Johns County, and St. Augustine Beach have issued nearly identical LGBTQ proclamations in the past. (Doc. 13 ¶ 17); (see also Doc. 13-3). Additionally, President Joe Biden issued a proclamation in honor of pride month on June 1, 2021, as Presidents Barack Obama and Bill Clinton did before him. (Doc. 13 ¶¶ 18–19); (see also Docs. 13-4, 13-5).
Bloomberg also alleges that Ryan suggested that the Board does not consider proclamations that are "national political topics." (Doc. 13 ¶ 20). Bloomberg contends that previous proclamations prove the contrary, including:
A February 2021 Black History Month proclamation. Id.

A 2019 Columbus Day proclamation, in the midst of national and local

controversy about the holiday's origins and name. Id. ¶¶ 20–21.

An October 2019 meeting where the Knights of Columbus, "a right wing, anti-LGBTQ, religious organization," spoke in favor of their own proclamation. Id. ¶ 22; (see also Doc. 13-8).

Bloomberg takes issue with the fact that the "organization behind [the Columbus Day proclamation] has spent well over $15 million dollars [sic] to fight LGBTQ rights," and that Chairman Blocker is affiliated with the Knights of Columbus. (Doc. 13 ¶¶ 24–25); (see also Docs. 13-9 at 2; 13-10 at 2, 3, 6).

Bloomberg claims that "Chairman Blocker holds beliefs antithetical to the fair and equal protection of LGBTQ Americans and their rights and seeks to
impose these beliefs upon St. Johns County residents through his personal power as Chairman of the Board of County Commissioners." (Doc. 13 ¶ 26). Bloomberg alleges that Chairman Blocker himself declined to put the proclamation on the Board's agenda and claims that is supported by Ryan's affidavit and by Commissioner Dean's statement to local news: "Let me put it this way, I certainly support their cause and I would vote for it if it was on the agenda, but I don't have the authority to put it on the agenda." Id. ¶¶ 27–28; (see also Doc. 13-11 at 2). Bloomberg states that additional measures to convince Chairman Blocker to consider the proclamation "have been met with silence." (Doc. 13 ¶ 29).
Bloomberg filed this lawsuit on June 3, 2021, with a corresponding Motion for Temporary Restraining Order or Preliminary Injunction filed June 6, 2021. (Docs. 1, 4). The Court denied the Motion to the extent that it requested a temporary restraining order, directed Bloomberg to provide notice to Defendants, and set a hearing on the Motion for June 22, 2021. (Doc. 5). Following oral argument at the hearing, and with the benefit of briefing from both sides, the Court denied the Motion for Preliminary Injunction. (See Doc. 12). Bloomberg requested leave to file an amended complaint, which the Court allowed. Id. at 2 n.1. Bloomberg filed the FAC (Doc. 13), and Defendants filed the current Motion to Dismiss (Doc. 18).
Bloomberg alleges violation of freedom of speech under the First and Fourteenth Amendments as well as Article I, Section 4 of the Florida Constitution (Count I); violation of equal protection under the Fourteenth Amendment as well as Article I, Section 2 of the Florida Constitution (Count II); violation of Florida Statute § 286.011, Article I, Section 24 and Article III, Section 4 of the Florida Constitution (Count III); violation of Florida Statute § 286.0114 and Article I, Section 24 of the Florida Constitution (Count IV); and violation of the St. Johns County Board of Commissioners Rule 4.303 (Count V). (See Doc. 13).
II. DISCUSSION
Defendants first argue that Bloomberg has not established standing because Bloomberg has not shown a "'legally protected interest' that is 'concrete and particularized' and that the Defendants violated [that interest]." (Doc. 18 at 9). However, as framed, this is not a true issue of standing. Rather, the Court answers this question in its analysis of the sufficiency of Bloomberg's claims.
A. Section 1983 Claims (Counts I, II)
As a preliminary matter, Florida law stipulates that "[t]he county commissioners shall sue and be sued in the name of the county of which they are commissioners." FLA. STAT. § 125.15. Bloomberg has not articulated any reason to sue Blocker in his individual capacity. He should be sued in his official capacity alone, which is the equivalent of suing his office. See Will v. Michigan
Case 3:21-cv-00575-TJC-LLL Document 22 Filed 02/17/22 Page 6 of 17 PageID 788
Dept. of State Police, 491 U.S. 58, 71 (1989) ("[A] suit against a state official in his or her official capacity is not a suit against the official but rather is a suit against the official's office."); see also Busby v. City of Orlando, 931 F.2d 764, 776 (11th Cir. 1991).
Bloomberg brings the first two claims under 42 U.S.C. § 1983. To impose § 1983 liability on a county, a plaintiff must show: (1) that their constitutional rights were violated; (2) that the county had a custom or policy that constituted deliberate indifference to the constitutional right; and (3) that the policy or custom caused the violation. McDowell v. Brown, 392 F.3d 1283, 1289 (11th Cir. 2004). As discussed below, because Bloomberg's allegations fail to satisfy the first requirement, the Court need not address the final two elements of the § 1983 analysis.
1. Bloomberg has failed to allege a violation of the First Amendment.
In Count I, Bloomberg claims that Defendants' alleged refusal to publicly
hear or put to a vote Bloomberg's request for the LGBTQ pride proclamation because it was too "controversial" or "far left" violated the First Amendment as well as Article I, Section 4 of the Florida Constitution.2 (Doc. 13 ¶ 44).
2 "Florida courts have equated the scope of the Florida Constitution with that of the Federal Constitution in terms of the guarantees of freedom of speech . . . ." Dickerson v. Stuart, 877 F. Supp. 1556, 1559 n.1 (M.D. Fla. 1995) (citing Florida Canners Ass'n v. State, Dep't of Citrus, 371 So.2d 503 (Fla. 1979)).
speech," U.S. CONST. amend I, and is applicable to the states through the Fourteenth Amendment, N.Y. Times Co. v. Sullivan, 376 U.S. 254, 301 (1964). The law treats government speech different than private speech. See Mech v. School Bd. of Palm Beach Cnty., Fla., 806 F.3d 1070, 1074 (11th Cir. 2015) ("The Free Speech Clause of the First Amendment restricts government regulation of private speech; it does not regulate government speech.") (internal citation and quotation marks omitted). "When government speaks, it is not barred by the Free Speech Clause from determining the content of what it says." Walker v. Texas Div., Sons of Confederate Veterans, Inc., 576 U.S. 200, 207 (2015) (citing Pleasant Grove City v. Summum, 555 U.S. 460, 467–68 (2009)). In Walker, the Supreme Court discussed the reasons behind its government speech jurisprudence:
That freedom [government speech not being barred by the Free Speech Clause] in part reflects the fact that it is the democratic electoral process that first and foremost provides a check on government speech. Thus, government statements (and government actions and programs that take the form of speech) do not normally trigger the First Amendment rules designed to protect the marketplace of ideas. Instead, the Free Speech Clause helps produce informed opinions among members of the public, who are then able to influence the choices of a government that, through words and deeds, will reflect its electoral mandate . . . . It is not easy to imagine how government could function if it lacked the freedom to select the messages it wishes to convey . . . .
That is not to say that a government's ability to express itself is without restriction. Constitutional and statutory provisions outside
of the Free Speech Clause may limit government speech. And the Free Speech Clause itself may constrain the government's speech if, for example, the government seeks to compel private persons to convey the government's speech. But, as a general matter, when the government speaks it is entitled to promote a program, to espouse a policy, or to take a position. In doing so, it represents its citizens and it carries out its duties on their behalf.
Id. at 207–08 (internal citations and quotation marks omitted). In sum, a government entity may "speak for itself," "say what it wishes," and "select the views that it wants to express." Summum, 555 U.S. at 467–68 (citations and quotation marks omitted). The backstop to that principle is that "[t]he involvement of public officials in advocacy may be limited by law, regulation, or practice," and "[i]f the citizenry objects, newly elected officials later could espouse some different or contrary position." Id. at 468–69 (citing Bd. of Regents of Univ. of Wis. Sys. v. Southworth, 529 U.S. 217, 235 (2000)).
"There may be situations in which it is difficult to tell whether a government entity is speaking on its own behalf or is providing a forum for private speech[.]" Id. at 470. Though the Supreme Court "has not articulated a precise test" to determine what constitutes government speech versus private speech, it has previously based its analysis on three factors. Mech, 806 F.3d at 1074. Those factors include the history of the type of speech, whether there is the appearance of government endorsement of the message conveyed, and whether the government maintains control over the message conveyed. Walker, 576 U.S. at 209–13 (finding that specialty license plates in Texas, designed by
private entities, were government speech); see also Summum, 555 U.S. at 470– 72 (finding that monuments designed by private entities were government speech); Mech, 806 F.3d at 1075–79 (finding that private advertisement banners at a school were government speech). "The fact that private parties take part in the design and propagation of a message does not extinguish the governmental nature of the message or transform the government's role into that of a mere forum-provider." Walker, 576 U.S. at 217.
Bloomberg's First Amendment claims hinge on whether St. Johns County's proclamations are government speech or private speech. Here, the type of speech is a proclamation that, though written by an individual person or group, is adopted and communicated by elected officials at County Commission meetings. Historically, past proclamations have been on topics such as 4-H week, domestic violence awareness month, arts and humanities month, Whitney Labs, and Columbus Day, and they include a place for an elected official to sign at the bottom. (See Doc. 13-8 at 1–3). The proclamation at issue includes the following language:
Now, therefore, I, under the authority vested in me as [] of St. John's [sic] County, Florida, do hereby proclaim St. John's [sic] County acknowledgment of pride history and the 52nd anniversary of Stonewall. I call upon all citizens to celebrate the progress that we have made, the contributions of the LGBTQIA+ community to our city, to stand as an ally with our friends and neighbors in the face of prejudice wherever it exists, and to embrace the great diversity within our community.
(Doc. 13-1 at 1). Because the proclamation is written using "I," with the Commissioner or elected body speaking in the first person, and with a space for the signature of an elected official at the bottom, the Commission endorses the content of the proclamation. (See Doc. 18 at 6, 13 ("A proclamation is an official document endorsed by the entire St. Johns County Board of County Commissioners.") (quoting the St. Johns County Government website)). Furthermore, by choosing whether to place certain proclamations on the agenda, the government maintains control over the message conveyed, even if the message was originally crafted by a private citizen. Thus, all three factors weigh in favor of proclamations as government speech.
Bloomberg attempts to distinguish "the decision as to whether the Board would or would not issue a proclamation" from "the content-based restriction to refuse to even put the LGBTQ Proclamation on the agenda . . . ." (Doc. 13 ¶ 35). Bloomberg claims that the latter is "an unlawful restraint" and that "[p]utting the LGBTQ Proclamation up for a vote is no more 'government speech' than a ballot initiative being placed on a ballot is 'government speech' or an 'endorsement' of that initiative." Id. ¶ 35–36. However, the Board's (or the Chair's) decision whether to place an item on the agenda is not speech of an individual to which First Amendment safeguards apply. The Eleventh Circuit has upheld local governments' right to control meeting agendas without running afoul of the First Amendment. See, e.g., Jones v. Heyman, 888 F.2d
1328, 1333–34 (11th Cir. 1989) (affirming ability of presiding officer to confine public comment to agenda topics).
Bloomberg points to seminal First Amendment cases, but those cases address a citizen's right to free speech and not government speech. Cf. Reed v. Town of Gilbert, 576 U.S. 155, 163 (2015); Wollschlaeger v. Governor, Fla., 848 F.3d 1293, 1307–08 (11th Cir. 2017). Neither the decision to place the particular proclamation on the agenda for a vote nor the decision to not issue the proclamation inhibit Bloomberg's (or other non-government actors') First Amendment rights.3 Even accepting the allegations in the FAC, the decision not to consider the proclamation is government speech, and the Free Speech Clause therefore does not apply. Count I is dismissed.
2. Bloomberg has failed to allege a violation of the Fourteenth Amendment. Bloomberg claims that Defendants' refusal to publicly hear or put to a
vote the request for the LGBTQ pride proclamation violated Equal Protection under the Fourteenth Amendment and Article I, Section 2 of the Florida Constitution.4 (Doc. 13 ¶¶45–53). The Equal Protection Clause of the
3 There are no allegations that Bloomberg was denied the opportunity to speak at any Board meeting.
4 Florida law is analyzed the same as federal law with regards to Equal Protection. Sasso v. Ram Prop. Mgmt., 431 So. 2d 204, 211 (Fla. 1st DCA 1983), approved, 452 So. 2d 932 (Fla. 1984) ("As noted by this court in Schreiner v. McKenzie Tank Lines & Risk Mgmt. Servs., Inc., 408 So.2d 711 (Fla. 1st DCA 1982), approved, 432 So.2d 567 (Fla. 1983), the Florida Constitution's Equal Protection Clause was intended by the framers and adopters of our state
Fourteenth Amendment bars states from "deny[ing] to any person within its jurisdiction the equal protection of the laws." U.S. CONST. amend. XIV, § 1. "[T]he courts have themselves devised standards for determining the validity of state legislation or other official action that is challenged as denying equal protection." City of Cleburne v. Cleburne Living Ctr., 473 U.S. 432, 439–40 (1985). Equal Protection cases typically involve "governmental classification and treatment that affects some discrete and identifiable group of citizens differently from other groups." Corey Airport Servs., Inc., v. Clear Channel Outdoor, Inc., 682 F.3d 1293, 1296 (11th Cir. 2012).
While it's true that the Board has endorsed other proclamations in the past, Bloomberg's Equal Protection claim fails because there is no legal right to compel the Board to hear or vote on a proposed proclamation that will ultimately become the Board's own speech. Under Florida law, the agenda is made at the discretion of the Chair and the Board. See FLA. STAT. §§ 125.01(1), 125.73(1). In making the decision whether to consider a proclamation, the Board decides what the Board is willing to communicate; it does not inhibit the rights of private citizens. Though a citizen proposing a proclamation may be disappointed that the Board will not consider it, the Board's decision is fundamentally about its own speech, and it is not required to endorse all
constitution to function in a manner similar to that embraced by the Fourteenth Amendment.").
messages or any particular message. Just as with any other policy disagreement a citizen may have with an elected body, the citizen may advocate publicly on the topic and resort to the ballot box. Count II is dismissed.
B. Florida State Claims (Counts III, IV, V)
Bloomberg brings three claims under Florida state law. Bloomberg alleges that Defendants violated two of the Florida Constitution's Sunshine provisions and their accompanying statutes and the Board's own rules.
1. Bloomberg has failed to allege a violation of Florida's Sunshine Law. Bloomberg alleges that Defendants' decision to deny or publicly put the LGBTQ proclamation to a vote outside any public meeting or forum and without records violated Florida Statute § 286.011(1) and that Defendants violated § 286.0114 by removing the proposed proclamation from the Board's agenda.
(Doc. 13 ¶¶ 64, 67).
Under Florida Statute § 125.01(1), the legislative and governing body of
a county has the power to carry on county government, including the power to "[a]dopt its own rules of procedure, select its officers, and set the time and place of its official meetings." Section 286.011 of the Sunshine Law provides:
All meetings of any board or commission of any state agency or authority or of any agency or authority of any county, municipal corporation, or political subdivision, except as otherwise provided in the Constitution, including meetings with or attended by any person elected to such board or commission, but who has not yet taken office, at which official acts are to be taken are declared to be public meetings open to the public at all times, and no resolution,
rule, or formal action shall be considered binding except as taken or made at such meeting. The board or commission must provide reasonable notice of all such meetings.
FLA. STAT. § 286.011(1) (emphasis added). Bloomberg claims that discussion of the proclamation should have been public and formalized. However, nothing in the Sunshine Law required the Board to make public its decision not to take up the proclamation. "Although the drawing up of an agenda is a matter related to a noticed public meeting, it essentially is an integral part of the actual mechanics and procedures for conducting that meeting and, therefore, aptly relegated to local practice and procedure as prescribed by city charters and ordinances." Hough v. Stembridge, 278 So. 2d 288, 291 (Fla. 3d DCA 1973); see also Grapski v. City of Alachua, 31 So. 3d 193, 199 (Fla. 1st DCA 2010) ("If the meeting itself is properly noticed, chapter 286 does not require the governmental entity to 'give notice of potential deviation from a previously announced agenda.'") (quoting Law & Info. Servs., Inc. v. City of Riviera Beach, 670 So. 2d 1014, 1016 (Fla. 4th DCA 1996)). The St. Johns County rules task the Chair with setting the agenda for the Board, and do not mandate that the Chair's decisions to not publicly hear or put to a vote a proclamation, be made public. Bloomberg does not sufficiently allege a violation of Florida Statute § 286.011(1); Count III is dismissed.
Count IV alleges that Defendants' violated Florida Statute § 286.0114(2) which provides:
(2) Members of the public shall be given a reasonable opportunity to be heard on a proposition before a board or commission. The opportunity to be heard need not occur at the same meeting at which the board or commission takes official action on the proposition if the opportunity occurs at a meeting that is during the decisionmaking process and is within reasonable proximity in time before the meeting at which the board or commission takes the official action. This section does not prohibit a board or commission from maintaining orderly conduct or proper decorum in a public meeting. The opportunity to be heard is subject to rules or policies adopted by the board or commission, as provided in subsection (4).
(emphasis added). Importantly, however, § 286.0114 also contains an express exemption for ministerial acts, including proclamations:
(3) The requirements in subsection (2) do not apply to: . . .
(b) An official act involving no more than a ministerial act, including, but not limited to, approval of minutes and ceremonial proclamations[.]
§ 286.0114(3) (emphasis added). If § 286.0114(2) does not apply to ministerial acts or the approval of ceremonial proclamations, then it logically follows that it does not apply to the decision whether to put a proclamation on the agenda. Count IV is also dismissed.
2. Bloomberg has failed to allege a private cause of action for violations of the Board's rules.
Rule 4.303 of the St. Johns County Board Rules and Policies provides that:
Changes to the Regular Agenda may be proposed by any Commissioner, the County Administrator or the County Attorney. Changes to the Regular Agenda must be approved by majority vote.
(Doc. 10-1 at 40). Bloomberg claims that Defendants ran afoul of this rule by failing to take a vote on whether the proposed proclamation should have been added to the Board's meeting agenda. (Doc. 13 ¶ 74). There is no basis for a private cause of action under the Board's own rules, which are "for the efficient operation of the Board;" non-compliance with the rules does not invalidate any Board action. (Doc. 10-1 at 9); cf. Koehler v. Treasure Coast Carwash, LLC, No. 2:16-CV-14106, 2016 WL 3878464, at *1–2 (S.D. Fla. July 18, 2016) (noting that federal courts should exercise caution when implying a private cause of action in state laws that have not expressly created a cause of action). Additionally, the FAC does not allege that Commissioner Dean made a request to include the proclamation on the agenda that was improperly denied. Thus, Count V is dismissed.
III. CONCLUSION
It is not for the Court to evaluate the wisdom of the Board's decision not to take up this proclamation. Rather, the Court's role is limited to determining whether the Board's action (or inaction) violated either the federal or state constitution or Florida law. It did not. And, having given Bloomberg the opportunity to amend the complaint already, the Court determines that further amendment would be futile. The dismissal will be with prejudice.
Case 3:21-cv-00575-TJC-LLL Document 22 Filed 02/17/22 Page 17 of 17 PageID 799