"Looks like the rattlesnakes are beginning to commit suicide."
-- Gene Hackman as FBI Agent Rupert Anderson in the film, "Mississippi Burning."
On June 16, 2018, the St. Augustine Record finally reported on the removal of St. Johns County Republican Executive Committee Chair WILLIAM KORACH. This blog scooped the Record by a country mile, first reporting the news on June 7, 2018: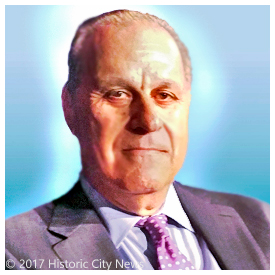 Controversial St. Johns County Republican Chair WILLIAM KORACH was reportedly ousted after complaints, "filings and a hearing in Tallahassee," after which the Republican Party of Florida vacated KORACH's seat and designated JERRY CAMERON the Acting Chair.
So big-spending KORACH is OUT. Second Vice Chair DIANE SCHERRF has resigned. No comment from RPOF in response to e-mail and telephone messages.
JERRY CAMERON is Acting Chair and might be elected chair on July 2, 2018.
Was this what CAMERON was talking about with Sheriff DAVID SHOAR on June 5th outside the St. Johns County Commission Taj Mahal meetings?
As Lincoln would say, "Why is this thus, and what is the reason for this thusness?'
The thick plottens.
Meetings have been cancelled.
Has money been peculated?
Was sexual harassment at issue?
And whatever happened to the proceeds from a 2017 fundraiser, which was attended by three-time Pulitzer Prize winning investigative reporter Walt Bogdanich of The New York Times and a photographer?
Congratulations to local activists, including Thomas F. Reynolds, Jr., Dr. Michel S. Pawlowski, D.Sci., for rightly raising concerns about fraud and abuse at SJC REC, including candidate endorsements, financial flummery and other rule-breaking.
The SJC REC is a shambles.
Eight candidates, ranging from the dodgy to the criminaloid, vie for the post.
"Every little movement has a meaning all its own" in SJCREC, our provincial local hick hack Hezbollah, the Party of God and Commerce, where oleaginous longtime SJC Chair WILLIAM KORACH allegedly spewed bigotry and spilled his drinks.
Radical SJC Republicans cheered when an outside speaker called President Barack Obama an "animal." It happened in 2016.
CARLOS BERUFF (then-Senate candidate and later Gov. RICK SCOTT''s hand-picked Constitution Revision Commission Chair), spoke at SJCREC. Twice BERUFF called President Obama an "animal."
CARLOS BERUFF's hatred was countenanced by several local Republican elected officials.
It was widely reported statewide and beyond (but only belatedly reported by STUART KORFHAGE of the St. Augustine Record, who demurely reported the speech was before an unidified "Republican group."
Here's conman JERRY CAMERON's letter to all those "confused" SJC Republicans:
Members of the REC,
There has been much confusion in the past 60 days and some changes in the makeup of our Executive Board. Those who attended the March 26
th
meeting at the Reef Restaurant will recall my election to 1
st
Vice Chair. Several members of the REC Executive Board, who were not present at that meeting, contested that election. After a series of filings and a hearing in Tallahassee, the Republican Party (RPOF) of Florida validated my election and vacated the seat of Chairman. Our 2
nd
Vice resigned her position.
Subsequently, I received correspondence from the RPOF informing me that I was now acting Chair, and instructing me to hold an election for the vacant seats. They expressed concerns, which I echo, that the mid-terms were fast approaching and we needed to fill our vacancies as soon as possible in order to work on turning out the Republican vote. I will be happy to fill in details and answer questions at our upcoming meeting.
I am scheduling a General Membership Meeting for July 2, 2018 at the Northeast Florida Regional Airport, 4730 Casa Cola Way, Saint Augustine, FL. Sign-In and Social will begin at 6:30 pm, and the meeting will convene at 7:00 pm.
There will be an election for the positions of Chair and 2
nd
Vice Chair.This letter serves as the required minimum of a ten day notice of the election.
I will be sending out names of members who have expressed an interest in running for the vacant positions. If anyone has an interest, please let me know before June 20
th
in order to have your name sent out to the membership.
I urge every member to attend this meeting and help get our REC back on track. The mid-terms are critical. Our Party and our President needs us now more than ever. Let's put all of our energy towards continuing the proven path of success we've been on since the election of Donald Trump.
I look forward to seeing you on the 2
nd
. Please feel free to call me if you have questions or suggestions.
Sincerely,
Jerry Cameron
1
st
Vice Chair (Acting Chair)
735 Segovia Rd., St. Augustine, FL 32086
(904) 814-6796
--------------
June 16, 2018 update:
Ingoglio Imbroglio?:
By removing St. Johns County Republican Executive Committee Chair WILLIAM KORACH, apparently for good cause, Florida Republican Executive Committee Chair Blaise Ingoglio may have inadvertently created an epic imbroglio, if not a brouhaha.
Who knew that dull developer-driven Republicans could be so lively?
RPOF's court filings indicate that KORACH created "a culture of fear" in the local Republican Party, specifying nine charges brought by local Republicans, including St. Johns County REC Recording Secretary Eric West; Dianne Scherff, former REC second vice chair; REC Corresponding Secretary Dr. Michel S. Pawlowski, D.Sci.; and State Committeewoman Elizabeth Granite."
Grievant Diane Scherff alleged KORACH grabbed her breasts in public when giving her an award.
Grievant Eric West allegedly punched, kicked and spat upon perennial political candidate Merrill Paul Roland at the Southeast Branch Public Library in 2016, sending Mr. Roland to the hospital. State's Attorney RALPH JOSEPH LARIZZA refuse to prosecute the videotaped battery, a hate crime committed against a disabled elder.
Fired REC Chair WILLIAM KORACH has been projecting projectile targeting fatwas against transgender youth and Jacksonville's human rights law, one of the topics in the detailed complaint against him.
The dispute is between two dull, all-white Republican groups of privileged pompous partisan pachyderms -- MePublicans. They include the usual racist, sexist, misogynist homophobes. They include the usual haters of Muslims and Mexicans (and Mexican Muslims). They have made the party of Lincoln a cesspool of hatred and corruption.
Shades of C. Wright Mills, t
he two completing "elite" groups don't like each other very much and are fighting over the shambolic post-TRUMP future of the once "Grand Old Party" in St. Johns County.
SJC REC now resembles a drunken, alcohol-fueled brawl, with allegations that KORACH was frequently soused, pickled, inebriated, intoxicated drunk and disorderly, once allegedly grabbing the breasts of the Second Vice Chair, Diane Sheriff while presenting her with an award.
In his written defense to RPOF, KORACH stated he'd always been "congenial and collegiate" (sic) with fellow Republicans; is that a another Freudian slip, since he acts like a drunken college fratboy?
Conspiratorial-minded REC member Cheryl Howell wrote that she suspects "a coup to out (sic)" KORACH. Presumably, she meant "oust." Is this another one of those Floridan Freudian slips, insofar as KORACH acts out homophobia, like a self-hating Gay man, not unlike the late ROY MARCUS COHN (DONALD TRUMPs mentor).
Ousted (or outed) SJC REC Chair WILLIAM KORACH says he is a former Citibank and New England Life Ins. Co. executive and Navy Commander. He apparently had the funds to hire the COQUINA LAW GROUP to file a complaint. No model of legal draftsmanship, it sheds more heat than light.
RPOF's Grievance Committee found that KORACH offered "no real denial and no real explanation," at an April 23, 2018 Grievance Committee hearing. But Using human shields, KORACH presented a mishmash of seemingly irrelevant, opinionated, ungrammatical unsworn unreliable inadmissible hearsay letters to the Grievance Committee from:
Douglas C. Worth, Precinct 402 Committeeman

Andrea L. Anthony, C.P.A.

Hunter S. Conrad, Esq., St. Johns Clerk of Courts and Comptroller, written on letterhead of the St. Johns Clerk of Courts and Comptroller (!)

Jerry Cameron, failed County Commission candidate, former Assistant County Administrator

Geraldine Mulhern, head bartender at 2018 Lincoln-Reagan dinner

Tony Ledbetter, Volusia County REC Chair

Michael Barnett

Cheryl Howell, et us

Gary H. Howell, Sr., Chair of Anastasia Mosquito Control District of SJC

Bruce W. Strauss, Precinct 308 Committeeman

Tom Rivers, St. Johns County Republican State Committeeman

Dennis D. Kompare, SJCREC Treasurer

Martin B. Miller, St. Augustine Republican Club Chair

John P. Ward, Jr. Republican Congressional candidate, CD-6

J.C. Martin, RPOF Parliamentarian

Robert Thornton Smith, Past SJC REC Chair

Turning Point at Cavalry Church and Academy Pastor Mark Conrad, written on church letterhead, identifying himself as a former law enforcement officer (father of Clerk of Courts Hunter S. Conrad

Frankie S. Anderson, Clay County precinct committeewoman

Sean Mulhall, former SJC REC Chair
Some of the letters lack indicia of reliability or authenticity -- a series of self-serving unsigned, unsworn letters and e-mails, inter alia questioning the grievance' motives and stating what they claim they did not see, some seemingly blocked and copied into one continuous document from KORACH's computer.
This inadmissible self-serving hearsay"evidence" now contaminates the Court file, and should be subject of an RPOF motion in liming.
Memphis law professor W. H. "Toby" Sides taught that you could "sue the pope for bastardy if you swear out a cost bond" -- that you can sue anyone for anything.
But in the words of our Memphis Contracts Professor James Tigner, "you din't lead with your chin." Ignoring this boxing legal maxim, has WILLIAM KORACH, with a glass jaw, brought the entire weight of the Florida judicial system down on his alleged actions?
Who knew that the COQUINA LAW GROUP and lawyer JEREMIAH MULLIGAN, partner of JAMES PATRICK WILSON, would empower KORACH to file a lawsuit?
If you sue someone, you confer rights on them, as Anderson County, Tenn. DA James Nelson Ramsey told me in 1981.
In this case, is KORACH doing the boxing equivalent of "leading with his chin?"
Judge J. Michael Traynor might rule for RPOF on "threshold" questions as to whether or not KORACH's claims are "justiciable" (RPOF states that internal party matters are not justiciable as essentially political questions under Supreme Court law).
Otherwise, KORACH has a due process right to what the late Judge Fred Friendly called "some kind of hearing."
Court notes indicate that if held, it would be an "evidentiary hearing."
That means live witnesses, videotaped depositions, probing cross-examination and an open public hearing.
That could be followed by inevitable briefs, motions, emotions and trips to the Court of Appeals in Daytona Beach, followed by a slim chance the case could be appealed to Florida's Supreme Court
What this may mean: a revealing, intriguing hearing in Circuit Court this summer, inter alia exposing the inner workings of the St. Johns County Republican Party.
Many St. Johns County Republicans are former Ku Klux Klan members, according to St. Augustine civil rights hero Wm. Stetson Kennedy, my late friend and mentor.
See Record article below.
Korach out as local Republican Executive Committee chair
By Jared Keever
June 16, 2018
St. Augustine Record
An apparent rift and leadership shakeup within the local Republican Party made it into the public sphere earlier this month when the former chairman of the St. Johns County Republican Executive Committee filed a lawsuit in circuit court asking for a judge to keep the party from removing him from his seat.
According to the complaint filed June 4, state GOP chairman Blaise Ingoglia removed Bill Korach from his local seat on May 29. Korach, the complaint says, was first elected precinct committeeman in 2008 and has served as vice chair or chair or the local Republican Executive Committee, or REC, since 2012.
The complaint and documents attached as exhibits show that Ingoglia acted on the recommendation of a party grievance committee that was convened after three local party members and a state committeewoman filed a nine-part grievance against Korach that alleges, among other things, public drunkenness, "improper acts towards females" to include "even touching improperly," promoting personal opinions on party letterhead, failing to file accounting records, and conducting a business meeting without a quorum and improperly electing new members to the committee.
"Chairman Korach has shown by his actions that he is not capable of fulfilling the duties of Chairman of the REC and our fear that his driving under the influence, personal agenda, and possible sexual misconduct could irreparably harm the REC we ask Chairman Ingoglia remove the Chairman at his earliest opportunity," reads a portion of the summary of the letter signed by St. Johns County REC Recording Secretary Eric West; Dianne Scherff, who was the REC's second vice chair at the time; REC Corresponding Secretary Michel Pawlowski; and State Committeewoman Elizabeth Granite.
The summary goes on to point out that Scherff, as second vice chair, would serve as acting chair until an election for the seat could be held, but Scherff, according to Korach's complaint has since resigned her position.
Acting chair now — by virtue of his position as first vice chair when Korach was removed — is former assistant county administrator Jerry Cameron.
(The original grievance letter against Korach also takes issue with Cameron's election to the first vice chair seat that has been vacated twice since 2016 amid other allegations also listed in the grievance letter. The allegation against Cameron's election is that it was done without a quorum.)
Korach attorney Jeremiah Mulligan, in a hearing Wednesday before Circuit Judge Michael Traynor, said Korach "vociferously denies" the allegations in the grievance letter and included in his filing Korach's 35-page response to the grievances that he sent to the grievance committee.
In it Korach characterizes the paragraph containing allegations of verbal abuse, intoxication and sexual harassment as "full of innuendo and undocumented charges" and attacks an accusation that he grabbed a female colleague's breast as a "complete falsehood" refuted by witnesses who were seated nearby when it is said to have happened.
Korach's response also includes at least 14 "letters of support" and other "letters of rebuttal" from various colleagues and party members including Clerk of Court Hunter Conrad and Cameron.
The complaint that Mulligan filed on Korach's behalf argues that many of the allegations in that letter date back as far as 2015 and many lack "basic specifics" including the date of the activity, but the bulk of the complaint doesn't attack the allegations directly, rather it questions the state GOP's ability to remove Korach in the first place and alleges that, even if it does have the ability, it violated its own processes put in place to do so.
Mulligan told Traynor much the same thing on Wednesday.
"Our problem, our grievance with the way that they removed my client, is they didn't follow any of their rules," he said.
That hearing was called in response to Mulligan's motion for an emergency injunction that would essentially stay Korach's ouster as the case for a permanent injunction against the removal proceeds.
What Traynor will have to decide first though is whether his courtroom is even the proper venue to weigh the matter.
That it is not is the position of the Republican Party of Florida, and its attorney, Michael Orr, who argued before Traynor that it is not the court's place to get involved in the internal workings of the party and asked that Traynor first decide on that "threshold" legal issue before having an evidentiary hearing on the emergency injunction.
It was argument on that point that took up the bulk of Wednesday's hearing.
Traynor has not yet ruled on the matter and asked the attorneys to keep a July date on their calendar open should he decide that it is "justiciable."
As for party leadership, Cameron remains acting chair though he said in a brief phone interview on Friday that elections for that seat and Scherff's second vice chair seat will be held in early July.
West has announced his candidacy for chairmanship, Cameron said, and Pawlowski and Robert Smith are running for Scherff's old seat.
Cameron said the whole process has been "disruptive" to a party that should be working together to get ready for the midterm elections and expressed hope that things will be back on track soon.
"I am looking forward to getting past this and getting back on mission," he said. "And hopefully settling the disputes within the party."