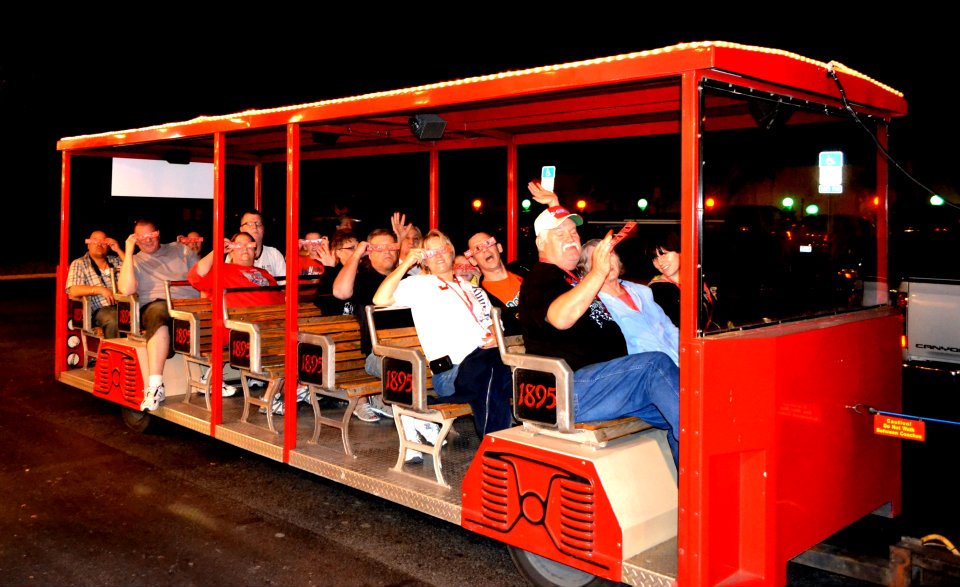 In probable violation of federal law, Political Tourist St. Augustine mayoral candidate BILL McCLURE and his pals at St. Augustine Beach Civic Association, Inc. (SABCA) provided a political "shuttle" Red Train tourist trolley bus between St. Augustine Beach City Hall last night, Wednesday, June 13, 2018.
It had no wheelchair lift. It had no kneeling stairwell.
28 years after Congress unanimously enacted the Americans with Disabilities Act, St. Augustine Beach Civic Association, BILL McCLURE and the Canadian-owned Red Trains broke the law.
They did NOT request or provide an ADA shuttle and ADA-trained CDL driver.
It would have cost more to order an ADA shuttle.
On board the enclosed, air conditioned shuttle bus was Political Tourist WILLIAM ANTHONY McCLURE, et ux., with the lights out, whispering sweet nothings about his mayoral candidacy.
The perennial candidate received 9.8% of the vote in the 2016 Republican primary for Congress.
The perennial candidate -- Political Tourist BILL McCLURE (BM) -- says he is running for for St. Augustine Mayor. He's using a rented tourist home apartment at 105 Marine Street #6, as his putative local address. He's given four (4) addresses in two (2) counties since 2016, when he ran for Congress using a Jacksonville address (his new wife's abode).
On board his shuttle, a snarky, sneaky, silly BM was seen shaking hands with prospective voters, electioneering, pestering them, on the brief trip between St. Augustine Beach City Hall parking lot and our St. Johns County Ocean and Fishing Pier.
Ethically-challenged BILL McCLURE (BM) is using the SABCA shuttle to electioneer captive voters on a four (4) minute, one (1) mile ride between St. Augustine Beach City Hall at 2200 SR A1A and 370 A1A Beach Blvd.
There is NO eleemosynary purpose of BM sponsoring the shuttle -- it's a captive opportunity to hustle votes.
Shameless.
Shameful.
Wonder of wonders.
Miracle of miracles.
It rained and thunderstormed and monsooned last night.
One wag said it was "God's judgment on Political Tourist BILL McCLURE."
The monsoon created an exodus from the pier to the City Hall parking lot -- a full shuttle of wet people.
This led to unhappy wet persons with disabilities and veterans, all of whom will remember BM and the Political Tourist's ADA-violating shuttle.
Kudos to longtime disability rights activist Merrill Paul Roland for filing ADA complaints this morning.
In response, what will St. Johns County do?
SABCA is on a short leash, with only some three (3) days left on its month-to-month contract for the Wednesday night pier concerts.
St. Johns County Board of County Commissioners could cancel SABCA's lease for material breach of the detailed ADA provision. In past years, SABCA has blocked ADA parking spaces with vendor vehicles, showing arrogance, as if ANDREA and ROBERT SAMUELS and WILLIAM JONES were Republican Lords of All They Survey.
St. Johns County Administrator Michael Wanchick, County Attorney Patrick McCormack, and County County Commissioners Henry Dean, Paul Waldron, Jay Morris, Jimmy Johns and Jeb Smith have had their fill of SABCA's works and pomps.
On Wednesday, June 21, will there be a proper shuttle, with wheelchair lift, kneeling stairs, and ADA-certified driver with a Commercial Driver's License on display?
Will there be federal investigators present? TV news crews?
Or will BM and SABCA chintz out, once again in violation of the Americans with Disabilities Act?
President George Herbert Walker Bush signed the ADA, passed without a dissenting vote in Congress, in 1990.
Today, at 94, former President George H.W. Bush himself is using a wheelchair, as at the funeral of his wife, Barbara Bush.
If the first President Bush visits St. Augustine Beach next week, will there be a welcoming spirit?
Will he be able to ride the parking shuttle?
Or will BM and SABCA continue to deny them equality and equal access, as required by ADA?
President George H.W. Bush Signing ADA, 1990
2018, former President George W. Bush push the wheelchair bearing his father, former President George H.W. Bush, at the funeral of Barbara Bush, the mother and husband of two presidents
Hint: this is what an ADA compliant shuttle bus looks like, BILL McCLURE:
BM: please tell me why you didn't provide one.