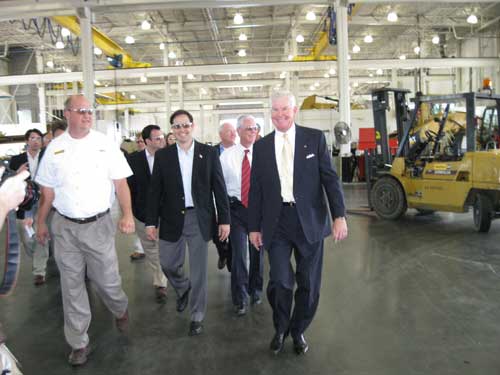 Read the January 2022 filing by U.S. Equal Employment Opportunity Commission, which explodes the pretexts of race discrimination Defendant RING POWER, INC., founded by RANDALL L. RINGHAVER, who owns the yacht "RING LEADER" and an airplane.
In filing suit in 2019, EEOC stated in a press release:
EEOC Sues Ring Power for Race Discrimination
Caterpillar Equipment Dealer Relegated Military Veteran Technician to Janitorial Duties Because of His Race, Federal Agency Charges in Lawsuit
ST. AUGUSTINE, FL - Ring Power Corporation (Ring Power), North and Central Florida's Caterpillar-brand heavy equipment dealer, violated federal law when it relegated a black technician to janitorial duties because of his race, the United States Equal Employ­ment Opportunity Commission (EEOC) charged in a lawsuit filed today.
According to the EEOC's lawsuit, Ring Power hired a naval military veteran as an electrical power generator technician at the company's St. Augustine, Florida headquarters. As the only black technician in the department, he was subjected to racially-motivated treatment throughout his employment including being denied training, work, and overtime opportunities. Despite his training and skills as an electrical technician, his supervisor used racial expletives to make the point that black employees were only good for cleaning and sweeping. His complaints to Ring Power went unresolved and [led] to his resignation.
Such alleged conduct violates Title VII of the Civil Rights Act of 1964. The EEOC filed suit in the United States District Court for the Middle District of Florida, Jacksonville Division (EEOC v. Ring Power Corporation, Civil Action No. 3:19-cv-01098), after first attempting to reach a pre-litigation settlement through its voluntary conciliation process. The EEOC asserts that Ring Power's actions were intentional and demonstrated a reckless indifference to the black technician's federally protected rights.
"It is unfortunate, but it is a reality that racial discrimination continues to infect the workplace in 2019. EEOC will vigorously prosecute employers who disregard federal law and deny minorities employment opportunities because of their race," said EEOC Regional Attorney Robert Weisberg. "It is repulsive that any employer would make work assignments on the basis of race."
Michael Farrell, district director for the Miami District Office, said, "The EEOC continues to see too many complaints of race discrimination. An employee's race should never be a factor in an employer's assignment of work duties or in decisions regarding training, advancement opportunities, salary, or any other workplace benefits."
The EEOC is responsible for enforcing federal laws against employment discrimination. The Miami District Office's jurisdiction includes Florida, Puerto Rico and U.S. Virgin Islands. The EEOC advances opportunity in the workplace by enforcing federal laws prohibiting employment discrimination. More information is available at www.eeoc.gov. Stay connected with the latest EEOC news by subscribing to our email updates.
RANDALL RINGHAVER is pictured above at a United Way fundraiser and, in his alleged racially hostile workplace, with Republican U.S. Senator MARCO ANTONIO RUBIO.
With a reported net worth of only $400 million, RANDALL RINGHAVER was present in 2012 during an infamous $50,000/person West Palm Beach fundraiser, during which event Republican presidential candidate WILLARD MITT ROMNEY made his infamous "47%" rodomontade.
Jury trial in the case of EEOC v. RING POWER, INC. is currently set for September 2022 before the Honorable Marcia Morales Howard, United States District Judge, at the Bryan Simpson Federal Courthouse in Jacksonville, Florida. Let justice be done.
(Disgraced former St. Augustine Beach Mayor RICHARD BURTT O'BRIEN, an ethically challenged mendacious hotelier fined $25,200 by the City of St. Augustine Beach and Florida Elections Commission, is married to LAUREN RINGHAVER.)
In the filing, EEOC credibly alleges that RING POWER, INC.:
repeatedly refused to investigate employee complaints about alleged racist managers,

empowered untrained managers to do little or nothing about a racist, hostile working environment,

ignored years of credible complants about a racist hostile working environment.
EEOC is asking Judge Howard for partial summary judgment in favor of EEOC:
IN THE UNITED STATES DISTRICT COURT
FOR THE MIDDLE DISTRICT OF FLORIDA
JACKSONVILLE DIVISION
UNITED STATES EQUAL EMPLOYMENT OPPORTUNITY COMMISSION,
Plaintiff,
v.
RING POWER CORPORATION,
Defendant.
Case No.: 3:19-CV-01098
PLAINTIFF'S REPLY IN SUPPORT OF MOTION FOR PARTIAL SUMMARY JUDGMENT AS TO DEFENDANT'S AFFIRMATIVE DEFENSE (DE#37)
The EEOC hereby files this Reply to Defendant's Response (DE#41) and in support of its Motion for Partial Summary Judgment (DE#37). Based on the undisputed facts that Ring Power acted contrary to company policy by failing to investigate or escalate complaints, and its failure to take corrective action to stop discrimination, a reasonably jury cannot not find that Ring Power exercised reasonable care to prevent and correct promptly harassing behavior.
I. Complaints
Ring Power responds to facts about each complaint in a vacuum, failing to consider the undisputed facts in their entirety—four sets of complaints against Carlson for race discrimination, from three individuals, over three years from 2014 to 2017. Only one complaint is "investigated" but no corrective action is taken.
Ana Fox Complaints, 2014. In February 2014, "[Fox] indicated that she felt she
Case 3:19-cv-01098-MMH-JBT Document 47 Filed 01/18/22 Page 2 of 12 PageID 4149
was being discriminated against and that is the policy she was looking up" when an argument between Fox and Carlson occurred. DE#34-11. Ring Power investigated the "argument" between Fox and Carlson (DE#34-10, at CL-153), which results in Carlson receiving a written warning for "improper remarks" during the argument (DE#34-12), and Fox receives written warning for "insubordination," (Ex. 1, CL- 156). No one investigated discrimination or if Carlson's treatment of Fox is motivated by race, and Ring Power does not counsel Carlson for discrimination.1
Ring Power states that "there is no indication Fox raised discrimination concerns with a manager before her exit interview" but that is wrong. In March 2014, Leah Graff confirms in an email to Ken Potts that Fox had complained to him about discrimination in February 2014. DE # 34-11.
On March 21, 2014, Fox writes to Ring Power on an exit interview form: "I believe Josh Carlson used his position to discriminate against me because of my gender and the race of my partner. He also asked me to do unsafe jobs." (DE#34-10, CL-152.) Leah Graff confirms that Fox complained about discrimination in February 2014, DE # 34-11, but Ring Power does not investigate discrimination. Ring Power's excuse: it was too late because Fox resigned. Ring Power misses the point, which is that it had notice of Carlson discriminating based on race and did nothing about discrimination and
1 Ring Power claims the EEOC is being "inflammatory" in alleging Ring Power retaliated against Fox, but the record evidence does support retaliation: Fox gets into a shouting match with the discriminating official when she is looking up the Ring Power handbook about discrimination; she is subsequently disciplined; no one addresses her discrimination claims; she resigns for discrimination; she is penalized for not giving notice. This lawsuit is not about Fox's retaliation claim, but such a claim is not unsupported.
Case 3:19-cv-01098-MMH-JBT Document 47 Filed 01/18/22 Page 3 of 12 PageID 4150
Carlson remained employed at Ring Power, supervising a black employee. Not conducting an investigation is contrary to Ring Power's policy that tells employees: "Your complaint will then be investigated and appropriate steps taken to stop the offending conduct." (DE # 34-8, at 3.) The facts surrounding Fox's complaints show Ring Power is wrong to claim that Petersen and Van Edema were the only sources of race harassment allegations against Carlson. (DE#41, at 4.)
Ring Power claims the EEOC misconstrued Carlson's testimony that Fox's allegations "didn't matter," because "Carlson is describing a meeting in 2017, more than three years after Anna Fox resigned and complained in her exit interview." (DE#41, at 8.) It is Ring Power misconstruing testimony. Carlson testified that in 2014, after Fox resigned, he went to see Ron Romanelli's about something else and Romanelli mentioned to him that Fox claimed, "racism or racial stuff." Carlson,2 236:22-238:23. Carlson described the conversation with Romanelli as "casual," Romanelli did not ask him any questions, and he "went on about [his] business." Id. At deposition, Carlson was talking about his 2014 conversation with Romanelli when he said that the specifics of the allegations "didn't matter." Carlson, 247:23-249:14.
Van Edema Complaint, 2015. In 2015, Charles Van Edema reports Carlson's racist comments to Ring Power. (DE # 37, at 5.) Ring Power entirely ignores that Van Edema corroborates Fox's complaints; he is the second person to complain Carlson treats employees differently based on race. It is undisputed Carlson was never
2 EEOC cites to Carlson Deposition Transcript filed as DE#34-3 as Carlson. 2
Case 3:19-cv-01098-MMH-JBT Document 47 Filed 01/18/22 Page 4 of 12 PageID 4151
asked if he made racist comments—that omission is not reasonable. Compare Baldwin v. Blue Cross/Blue Shield of Alabama, 480 F.3d 1287, 1303 (11th Cir. 2007) ("The requirement of a reasonable investigation does not include a requirement that the employer credit uncorroborated statements the complainant makes if they are disputed by the alleged harasser.") (emphasis added).
Petersen Complaint, 2015. In 2015, Petersen tells Ring Power that he cleans more than other technicians. At his interview in 2015 Petersen reports:
[Petersen] [a]sks Josh if he can stay late and work and Josh says no.
Looking for more work, but seems to be cleaning the shop more than technician work. Even after graduating from the Apprentice Program.
Josh would say, stop bitching and do the work.
Josh told him stop going to HR but he has never come to HR.
(Ex. 2, CL-148). In 2015, Ring Power does not determine if Petersen is doing more cleaning; Ring Power does not investigate if Petersen's assignments are motivated by race; and even now calls Petersen's beliefs subjective even though the EEOC has proven through Ring Power's own work order data that Petersen's beliefs were accurate. (See DE#43, at 7-8.) Ring Power viewed Petersen's complaint in a vacuum, separate from Fox's and Van Edema's complaints, i.e., Carlson mistreats employees in assigning work based on race. No corrective action is taken, not even in response to Petersen's report that Carlson told him to "stop going to HR." Rather, Ring Power blames Petersen for not complaining more, even though Carlson told him not to.
Complaints, 2016. In 2016, Van Edema again complains to Howard about Carlson's racist comments. (DE # 34-13.) Ring Power admits Howard did not escalate complaint to human resources but claims Howard "investigated." (DE#41, at
Case 3:19-cv-01098-MMH-JBT Document 47 Filed 01/18/22 Page 5 of 12 PageID 4152
9-10.) First, Howard's lack of training and knowledge are undisputed. Howard is the same management official who does not remember receiving any training on Ring Power policies, Howard,3 69:9-14, does not remember any training on harassment policies, id. 72:1-7, and did not know there was a complaint procedure at Ring Power, id. 72:14-18. Petersen testified that when he complained to Howard about race discrimination (which Ring Power denies occurred), Howard stated he was just "getting used to" and "learning the management position" and he would talk to Carlson. Petersen,4 240:23-241:5. An untrained, inexperienced individual such as Howard cannot do a reasonable investigation. Kramer v. Wasatch Cty. Sheriff's Off., 743 F.3d 726, 734, 747-48 (10th Cir. 2014) (finding employer's response to complaints was not reasonable calculated to end harassment where official who investigated was not trained or had qualifications to conduct investigation); Stewart v. Trans-Acc, Inc., No. 1:09-CV-607, 2011 WL 1560623, at *14 (S.D. Ohio Apr. 25, 2011) ("Because the effectiveness of an employer's sexual harassment policy depends upon the effectiveness of those who are designated to implement it, that the investigation into Plaintiff's claims was led by those with no training whatsoever in sexual harassment investigations does not support Defendant's contention that its policy was effective in practice at reasonably preventing and correcting any harassing behavior.").
Second, Carlson affirms that other than Cindy Jones (HR official), no one else at Ring Power spoke to him about Van Edema's complaints against him, Carlson,
3 EEOC cites to Howard Deposition Transcript filed as DE#34-4 as Howard. 4 EEOC cites to Petersen Deposition Transcript filed as DE#34-6 as Petersen.
Case 3:19-cv-01098-MMH-JBT Document 47 Filed 01/18/22 Page 6 of 12 PageID 4153
251:5-23, and that he did not know about Petersen's complaints until after Petersen left, id. Thus, whatever Howard thinks he said was not corrective as to Carlson.
Third, whatever Howard was doing, was not stopping harassing treatment against Petersen. Howard agrees Petersen complained to him about "feeling that other technicians were [sic] getting more opportunities than he was." 5 Howard, 122:16-21. Howard subsequently spoke to Carlson and Wolfe about Petersen's assignments.Howard, 127:13-15, 128:1-17.6 When Howard later asked Petersen again about assignments, Petersen stated the same concerns. Howard, 125:2-19.
Complaint, 2017. In 2017, Petersen makes a written complaint against Carlson, specifically for being "mistreated because of [his] race (not being treated equally)." (DE # 34-14.) Ring Power admits doing nothing in response to Petersen's 2017 complaint, saying that it "does not require another investigation." (DE # 41, at 18.) This posture again contradicts Ring Power's written policy that advises employees: "Your complaint will then be investigated and appropriate steps taken to stop the offending conduct." (DE # 34-8, at 3.) Carlson remains employed at Ring Power and nothing is done in response to Petersen's complaint. Ring Power fails to investigate or take corrective action just as it failed to do in 2014 when Fox complained. By its
5 Had Howard escalated complaints in 2016 he or someone else could have noted that Petersen was still complaining about unequal treatment in work assignments as he had in 2015.
6 Howard's testimony is clear that he spoke to Carlson and Wolf about Petersen's assignments, belying Ring Power's assertion that Carlson was not involved in assignments. Also, Ring Power qualifies that Carlson was not "promoted" to foreman, stating that Carlson only received "more duties" when he switched from Lead to Foreman. (DE#41, at 16.) This comports with Carlson's testimony that his job duties from Lead to Foreman did not change much, Carlson, 260:18-261:3, and the fact that Carlson continued to assign and influence work order assignments (DE#43, at 3-4).
Case 3:19-cv-01098-MMH-JBT Document 47 Filed 01/18/22 Page 7 of 12 PageID 4154
admission of doing nothing in response to Petersen's 2017 complaint, Ring Power cannot argue that it exercised reasonable care to prevent and correct harassing behavior. Compare Nicholson v. Dart Container Corp., 602 F. Supp. 2d 760, 766 (S.D. Miss. 2008) (uncontroverted evidence that employer investigated multiple complaints by same employee); Munroe v. Compaq Computer Corp., 229 F. Supp. 2d 52, 63 (D.N.H. 2002) (evidence that company conducted investigation and took corrective action even after employee resigned); with Evarts v. S. New England Tel. Co., No. 3:00CV1124 WIG, 2006 WL 2864716, at *18 (D. Conn. Oct. 2, 2006) (first prong of Faragher defense not shown where employer failed to investigate other complaints and when plaintiff complained after she submitted letter of resignation, employer's investigation was "cursory at best" and took no corrective action).
In justifying its inaction in response to Petersen's 2017 complaint, Ring Power relies heavily on the fact Petersen did not hear racist comments but ignores the well- established case law that knowing about comment also creates a hostile work environment. (DE#43, at 14-15.) Ring Power also ignores that mistreatment in the form of work assignment forms part of hostile work environment. (Id. at 15.)
Ring Power also justifies inaction because comments were not corroborated but again, this views Petersen's 2017 complaint in a vacuum, ignoring complaints against Carlson dating back over three years from three individuals. Ring Power ignores the obvious fact that the two employees who complain about Carlson's racism is the only Black employee working under Carlson, (Petersen, 300), and a woman with a Black
partner (DE#34-10). The two employees who could have been victims of race
Case 3:19-cv-01098-MMH-JBT Document 47 Filed 01/18/22 Page 8 of 12 PageID 4155
discrimination did complain in 2014 and 2017, and Ring Power admittedly did not
investigate or take prompt corrective action as to those race discrimination complaints. II. Training
Ring Power argues that the EEOC misconstrues Jones' testimony about training on discrimination. There is no question Jones did not receive training on discrimination or retaliation at Ring Power from 2013 to the present, Jones,7 84:3-11, which decisively means she has no training on Ring Power policies. Moreover, Ring Power does not dispute that Ring Power managers, including Howard and Carlson, did not receive EEO training. (DE#37, 5-6; Carlson, 217:3-16.) The only record citation Ring Power can point to about training is to say that Petersen received the policy, but the point is that to have an effective policy those at Ring Power implementing the policy must know about it and be trained on it, and Ring Power cannot dispute the fact that managers and supervisors are not trained.
The remainder of Jones' testimony about training is contradictory, vague, and does not raise an issue of fact to rebut testimony that employees and managers simply were not trained on EEO or Ring Power policy. On the one hand, Jones' says Ring Power has a Learning Management System (LMS), but on the other, does not know if there is discrimination training on the LMS. Jones, 82:12-83:2. She testified that human resources does not train employees on EEO policies, does not know if managers go over policies with employees, and does not know what training managers
7 EEOC cites to Jones Deposition Transcript filed as DE#34-1 as Jones. 7
Case 3:19-cv-01098-MMH-JBT Document 47 Filed 01/18/22 Page 9 of 12 PageID 4156
receive on EEO policies. Jones, 157:20-158:17. Jones said she does not know if employees completed harassment training. Jones, 88:5-13.
In response to EEOC discovery request for "documents reflecting any training provided by Defendant related to workplace discrimination," Defendant referred to Petersen's personnel file which only contains confirmation he received Ring Power's handbook, but contains no information pertaining to employee or manager training. (Ex. 3). Ring Power also confirmed in discovery that it has no responsive documents to EEOC request for "documents reflecting any training or guidance on how to conduct workplace investigations during," (id.).
Ring Power refers to a VP for Training, insinuating there may be another official at the company who could have been responsible for training employees and managers on discrimination, but Jones testified the "VP of training" does "technical training" for technicians, and "admin training...but it's not, not much. You know, as far as using Excel and stuff like that." Jones, 55:5-24. Nothing in Ring Power's response raises material facts disputing the absence of training on discrimination policies.
III. Legal Arguments
Ring Power cites to Baldwin and Buford for proposition that when there is no hostile work environment, no corrective action is needed, but in both those cases the employer took prompt corrective action. In Baldwin v. Blue Cross/Blue Shield of Alabama, 480 F.3d 1287, 1306 (11th Cir. 2007), "although Blue Cross wasn't able to substantiate Baldwin's allegations, it could tell that there was hostility between her and
Case 3:19-cv-01098-MMH-JBT Document 47 Filed 01/18/22 Page 10 of 12 PageID 4157
Head. Where the employer sees hostility but cannot tell if there has been harassment, warning the alleged harasser, requiring both parties to participate in counseling, and monitoring their interactions is a proper and adequate remedy, at least as a first step." In Buford v. Life Storage, LP, No. 20-10505, 2021 WL 3720044, at *6 (11th Cir. Aug. 23, 2021), the employer also took corrective steps (e.g., placing offending employee on leave and terminating another employee), and the employer investigated all alleged instances of discrimination. Here, Ring Power did not investigate Fox's 2014 complaint or Petersen's 2017 complaint, never asked Carlson about racist comments or discrimination in 2016, and claims its untrained manager who did not know Ring Power policies conducted an "investigation" in 2015.
Ring Power also cites to Baldwin for the proposition that Ring Power is not required to have perfect policies or conduct perfect investigation. The EEOC agrees the investigation need not be "perfect," but Baldwin requires an investigation be reasonable "in an effort to arrive at a reasonably fair estimate of truth." Baldwin v. Blue Cross/Blue Shield ofAlabama, 480 F.3d 1287, 1304 (11th Cir. 2007). Ring Power did not do any investigations in 2014 and 2017. In 2015, it cannot be said to reasonably arrive at a "fair estimate of the truth" when it does not even ask the alleged harasser if he made racist comments or was motivated by race in treating employees. And, in 2016, Ring Power stands by a purported investigation done by an untrained manager.
Ring Power cites to Taylor v. CSX Transp., 418 F. Supp. 2d 1284, 1305 (M.D.
Ala. 2006), for the general principle that an anti-harassment policy must be published
and the employer must demonstrate commitment to enforcement. Ring Power ignores
Case 3:19-cv-01098-MMH-JBT Document 47 Filed 01/18/22 Page 11 of 12 PageID 4158
the divergent facts in Taylor where the employer immediately investigates the allegations, interviewed the alleged harasser about harassment allegations, and took corrective action. Id. at 1291. Moreover, in Taylor there was no evidence the employer condoned harassment, and in fact evidence existed of prior instances of timely investigations and prompt corrective action. Id. at 1306. In contrast, the evidence here is that Ring Power prefers to ignore discrimination complaints and do the bare minimum to investigate discrimination.
Ring Power cites to Baldwin and Madray in arguing that any complaints were unreasonably delayed, however, in those cases the employers made good-faith efforts to enforce the anti-harassment policies thus making the employees delay in reporting "unreasonable". Here, the record is clear that Ring Power did not enforce its policies— it did not investigate discrimination complaints, managers did not escalate complaints, and no corrective actions were taken. Such failure explains an employee delay in reporting, specially here where Petersen's 2016 complaint did not lead to corrective action to stop harassment. Kramer, 743 F.3d at 752 ("Fear that an employer's sexual harassment remediation program is inadequate, if credible, can rebut an employer's argument that the plaintiff was unreasonable."). Petersen's delay is also explained by Carlson threatening or ordering him to "stop going to HR." (Ex. 2, CL-148); Mota v. Univ. of Texas Houston Health Sci. Ctr., 261 F.3d 512, 526 (5th Cir. 2001) (stating that delay may not be unreasonable if there are threats of retaliation).
Respectfully submitted,
s/ Beatriz Biscardi Andre
Case 3:19-cv-01098-MMH-JBT
Document 47 Filed 01/18/22 Page 12 of 12 PageID 4159
Beatriz Biscardi Andre
New York Bar No. 4394599 Supervisory Trial Attorney
U.S. EQUAL EMPLOYMENT OPPORTUNITY COMMISSION Miami District Office, Miami Tower 100 S.E. 2nd Street, Suite 1500 Miami, FL 33131
Phone: (786)-648-5806 Beatriz.andre@eeoc.gov
Attorneys for Plaintiff
CERTIFICATE OF SERVICE
I hereby certify that on January 18, 2022, I served the foregoing document via CM/ECF which will send electronic copies to all counsel of record including the Attorneys for Defendant, Leonard V. Feigel, Esq., Kevin E. Hyde, Esq., Foley & Lardner, LLP, One Independent Drive, Suite 1300, Jacksonville, FL 32202-5017.
s/ Beatriz Biscardi Andre
Beatriz Biscardi Andre